NBA VS. NFL: Which Is More Valuable and Why? [2023]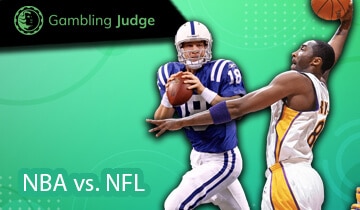 The NBA vs. NFL debate is one of the fiercest sports. While each sport has a fair number of fans, comparing American football to basketball seems like apples to oranges as these sports differ in almost all aspects. But what is more, popular NBA or NFL?
At a glance, NFL is the most popular sports league in the USA. However, an NBA player makes more money on average than an NFL player. This article looks at the different aspects of these two leagues. Read it to get more insights.
Top 5 bookmakers with NBA bets available for 01 November 2023
Rank
Bookmaker
Bonus
Safe & Trusted
Rating
Get Started
Why NFL vs. NBA? The beginning of the rivalry
Here are some NBA highlights vs. NFL highlights: 
NOTE: The climax of the NFL season is a giant super bowl while the NBA ends with a weeklong best-out-of-seven-games tournament.
Top 5 bookmakers with NFL bets available for 01 November 2023
Rank
Bookmaker
Bonus
Safe & Trusted
Rating
Get Started
NBA vs. NFL: Which industry is worth more?
NBA Players vs. NFL Players: What Are Their Salaries?
So, NBA vs. NFL, who pays more? According to Basketball-Reference, the average salary for NBA players is $8.2 million for the 2021-2 season. The minimum wage depends on factors, including years of experience in the league. That's why experienced players earn a lot more than beginners. With zero experience in the league, a player earns $898,310, and with one year of experience, the player earns $1,445,697. Typically, with experience, a player makes more. The highest and best basketball player (Stephen Curry of Warriors) in the NBA 2021-22 season goes home with $45,780,966 while James Harden of Nets pockets $44,310,840. The highest-paid and best basketball players of all time include LeBron James, with a total earning of $346,203,575, and Kevin Garnett – $334,304,240. 
By contrast, the average NFL salary is $2.8 Million per year. The salary ranges from a minimum of $610,000 to a maximum of $45,000,000 ( 45 million) per year. Again, the salary depends on the experience level. A player with less than two years of experience receives $610,000. If the player experience is between two and five years, the pay is $705,000. For more than five years, players pocket $915,000. However, some players have their contracts valued at $495,000 a year. Quarterbacks such as Matt Ryan have the highest incomes – ranging between $20 million and $45 million annually. 
How Much Money Does The NFL Make Vs. NBA?
The NFL makes more money than the NBA. Looking at the two major league competitions - Super Bowl and the NBA Playoffs, the super bowl brings in much more revenue than the NBA playoffs and the Major League Baseball (MLB) playoffs combined. Super Bowl LV generated $434.5 million of in-game ad revenue. This value is higher than the World Series and NBA finals and is only second to the Olympics!
NBA Vs. NFL popularity: What do the stats say?
While the NFL tv ratings vs. NBA ratings can be subject to debate, the NFL has a higher viewership than the NBA. In 2020, the NFL's total viewership averaged 15.4 million in the regular season. By contrast, the NBA had a meager 1.32 million viewers on its NBA games televised across ABC, ESPN, and TNT.
Payment methods recommended for NBA and NFL betting:
NFL Vs. NBA, au huge betting industry
NBA or NFL? Our conclusion
FAQ about NFL vs. NBA:
NBA players make a lot more money than NFL players due to the differences in salary caps, league structure, and rules surrounding guaranteed money. NBA pros have a higher salary per player and make more money off-court than NFL.
The Bills tops the list of NFL teams with the best tv ratings. Standing at 47.2 ratings, the Bills beat other teams, such as the Kansas City Chiefs (45.3) and the Green Bay Packers (41.6 in Milwaukee).
Due to Covid-19, the NBA TV ratings have dwindled, but its popularity remains. There are over 57.1 million followers on Instagram, 37.7 million, and 16.8 million YouTube subscribers.
The Los Angeles Lakers has the most fans - 21.8 million fans. Of all NBA teams, it is most followed on Facebook.
While the NBA is enjoying a steadily increasing TV rating, it still has a long way to catch up with the NFL both in popularity and revenue.
Minimal NBA slots make it challenging to get into the NBA. On the other hand, the NFL has many slots making it a little easier to get into the NFL. Besides, playing basketball is much harder than professional football.
NFL vs. NBA: Which way to go?
Still wondering, what is more, valuable NFL or NBA? Sure enough, this write-up has given an explicit answer to the query How much NFL make vs. NBA in a year. However, it is worth noting that each league has some unique features that appeal to different players and fans of sweetheart teaser. Understanding aspects such as NFL Playoffs and NBA average salary, popularity, and viewership 2023, can help you understand each league. 
Other betting guides recommended by Gambling Judge: