Buying points in sports betting- Ultimate guide [2023]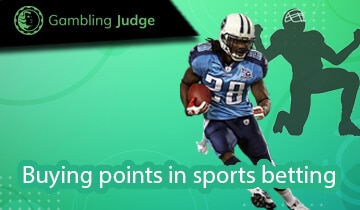 Buying sports when sports betting is the only way you can get close to choosing your own spread.
Rather than simply taking the points in a spread when sports betting, you have the option of buying points albeit often with a lower payout or increased cost.
If you are interested in manipulating point spread bets, then this is the way to go about it.
What is buying points, and the meaning behind them, though? If you are eager to learn, do not hesitate to read the rest of our guide to find out more.
Best Betting Sites in 28 September 2023 – Updated List
Rank
Bookmaker
Bonus
Safe & Trusted
Rating
Get Started
What is "buying points" in sports betting?
Things you need to know about buying sports in sports betting
There are rules you need to consider when buying points in betting. Whether you are engaged in a half point parlay, using a teaser betting strategy, or another option, you need to consider buying point rules. Those of you who are new to the concept of spread betting should read our points spread betting ultimate guide before continuing. Once you understand the basics, then you can move onto the main rules. These include:
Buying a half point can see you avoiding the push
NFL's two-point conversions rule can alter point spreads, making buying points ideal
Betting on the favorite allows you to take off a half-point, full point or 1.5 points
Betting on an underdog will enable you to add a half-point, full point, or 1.5 points
In the NFL, 3-or 7-point spreads are the most common, as many games finish with these margins. Therefore, bookies may have different 3.5 point buy rules.
How to buy points in sports betting
Is it worth me buying points in sports bets?
Whether it is worth buying points on the spread depends on several things. Firstly, there is the cost. Bookies might charge $0.10 for every half-point.
Some sportsbooks are known for offering alternative spread point costs in NFL betting for +3/-3 and +7/-7, with prices charged at around $0.25 for and $0.15, respectively, for buying half points when sports betting. Of course, buying up to three points will cost more. On top of this, your prizes can also drop.
Generally speaking, it is only really worth having a crack at buying points on the spread if you think a half point purchase will avoid a potential push.
Buying points in American sports
Top tips for buying sports when sports betting
Before you engage in buying points, you should consider a few things. Here are a couple of top tips to help you become more successful:
Look for the key numbers for buying points. As mentioned, in the NFL, it is worth buying points on key numbers such as 3 or 7, as these are often the winning margins. You can easily research key numbers in sports betting, and we urge you to do so ahead of time.
Always consider the cost of buying points. A half-point calculator can be handy in helping you determine if there is value.
Check to see if there is already a good point spread available, or if an alternate point spread is required, before buying bookie points. Sometimes the existing spread may just do it.
Be sure only to use football strategies and systems that are designed for buying points.
Use bookmakers that offer statistics to get a good idea of the value of the odds. Moreover, shop around at several bookmakers to find the best deals.
Never make buying points a habit, as you could rapidly find yourself losing money.
Pros and Cons of buying points in sports betting
What are the advantages of buying points in sports betting? What about the disadvantages? Let us find out…
PROS
Bettors can buy points to avoid a push
The cost for increasing your margin of victory is reasonable
Can be used in virtually all major sports where spread betting takes place
CONS
Buying points can sometimes see you win less
Not all bookmakers allow you to buy points
Frequently Asked Questions on buying points in sports betting answered
Spread betting is complicated, so it is understandable if you still have questions. We have put together a basic FAQ guide to help.
You are essentially buying half a point, up to 1.5 points (on a favorite), to alter the spread in your favor. Some bookmakers may allow you to buy up to three points on heavy underdogs.
The cost of buying points in sports betting generally ranges from $0.10 up to $0.25 for half a point. It is higher for full or 1.5 points.
NFL football betting and basketball are the two most popular options, although any sport where spread betting takes place can, theoretically, support buying points.
Most bookmakers allow you to buy 0.5, 1 or 1.5 points on a favorite. Some may extend that to 3 points on an underdog, but this is not common.
Start buying points when sports betting today
Buying points is advantageous, but we will say only if you want to avoid a push. Buying points in sports betting is trickier than it sounds, so we would urge you to do further reading. Our best financial and spread betting sites and guide page is ideal to do that.
Before engaging in online sports betting with points, we'd make sure that you check out our all sports betting terms explained page, so you don't get bogged down with lingo that you don't understand. Moreover, do not hesitate to check out top-rated bookmakers to claim sports bonus codes and give yourself a leg up as a new bettor.
Other interesting articles you might like: