Betworld Live Casino Review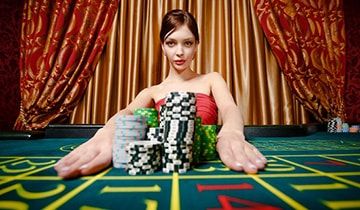 Betworld's live casino has been operating since 2014 and is licensed and regulated by Curacao eGaming. The live casino is sharp looking and it is quite easy to get into the action. Simply click on the "Live Casino" link from the main page and a new window displaying all of the gaming options will quickly appear. Customers have their choice of Roulette, Blackjack, Casino Hold 'Em, Baccarat, Ultimate Texas Hold 'Em, Three Card Poker, and Caribbean Stud. As could be expected from a live casino, these games move along at the same pace as you would find at any land-based casino. Also, like at any brick and mortar casino, there are floor supervisors monitoring the live play. Multiple camera angles, live sound, and even a chat feature gives the illusion of being right there. Some of these games give players the option of viewing the table in 3D or classic view.
These games are all powered by Evolution Gaming which is one of the world's leading software providers. They are very well-known for their innovative live casino titles that are found at a majority of reputable gaming sites. All games are tested and certified by Technical systems Testing (TST) to ensure functionality and fairness. Betworld Live Casino is also certified by eCOGRA. Let's take a look at these exciting games.
Roulette
Betworld Live Casino offers 12 Roulette games that have minimum betting limits that range from €0.25 up to €2.00. These games allow players to view the wheel from multiple angles, have a racetrack feature for placing special bets, allow you to save your favorite bets, and offer advanced statistics for trend spotters. There are single-zero wheels as well as double-zero wheels and you can even double your chances of winning with Double Ball Roulette.
Player account balances are clearly displayed in the bottom left corner and a menu at the top right of the screen allows players to change the settings, turn off the audio, and check your history. Hundreds of players can be found at these Roulette tables around the clock.
Blackjack
There's no doubt that blackjack is a staple at casinos and it is no different at Betworld Live Casino where players have their choice of sitting at any of the dozens of tables. Bet minimums start at €0.50 and the maximum is as high as €5,000 per hand. The dealers are very professional and move the game along at a good pace. They also switch every 30 minutes or so.
Getting into the game is as easy as clicking on your desired table. You then take your seat, place your bet, and get your starting cards. Split your cards, double down, draw, or stand. If you are unsure about the rules and payout structure you only need to click on the "?" icon which is located at the top right of your screen. The rules are clearly explained.
Casino Hold 'Em
With limits ranging between €0.50 and €1,000, Casino Hold 'Em attracts quite a few players. Unlike the conventional game in which several players compete against each other, this game pits you against the dealer. To play the game you place an Ante bet. You can also place a "Bonus bet" that pays out if a pair of Aces or higher is dealt in the first five cards.
The Bonus bet is optional bet and cannot be placed alone. After a chip is placed on the Ante bet spot a flashing arrow will show you that the Bonus bet spot is activated. Place your Bonus bet in the same way as you place the Ante bet. The Bonus bet is evaluated on the first hand of five cards only. If you have a Pair of Aces or better combination, you will win the Bonus bet and will be paid according to Bonus pay table.
The dealer must have a pair of 4s or higher to qualify. You win if the dealer doesn't qualify. The Ante bet is paid out according to the payout table, but the Call bet is returned to you.
Baccarat
Baccarat is another casino favorite and fans of this game can get into the action for as little as €1 or as much as €10,000. The objective of Baccarat is to predict whose hand will win by having the value closest to 9. Before each deal, you must bet on whether the player or the banker will win the round by having the hand with a value closest to 9. You can also bet that the round will end in a tie, which happens when both the player and banker hold hands of equal value.
As with the other Betworld Live Casino games, Baccarat has a good pace and the dealers are very professional.
Ultimate Texas Hold 'Em
This variation of Texas Hold 'Em pits the player against the dealer. Instead of beating a table full of players you just need a better hand than the dealer. Bets range between €0.50 and €1,000. One of the differences between this game and Casino Hold 'Em is that the dealer qualifies with any pair. There is also a unique side bet called the TRIPS bet which is an optional bet that you can place before the round begins. You win the TRIPS bet when your final hand is three-of-a-kind or better.
Three Card Poker
Three Card Poker is yet another staple of most casinos and it is quite popular at Betworld Live Casino. In a nutshell, the object of the game is to have a better three-card poker hand than the dealer. Players can win up to 1,000:1 on an optional 6-card bonus bet. Hand rankings are a little different than traditional poker. For example, a straight beats a flush. Obviously, three of a kind is a great hand but it will still lose out to a straight flush. Be sure to click on the "?" icon, which is located in the top right corner of the screen, to find out everything you need to know about this fun and fast-paced casino favorite.
Caribbean Stud
In yet another variation of Texas Hold 'Em, Caribbean Stud is played in casinos all over the world. To start the game round at Betworld Live Casino, place your initial bet in the Ante spot. The minimum bet is €1.00 and the maximum is €1,000. The dealer will deal five face up cards to you and one face up card plus four face down cards to himself/herself. You must decide whether to CALL or FOLD.
After you have made your decision, the dealer will reveal his/her four remaining cards. To decide the winner, the highest-ranking hand that can be formed from your five cards is compared with the dealer's hand. It's that simple. There are also bonus bets that players can make to win up to 1,000:1. Click on the "?" icon at the Caribbean Stud table to find out more.
How to Play at Betworld Live Casino
The first thing you need to do is register at the main website, Betworld. It only takes a minute. You can then make a deposit of at least €10 using any of the several deposit options. Don't forget to claim your 100% Welcome Bonus or the 50% Loyalty Bonus. Once your betting account is funded, you can open the live casino by clicking on the "Live Casino" link at the top of the main page. You may then select your game, take a seat, and get into the action. Have fun and good luck!!
Other articles you might like:
Betworld Casino review
Live Betting at Betworld
Slot games at Betworld
Withdrawal guide for Betworld
Mobile gambling at Betworld