DOTA 2 Betting Guide – Best DOTA 2 Betting Sites in 2023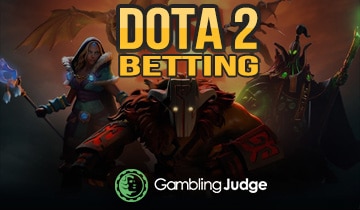 For those who don't know, DOTA 2 is a multiplier online battle arena (MOBA) game which is played across the internet by millions of players.
It stands for Defence of the Ancients, and the reason why will become apparent in a second.
A fantasy game by nature, it has a steep learning curve and sees two teams of five players do battle to try and destroy their opposing teams' "Ancient" defensive structure.
Like many massive multiplier online games (MMPOGs), DOTA 2 is ripe for betting. DOTA 2 online betting takes place every day and reaches its height during major tournaments and competitions.
There are a plethora of DOTA 2 legit betting sites you can choose to place bets with, and you can often do so at sportsbooks which offer e-sports betting, to boot.
Our DOTA 2 betting guide encompasses all the above and serves as the ideal starting guide for anybody who wishes to bet on DOTA 2.
Best eSports Betting Sites
in 29 September 2023 – Updated List
Rank
Bookmaker
Bonus
Safe & Trusted
Rating
Get Started
DOTA 2: The Ins and Outs of the Game
Before you can engage in e-sports DOTA 2 betting, you need to understand a bit about how the game is played. Of course, the fastest way to get to grips with it is to play yourself. If that doesn't sound like your cup of tea, here is what you need to know…
A match consists of two teams (Radiant and Dire), each with five members. These ten players take control of one of 119 playable characters, or heroes. Each playable hero has its own strengths, weaknesses and skills. They could be carriers which start out weak, but gradually become more powerful as the game goes on.
Primary players, the team's fate often hangs on them, hence the term "carrier". Alternatively, characters could be supports. These lack the resources to do damage to an enemy on a large scale but do have the skills to support carriers, via healing.
Heroes can also be initiators, who have a strong skill which can see them start the fight for their team. Disablers have abilities which are focused on crowd control and can disable enemies' spells. Other hero roles include nuker, durable, escape, pusher and jungler characters.
DOTA 2 is an arena-based game, and each fight is played out over a map. This map will be divided into two. In the heart of each team's territory is a base. Lanes lead to the opposing teams base, but these are heavily guarded by towers.
Creeps (non-playable units) provide protection against enemies, and when killed, they can give gold and upgrades to players. Exceptionally strong creeps are known as Roshan and are typically found at the western end of rivers. They can cough up gold to entire teams and drop pick me ups, such as:
Aegis of the Immortal: Resurrects a player upon death
Cheese: Restores a hero's health
Aghanim's Blessing, Refresher Shards, Refresher Orbs: Various items to improve your character
Plenty of other items (such as runes) can be picked up along the way, as players try to build up their character's stats and abilities as rapidly as possible, as this puts them in the best position to win. Most importantly, there is a defensive structure at the heart of each team's base known as an Ancient. To win the game, a team must defeat the other's Ancient.
The Grand Prize – DOTA 2 Major Tournaments
It is possible for two teams to take to the arena and fight at any time of any day. However, the very best teams will compete in tournaments. These include the DOTA Major Championship, where the prize money for the winner can often top a million dollars.
It is these tournaments and competitions which make for excellent betting opportunities, like in the LEC betting case. Of course, to bet on DOTA 2, you will need to learn what bets are open to you and find a decent DOTA 2 betting site to wager at. This is where our guide comes into its own…
How to Bet on DOTA 2 for Real Money
We'll look at all the different DOTA betting sites you can play at in a moment. First, though, we need to introduce you to DOTA 2 betting odds and what they mean, as well as look at some of the most common DOTA betting types out there.
Handicap Betting: Unlike in sports, handicap betting in DOTA 2 is based on the score in a best-of series, instead of a single match. These are often displayed as American odds (such as +1.5 and -1.5). These are typical odds for DOTA 2 match betting.
Live DOTA 2 Betting: DOTA 2 live betting is possible. Most of these bets deal with match-winners or game-winners. They can be found in national DOTA competitions or global events. Live streaming of events like CSGO Live betting tournaments may or may not be provided, and you may or may not be able to cash out early. This varies from site to site.
Tournament Bet: A simple one-off bet. With a DOTA 2 tournament bet, punters are essentially wagering on which team they believe will win a competition.
Coin Flip Bet: DOTA 2 coin flip betting is a type of DOTA 2 skin betting. You can choose a gambler from those available, and you wager your skins against theirs. A coin is then flipped, and the winner takes all.
Item Betting: Another form of skin betting, DOTA 2 item betting involves wagering things you may not necessarily need for your character against stuff you may want from other players.
Skin Betting: DOTA 2 skin betting can see real funds raised. Skins can be sold on marketplaces for real cash, or they can be wagered against other players' skins. On occasion, skins may be gambling on the outcome of a match, which brings added excitement to what might be an otherwise irrelevant arena battle.
As you can see from above, not all forms of DOTA 2 betting involve real currency. Some gambling options involve wagering items, skins and more against players for other items and skins.
This is not generally considering true gambling, and thus, doesn't require a gambling license. There are, therefore, plenty of DOTA 2 betting sites offering these services. Let's look a little closer at those, now.
The Best Betting Sites Which Offer DOTA 2 Options in 2023
There are two types of DOTA betting sites out there. First and foremost, there are those which accept real money wagers on DOTA 2 matches and tournaments. These require a gambling license and commonly consist of online sportsbooks and e-sports betting websites. The second type of sites are DOTA 2 item/skin betting sites.
These do not require a gambling license, as no money is involved in the bet. It is worth pointing out that some DOTA 2 trading and betting sites exist, too, and these can see players convert their skins and items for real money, just like you would sell something on eBay. Again, no gambling license is required for this process.
As a general rule, tournament and match betting which involves real money, should always be done at a licensed and regulated e-sports site or sportsbook offering such bets. When it comes to what betting sites accept DOTA 2 items, it doesn't really matter; there are many and each has its pros and cons.
On this page, you will find a flurry of top DOTA 2 and CSGO betting sites with no minimum deposit. Some of these represent the top 10 DOTA 2 betting sites on the net.
Make Money Online: DOTA 2 Betting Tips
If you are going to be betting on DOTA 2, you may be wondering if it is profitable? It can be, yes. If you are a player, you can make a lot of money selling or trading your skins and items to other users in exchanges. However, even if you don't play the game, having a good understanding of it can see you make a killing. Here are some top DOTA 2 betting tips…
Use a tipster: Looking up DOTA 2 bet suggestions is not a bad way to start. Some tipsters provide this service for free, and others charge you for the privilege. It is likely that these anoraks will make far better DOTA 2 betting predictions than you and have more knowledge. Taking their advice is ideal, especially for newbies.
Play a little: Playing the game for yourself is a great way to start learning. Nothing will help you become acquainted with the ins and outs of the game like playing it for real. On top of that, you could also make a few bucks by trading and selling your items and skins in exchanges.
Play legally: If you're going to a DOTA betting site to wager real money, make sure it is licensed. The last thing you want is to learn that you cannot obtain your winnings as you're playing at a "just for fun" site. Our page has plenty of resources for players seeking real money DOTA 2 betting sites.
Watch and learn: Many of the biggest DOTA 2 tournaments and matches are streamed online. Even if you don't feel as though you have the patience (or the time) to play, you can always watch videos of live matches and get up to speed in this manner.
Use e-Sports betting strategies: DOTA 2 may be different from other e-sports games in terms of its theme, but its gameplay is strikingly like other games. Most good e-sports strategies (even for other games) can be implemented to bolster your odds of success in this game.
Frequently Asked Questions About DOTA 2
If you still have questions or queries about DOTA 2, or more specifically, betting on DOTA 2, here is our handy FAQ guide to assist you.
Yes and no. In DOTA 2, betting on your own matches is possible when you agree non-financial stakes (such as items and skins) with opposing players, in a winner-take-all game. However, you cannot place bets on your own DOTA 2 match at bookies.
Almost all major bookies (which offer e-sports) provide odds on DOTA 2. The available odds will likely be hiding under an e-sports tab.
When betting on DOTA 2, it is worth considering that certain maps have advantages for some teams. In all versions up to 7.xx, Dire had the advantage as their side had the Roshans. However, since version 7.xx, the Roshans have switched over to the Radiant side.
Yes. The simple rule is this; if your chosen online sportsbooks or e-sports bookie offers cryptocurrencies, then DOTA 2 betting with Bitcoin is an option which will likely be open to you.
Ordinarily, yes. If you're betting with real money, always play at a licensed online casino, to ensure that you can cash out any winnings. You will still want to play at a respectable DOTA betting site when you use items/skins instead of real money, but it is arguably not as important.
Any good e-sports betting strategy can be used to improve your odds, as many e-sports adopt similar gameplay techniques and feature similar bets and odds.
Pretty much. However, the legality of DOTA 2 betting sites (even non-currency ones) will vary from country to country. What may be legal in the USA or the UK may not be the case for a DOTA 2 betting site in the Philippines, for instance.
Yes. Some top e-sports bookies live stream major tournaments. However, you can also find those streams on the tournament webpages themselves. Moreover, regular players also live stream to YouTube and Facebook on a regular basis.
Yes. Mobiles and tablets can be used as DOTA betting devices. Whether you can find DOTA betting apps for Android or iOS depends on the site you join. Generally speaking, DOTA 2 betting for iOS and Android is possible at all sites using a web browser, though.
Get Started Betting on DOTA 2 Today!
As you will now be aware, there are two types of DOTA 2 betting sites out there. You are free to peruse them all yourself if you want to wager with skins and items. However, if you want to try your hand at real money DOTA 2 betting, then our array of DOTA 2 trusted betting sites are an ideal place to start. Some of these even include DOTA 2 new betting sites.
As well as these, you can also find other e-sports betting websites at our domain. We cover low CSGO betting sites, League of Legends betting tips and also League of Legends Live Betting, a spot of Hearthstone betting, sites which offer FIFA betting, Call of Duty Betting and of course, all major DOTA 2 tournament action. Remember, the esports industry is in high demand now, learn more from our article about League of Legends special bets and other valuable tips, and also some information about some types o bets like in over-under League of Legends betting cases.
One of the perks of betting on e-sports is that there is always something to bet on, unlike real sports which have off-seasons. With our sites, you can guarantee that you're playing at a licensed, regulated and secure bookie which has our seal of approval. If you're thinking of betting on DOTA 2 or other e-sports, any of our sites will come highly recommended.