eSports Betting at Betworld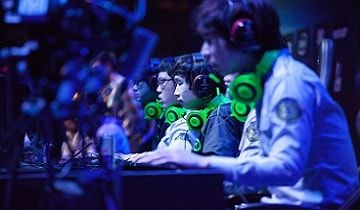 As it turns out, spending countless hours playing video games might not be a total waste of time after all. In fact, contrary to what many doting parents may think, playing video games can be quite profitable. Take Saahil Arora for example. Saahil, and many others have made millions of dollars playing DOTA 2.
Believe it or not, there are scores of gamers that have made hundreds of thousands of dollars playing such games as Counter Strike, League of Legends, StarCraft, Overwatch, and the aforementioned Defense of the Ancients II. What's even more stunning is the fact that numerous people watch these professional gamers as they ply their trade on live streams and other feeds.
Yes. There is a lot of money at stake when it comes to eSports. Naturally, eSports have become one of the latest staples of sportsbooks all over the world and Betworld is right in the middle of the action. Just like professional sports, various eSports feature different leagues and events and Betworld offers plenty of betting opportunities on all of them. As with betting on conventional sports, punters have many options when it comes to betting on eSport matches.
Not only can you bet on outright match winners; you can also choose from a wide array of different propositions. Of course, like traditional sports, each eSport has different objectives and rules so the types of bets are vastly different depending on the individual game.
What eSport should you choose?
Counter Strike: Global Offensive matches offer a lot of "Map Betting" and other special bets such as "First Blood" and "First Pistol Round". Those that want to bet on Defense of the Ancients II can bet on correct scores, map betting, and even handicap betting. League of Legends offers plenty of wagering options too. Handicaps, map betting, first tower, and first dragon are just a few. Those that are looking for some action on a StarCraft II match up can bet on the correct score, match betting, and handicap. It should go without saying that you can simply just bet on an outright winner in all of these eSports. Also, before betting on a game, we recommend you read the Valorant betting guide, for example.
It's quite easy to get in on the excitement of eSports betting at Betworld. It all begins with signing up for an account and making a minimum deposit of €10. Be sure to claim one of the valuable bonuses of this operator too. After you have a betting account balance, simply go to the Betworld sportsbook and you will see all of the eSports listed on the left side of the screen if you scroll down. Click on your desired eSport, find the league or event, and make your bet on the match of your choice. Click on a specific match to open a menu that will have all available betting options. Make a single bet, build an accumulator, or put together a system play.
You can also do all of this on your smartphone, tablet, or any other mobile device which means that you can place your eSports wagers from almost anywhere 24 hours a day, 365 days per year.
Other articles you might like:
How to make your first bet at Betworld
Betworld football betting
Live betting at Betworld
Betworld withdrawals guide
Monday accumulator cashback