Top 3 favourites for the 2018 FIFA World Cup
---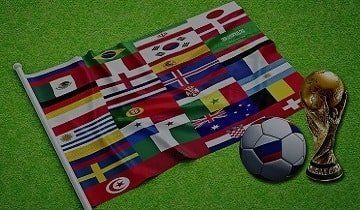 As any die-hard football fan will tell you, we are firmly on the road to Russia now. The FIFA World Cup in Russia kicks off on June 14 in Moscow's Luzhniki Stadium, when hosts Russia face minnows, Saudi Arabia. This game may be a whitewash for Russia, but they certainly won't be picking up the gold at the end of it all. Who then, are the favourites for the trophy once the tournament concludes on July 15?
Fan favourites to life the cup
Everybody has their own favourites when it comes to football. Over the last few years, the English have become a little more realistic about the prospects of the Three Lions winning the World Cup, whilst Argentina and even Spain simply aren't the forces they once were. Portugal may have won the Euros, but they struggled to book their place in Russia, and Belgium is an unrealistic outsider's bet. In reality, at this moment in time, we can only see three teams taking centre stage as favourites for the FIFA World Cup – Germany, Brazil and France – albeit not in that order.
Germany defends their title
Die Mannschaft head into the FIFA World Cup as the defending champions. As we've seen, though, winning the World Cup is a difficult enough challenge, but retaining it has proven nearly impossible for most teams.
The Germans have a talented (if ageing) squad, but it is unlikely that their Golden Era will come to a crashing at this tournament. They managed to breeze through a simple qualification group with a 10-0 winning streak. Having only conceded four goals in qualifying (whilst scoring 30), they are set for a good finals.
Germany been shaky in friendlies, though, so could slip up when they come up against bigger teams in the finals, and their group is nasty. Their Group of Death features a resilient Sweden, Mexico and South Korea. A potential knock-out round with England is on the cards, and we all know how that ends…
Brazil dances to the samba beat once more
You simply cannot have a World Cup without The Seleção as one of the favourites, can you? Will the Verde-Amarela be dancing to the samba beat once more after the end of it all, though?
Brazil won their lengthy qualification group by 10 points and lost just once on the road. Of course, Brazil has quality and talent, but lately, things seem to fall apart at major finals. Brazil will easily make it out of their group, which also offers up Switzerland, Costa Rica and Serbia. Brazilian style and panache may just win out, ending their 16-year wait for World Cup win.
A fantastic French revival is on the cards
Les Tricolores are going to have a good crack at it. Despite winning the double (World Cup and Euros) from 1998-2000, they have faded away over the last twenty years. Could this be their time to return to the big time, though? With arguably the hottest young squad at the finals, we wouldn't bet against them.
Although not particularly impressive in qualifying, Les Blues did still win their group, winning 7 out of 10 in a tricky draw which saw them take on Holland and Sweden, so that must be taken into consideration. Being in one of the easiest groups (with Australia, Peru and Denmark) naturally gives a ticket to the French for the Second Round. The squad bursts with talent, and Varane, Matuidi, Griezmann, Pogba, Martial, Mbappé are co. are certainly a team to watch out for.
Other News