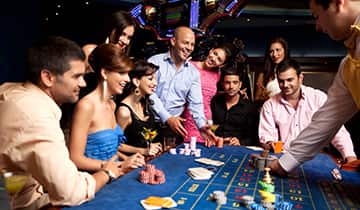 If you are looking for a true casino experience then Novibet's Live Casino is the place for you.  This company has been operating since 2010 and is licensed and regulated by the UK Gambling Commission so you know they meet the highest of industry standards.  Powered by Evolution Gaming and NetEnt, the live casino offers Blackjack, Roulette, Casino Hold 'Em, Baccarat, and Caribbean Stud.  Many of these games are available to be played on the mobile platform too.  You can bet as little as €0.50 at the Roulette table and as much as €10,000 at the Baccarat table.  All of the games move along at a good pace and the professional dealers even switch at regular intervals.
How to Play at the Novibet Live Casino
All you need to do is register for a Novibet account, make a deposit using one of their instant payment methods, and select "Live Casino" from the main page.  Click on the game you want to get into and you can get right into the action.  You can chat with other players, check out table statistics, or set your favorite bet to repeat every round.  You can set the sound, change settings, see your history, and even quickly refer to the rules if you are unsure.  You can change the table's camera angle if you want to.  Unlike the virtual casino, the Live Casino can only be played with real money.  It's just like being at a real casino except you don't need to get dressed up.  In fact, you don't need to get dressed at all!
One of the nice things about the Novibet Live Casino is that there is a good range of minimum and maximum stakes.
Roulette
There are several different Roulette tables and the betting starts at €0.50 and goes up to €1,800.  The object of Roulette is to predict which pocket a ball will land in on the wheel.  There are 38 pockets on an American Roulette wheel.  0-36 and 00.  18 pockets are red and 18 are black with 0 and 00 being green.  You can bet odd or even, high or low, any specific number, as well as many other options.
Blackjack
There are 28 Blackjack tables with minimums starting at €0.50 and going up to €1,000.  Blackjack is easy to play which is one of the reasons it's the most popular casino table game.  The player gets 2 cards.  One face down and one face up.  The object of the game is to get 21, or as close to it as possible without going over.  Of course, the player must beat the dealer.  The player looks at both of their cards and either hits, stands, splits, doubles down, or surrenders.
Casino Hold 'Em
Casino Hold 'Em stakes run between €1 and €500 per hand.  Unlike traditional Texas Hold 'Em that pits several players against each other, Casino Hold 'Em puts the players against the dealer.  A player will begin by placing an ante bet.  There is then an option to place a bonus bet.  The dealer and all of the players get 2 cards face down and then 5 community cards are put into play.  You must make the best poker hand using any combination of 5 cards from the community cards and your hand.
Caribbean Stud
Caribbean Stud is a little like Casino Hold 'Em and hands start at €1 and go up to €1,000.  In this game, you place your ante bet and then the dealer will deal you 5 cards face up and then deal him/herself one face up card and 4 face down.  You fold if you think the dealer has a better poker hand and you call if you think yours is better.  If you call then the dealer turns over their cards and the hands are compared to determine the winner.
Baccarat
You can play Baccarat for anywhere between €1 and €10,000 per hand.  The object of Baccarat is to predict if you or the dealer have the hand that totals closest to 9.  You can also bet on a tie.  The dealer and the player get 2 cards with which to work with.  10s and face cards count as 0 and the rest of the cards are worth their face values.  If the value of the player's cards is 6 or more then they must stand.  If the value is 5 or less then the player must draw one card.  The banker must stand on 7 or more and draw on 0,1, or 2.  If the dealer has 3,4,5, or 6, their next move is more or less determined by whether or not the player drew.
There are always thousands of people at these live tables at any given time which goes to show how popular the Novibet Live Casino is.  Turbo Roulette, Immersive Roulette, Multiplayer Blackjack, and Multiplayer Baccarat are just a few of the several titles that you can enjoy.
Who Provides The Live Casino Games?
With Evolution Gaming and NetEnt being the providers of these games, you can be assured that the interface will instantly respond.  If there are any problems with any of the games, the Novibet Live Casino actually has a floor supervisor on site to resolve any issues.  All of the dealers are pros.  They've been trained well and they know what they are doing.
Other articles you might like