Partially Matched Bet – What is a Partially Matched Bet [2023]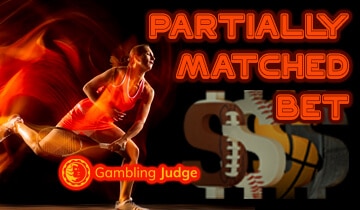 Partially Matched bets can be a nightmare for any betting exchange member who does not know how to get around them.
If you are wondering how to fix a Partially Matched bet on Betfair, then this guide is for you.
As well as answering the gambling question, "what is a Partially Matched bet?", we will provide an example of Partially Matched betting, and take a closer look at how to fix these issues when they occur.
If you want a Partially Matched bet explained to you, then read on to find out more in 2023.
Let us begin with the basics, though. After all, if you do not know what a Matched bet is, you are unlikely to understand the rest…
Best Online Bookmakers
in 01 November 2023 – Updated List
Rank
Bookmaker
Bonus
Safe & Trusted
Rating
Get Started
Your guide to partially matched bets in 2023
What is a partially matched bet?
Rather than going through a Partially matched bet definition piece-by-piece, a Partially matched bet on Betfair is best explained with an example. Let us assume you know how to read soccer odds, and you want to make money on football. How does it work?
You are interested in betting on England to beat Germany in an upcoming match. You have looked for decent (but low) odds and found odds of 3.85. You want to back this at your bookmaker with a £10 stake. Then you hurry over to the betting exchange, hoping to place a lay bet on the same odds at an equivalent £10 stake.
You do so, but there is a problem. In the time it has taken you to bet, only £5 is available in the exchange. This means £5 of your £10 stake is matched with the low odds laying system, and the other £5 is unmatched. You have, in effect, a Partially matched lay bet.
How to fix a partially matched bet?
Partially matched vs. Unmatched bets
The most significant similarity between an Unmatched bet and bets partially matched at Betfair is that neither of them give you a full bet. Until they are matched, there is no bet in play. The biggest difference is that Unmatched bets remain available as offers until you choose to cancel them.
With Partially matched bets, some of your stake is already in play, so you will need to urgently rectify the issue as you cannot cancel Partially matched bets as easily.
Learn to avoid unmatched or partially matched bets
Difference between a partially unmatched bet and fully unmatched bet
In a betting exchange, your offer must be matched with another bettor. This means someone should place a bet for the "opposite" of your offered outcome.
A "matched bet" means that your offer is accepted by someone: It is fully covered by the exchange.
An "unmatched bet" means that nobody is interested in your offer. There is no match (a bettor who thinks the opposite) for your bet. You can simply cancel these bets.
A "partially matched bet" means that some of your offer was taken before the lay price is changed. A part of your lay is matched and a part of it is unmatched – this is where the problem starts.
Solving the partially matched bet problem: step-by-step
Pros and cons of partially matched bets
PROS
Partially matched bets are easy to fix if there is more time before the event
Ideal for low odds vs high odds betting
Rookies cannot end up with partially matched bets at standard bookmakers
CONS
You need an odds calculator to rectify partially matched bets quickly
Common amongst players who don't understand "liquidity" at exchanges
Frequently Asked Questions about partially matched bets:
No. A Partially matched bet still involves a portion of your stake in play. You need to recalculate your odd and bets to make it work. Unmatched bets can be cancelled and are among the top bets that may be cancelled. Read more in our "why was my bet cancelled?" article.
Yes. Online bookmakers do not let you act as the bookmaker, so they can only be placed at exchanges.
Yes and no. They can be, but only if you really know what you are doing.
That depends. A Partially matched bet requires recalculation to ensure a profit. Unmatched ones can simply be withdrawn, so it is down to each player's preference, really.
Bet at leading betting exchanges today
Unless you are still asking "what is a Partially matched lay bet?" you should be ready to start betting. If you want to learn more, read about Matched Bets, Unmatched Bets, and Betfair Asian handicaps in our additional betting guides. If you want to start wagering and potentially make a living on Betfair, head over to the world-class and famous betting exchange UK site today.
You learned what is a partially matched bet, how to avoid it, and, most importantly, how to fix it. You are now ready to enjoy the advantages of matched betting and get a payout no matter what the outcome is. In order to avoid the partially matched bet problem, you need to play at the best betting exchanges, and we already picked them for you. From betting exchange Belgium to any other country in the world, we have a solution for every jurisdiction out there. They all offer the best betting reload offers and several daily price boosts and enhanced odds, so you will always be at advantage. Choose one and start using matched bets today!