20% cashback from Island Casino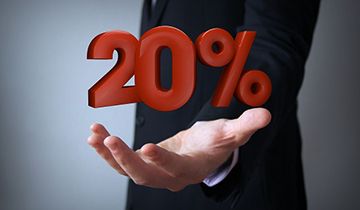 When you play online casino games or wager or sports, there is always the possibility of losing money, because the proverbial house edge is always at work. Those who undertake research and have a great deal of experience are more likely to stay profitable, yet nobody is truly immune to bad beats and downswings. Mitigating losses is every bit as important as maximizing profits and this is the chief concern for Island Casino, which reflects in the cashback bonus.
This promotion does exactly what the name suggests, with players being eligible for a 20% cashback rebate on their overall losses in several casinos games. Those who wager on sports and bet on horses will also have a percentage of their losses reimbursed, with Lotto900 or Lotto 9000 being also included. The online gambling operator has a system to calculate overall losses and will not consider transfers made out to poker rooms, skill games or blackjack tournaments.
Have a fifth of your losses refunded
The same applies for those transfers made out of the standard account to compete against live dealers, so they will be subtracted when calculating the cashback. Those who want to have their account convert it into a special cashback account, need to get in touch with casino representatives the other live chat. The 20% cash back bonus can be accessed at any time, but only redeemed twice per year and players have a two weeks period to do it. The first starts with 14 days before the NFL preseason games start, while the second begins in January, two weeks before the Super Bowl.
This is one of the options that players have, because they can also opt in for the 15% cashback applying to their losses once every month. Members can request this bonus 12 times a year, which is more often than with the standard package, yet things can get even better. If you are willing to settle for a 10% cashback bonus you can apply for this promotion on a weekly basis, more precisely on Tuesdays.
Get 5% back on a daily basis
Furthermore, players can be a part of the cashback rebate every day, with all other days making them eligible for a 5% cashback rebate. This is the best choice for those who play on a daily basis, yet members should keep in mind the fact that they can only have one cashback rebate active.
Other Casino