Casino tournaments = cash prizes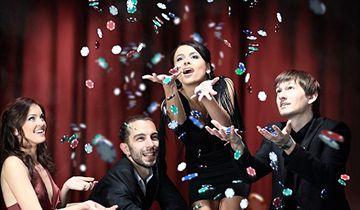 Everyone knows that online gambling in general and casino games in particular pit the player against the house, more precisely the random number generator. On one hand, action unfolds at a faster pace and players get to enjoy plenty of games in a quick succession, on the other they have a small chance to outshine the house edge in the long run. ComeOn covers the entire spectrum of common online casino games, but also runs a string of tournaments where players compete against themselves.
These competitions are a great way of enjoying the thrills of land-based casino, while competing for extra prizes. Depending on the game they choose to play, participants will have to stay profitable throughout the tournament and those who make a deep run collect points. These are used to improve their position on the leaderboard and those who finish at the top of the list are the ones who will receive the best prizes.
Free and inexpensive tournaments await
Most of the tournaments are free to enter and anyone can participate regardless of what games they are usually playing. These competitions are announced in the tournament lobby and the most exciting ones take place on Saturdays. Players will have to meet a minimum bet amount per game round and in conjunction with a standard number of rounds, they will compete for two prizes.
The winner of a tournament will collect €40, while the runner-up will have to settle for half of that amount, but some events have guaranteed prize pools of €100. Each day, there are two tournament schedules, one for the lunch and one late in the night, with the latter being the ones that usually have the bigger prize pools. The first tournament starts on Saturday and the last one is scheduled for Tuesday at lunch, with five more events in between.
Other Casino