Offset loses with the Blackjack rebate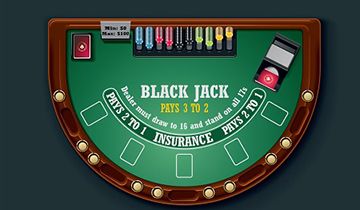 Blackjack is on the games favored by those who like to believe that luck alone shouldn't decide the outcome of their wagers. Most online casino games rely exclusively on chance, which makes them an excellent choice for those who play for the first time. The more experienced you are, the more inclined to play those games where your contribution is decisive and you can put your skills to the test.
Now that Gtbets allows players to compete at blackjack tables against both live dealers and random number generators, their members enjoy unlimited freedom. There are reasons to choose one over the other, with live dealers re-creating the atmosphere in brick-and-mortar casino, while the RNG speeds up the gaming process. Regardless of choice, bonuses and reimbursed losses are great news and both of them are on the menu if you play here.
Waiting for lucky 21
One of the best ways of keeping losses in check when luck deserts you is to claim the 10% rebate on blackjack wagers that go south. They apply to all the losses incurred both at live tables and in the regular casino section, but only if the games were played on the 21st of each month. In a nutshell, players have one day per month to double their efforts and raise the stakes, knowing that they have a safety net in place to catch them if they happen to fall.
Those who are unlucky and failed to convert their bets into profits on the 21st, will need to get in touch with the customer support the very next day. A single message detailing the amount lost and the games played, will be sufficient for these specialists to trigger the reimbursement immediately. The money can be used right away at any games and it is not subject to wagering requirements, as it is credited back to your account as real cash.
A little strategy goes a long way
Losing is the worst-case scenario and although the rebate will help you stay afloat during rough stretches, the goal is to turn each blackjack session into a profitable one. This is where strategy kicks in, as players need to undertake some research to make sure that they know when to hit and when stand. Playing over the Internet allows them to use virtually any tools they consider useful for this purpose, as all methods are allowed in the epic quest of counterbalancing the house edge.
Other Live Casino