Interested in this Casino VIP Promotion?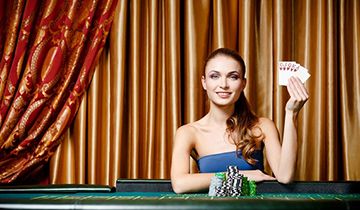 One of the reasons for why players were reluctant to make the transition to online gambling is that they missed live dealers, or didn't trust the random number generator. These are basically faces of the same coin and that's why many online operators decided to make amendments by introducing a live casino section. It comes as no surprise that 888 jumped on the bandwagon relatively quickly, since they were one of the first online operators to serve customers from all over the world.
The live casino 888 promotion is aimed at all customers, so don't let the name intimidate you because you don't need to be a highroller to participate. What makes this campaign special is that players can collect as much as €1200 every single day or currency equivalent by playing blackjack against live dealers. The tables never run out of action and whether you prefer to play during working hours, in the evening or throughout the night you are guaranteed to enjoy the ultimate user experience.
The 4-digit bonus is waiting
The system is straightforward and the rules easy to follow, with 12 makes bonus cards being shuffled into the standard blackjack table decks. There are four prizes of €150 each, just as many triggering paychecks of €100 and an additional four that will result in bonuses of €50. Simple math will highlight the fact that in total players can collect €1200 on a daily basis, although the money will be split among several lucky players. They will win if they are dealt the bonus cards and members collect the amount inscribed on it.
It makes no difference how much money you wager, because the prizes are randomly awarded and all the blackjack players have the same chance. Add to this the fact that the live casino section brilliantly captures the very essence of brick-and-mortar casinos and you will have an additional reason to start playing. The dealers are highly trained professionals that will make every round special, while time passes much faster when you play in their company.
A 12-hour window of opportunity
In order to participate in this promotion, players will need to sit down at blackjack tables between 1 AM and 1 PM GMT time and the bonuses will be awarded within 12 hours. Those who are lucky enough as to win additional prizes over the weekend, will need to wait until the next business day to collect what is rightfully theirs. The bonuses are subject to 20 times wagering requirements and players can only hope to cash in on a maximum of five special cards every single month.
Other Live Casino