Best mobile betting bonuses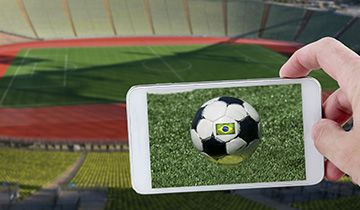 A couple of years ago, those bookmakers who offered mobile betting to their members were bragging about using cutting-edge technology.
Even so there were many reluctant to jump on the bandwagon before mobile devices got to be used routinely for betting purposes.
Nowadays, this is the rule rather than the exception and those bookies who don't offer mobile alternatives are filtered out by savvy customers.
The same goes for bonuses, who are now offered exclusively for mobile devices in conjunction to the first deposit offers and ongoing promotions.
Best Mobile Compatible Bookmakers
in 28 May 2023 – Updated List
Rank
Bookmaker
Bonus
Safe & Trusted
Rating
Get Started
Convenience ignites the mobile revolution
The main reason for why players make the transition from land-based casinos and bookmakers to online operators was convenience. The prospect of traveling to their betting shops to place a wager has a deterring effect on many and only a small minority is still hooked to conventional betting. It was only a matter of time until people realized the advantages of using mobile devices for placing wagers.
The advantages are self evident when being on the road or away from your computer and an excellent betting opportunity arises. The prospect of calling a buddy to wager on your behalf or making a detour to the closest bookmaker is depressing to say the least. Punters know that quite often we make our luck and missing out on opportunities is a surefire way of finishing below the profitability line.
Another rock-solid reason for giving mobile betting a chance is that these devices provide you with the unique opportunity of maximizing the return on investment when betting live. Watching the game with friends in a sports bar or in any other place where desktop computers are not within reach means that potential profits are squandered. If the software is reliable and works silky smooth, the odds will be brought up to date in real time and players will be able to wager without delays.
Those who open a betting account with reliable operators don't need to worry about software glitches affecting their gaming experience. A user-friendly interface makes it easy to adjust to this sort of gambling, with the same procedures being followed when wagering on mobile or wired devices. There is no discrepancy in terms of odds between the offers made available to conventional users and those who bet on smartphones and tablets.
The incentive of mobile betting bonuses
Virtually any online bookmaker who offers a welcome bonus or runs occasional promotions allows players to meet the wagering requirements on mobile devices. Some go a step further and offer a special betting mobile bonus for those who are unfamiliar with this technology, therefore reluctant to tag along. The amounts are usually significantly lower than the ones awarded for opening a real money account and depositing for the first time.
On the bright side, the advantages of sports mobile bonuses is that they are much easier to play and the wagering requirements are reasonable. Receiving a double-digit amount virtually for free or having your losing wagers refunded for a similar sum, is how most bookies choose to operate. This is a smart strategy for two reasons, because on one hand they encourage players to place a real money wager, on the other hand they get an excuse for awarding a free bet rather than a cash prize.
When it comes to mobile betting and the corresponding bonuses, the vast majority of the refunds are free bets which are supposed to be played through several times. Once or twice is usually enough to clear the bonus, but the trick is that only the profits resulting from successful wagers are actually credited to the user's account. The stake is subtracted, which makes it essential for the players to seek higher odds, which in turn translates into taking bigger chances.
To maximize your chances of extracting the most from a bonus for smartphone, it is recommended to get familiar with the markets and undertake some research. Savvy punters will place the initial wager and the potential free bet in a quick succession, which requires them to wait until they find two games with decently high odds. Meanwhile, nobody prevents them from being very active in the standard bookmaker section, and meet the wagering requirements for the welcome bonus amount.
Special promotions for mobile devices
Every now and then, bookmakers run special campaigns dedicated to their active users, so that they don't feel left out. This means that in addition to cashing in on the mobile betting bonuses awarded at the moment of making the first eligible deposit and placing the corresponding wager, players have another chance to boost their bankroll. These mobile promotions are usually limited to a certain period of time, therefore players have a narrow window of opportunity to take advantage.
The vast majority of these campaigns are also money back offers, so players are only going to take advantage of the bonuses if their initial bet loses. They act as a safety net that activates when things take a turn for the worse, but if properly used they can lead to nice paychecks with minimal risks. This is the time when it is worth taking slightly higher chances and making value bets, which demand players to assume bigger risks.
Theoretically, this is the smart way to bet all around as players need to find those wagers where value in odds exceeds the risks taken. Doing so consistently renders lucky relevant and in the long run you should stay profitable, but the imminent risks have a deterring effect on most punters. The perspective of having the wager refunded as a mobile sports bonus should provide them with the impetus to do the right thing and focus on the return on investment.
Other articles you might like:
Other Mobile