Freedom pays well with the Mobile Free bet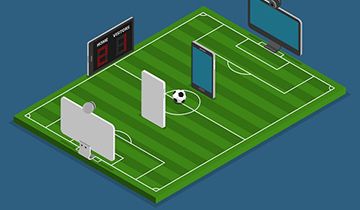 Betting on sports or playing casino games from the comfort of your home is convenient to say the least, but things can get even better than that. If you have any doubts, know that 1Bet2Bet has tweaked all its games so that they run smoothly on mobile devices regardless of the operating system powering them. Furthermore, the online gambling operator has a juicy welcome bonus for those who are ready to use a smart phone or tablet to wager on sports.
There is no bonus code to redeem and no additional conditions to fulfill to receive the bonus as all those who make a qualifying deposit using mobile devices are automatically enrolled. The minimum deposit consists of €10 and those who deposit in excess will still receive this amount, while the wagering requirements are not affected either. The first bet will be matched by 100% regardless of its outcome, so whether you win or lose, the bonus will be credited to your account.
Countless options for mobile users
By choosing to wager on tablets and smartphones players don't limit their options and they can bet on just as many sports events. On a monthly basis, players can choose between more than 1000 sports events and many of these competitions are available for live betting as well. The odds are brought up to date and there is no delay regardless of the device used, so you're not making any compromises by staying mobile.
The terms and conditions for the mobile bonus are virtually the same as those that apply to regular promotions and players need to wager at odds exceeding 1.60. There are no restrictions in terms of markets and the bonus will be credited within the next day after the bet has been placed and settled. Each new customer is eligible for a single bonus, so don't attempt to have several wagers doubled, because this will only cause your exclusion from this promotion.
Enjoy this promotion while it lasts
The bookmaker aims this promotion at recreational players, so those who are part of a syndicate or use systems that are regarded to be in disaccord with the rules can be excluded. The gambling operator is the one to make the final decision and it reserves the right to refuse, reclaim, cancel or amend any campaign, including this one. In addition to the specific rules associated to each offer, players also need to comply with the standard terms and conditions that apply to all promotions.
Other Mobile