Claim a diversified Poker Welcome Package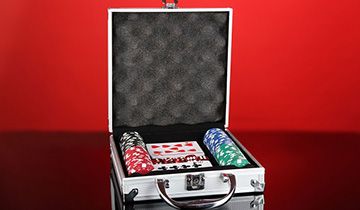 Poker players are used to online casinos offering them first deposit bonuses and they wouldn't settle for anything less than a consistent freebie. Unibet meets them halfway, with a €10 bonus that is awarded for free to those who open a real money account and the cash can be used to purchase game tickets. Unlike other first deposit bonuses, which have no restrictions whatsoever, this one limits players to those tables where the limits are €0.02/ €0.04.
This is not actually a bad thing, because most of those who are new to the online environment are playing at lower limits until they get familiar with the game. There is also a street play through requirements, with players being expected to see the flop 750 times. By definition, a flop see is a hand where at least two players have paid the blinds, because otherwise the game concludes on the first three.
Claim your Cash Game Tickets
This is an interesting way of meeting the play through requirements at Unibet, because under normal circumstances players would have to accumulate a certain number of points, corresponding to the rake paid. Those who apply for the first deposit bonus are supposed to redeem the cash ticket before the deadline, otherwise the money expires. It is not possible to combine this bonus with other promotions and any attempts at cashing out before seeing the flop 750 times will lead to the forfeit of the bonus.
Speaking of deadlines, Cash Game Tickets need to be redeemed within seven days, but players have the option of keeping them active by simply using them once during the first week. The play through bonuses are activated when players log in and they are released incrementally, with the rake collected influencing the level Cash reward. All those who play tournaments, Sit'n goes and cash games are eligible for this promotion and there is an indissoluble link between the rake and the preferred limits.
Join the Freeroll Frenzy competition
Every month, players are invited to participate in the Migration Missions, which reward those who hit certain milestones. There are also free tournaments that players can attend and they are a part of the Freeroll Frenzy competition, which is open to both new and existing members. Those who create several accounts, in an attempt of taking advantage of any of the aforesaid poker promotions will have them locked and funds seized.
Other Poker