€3.5 Million in Guaranteed Tournaments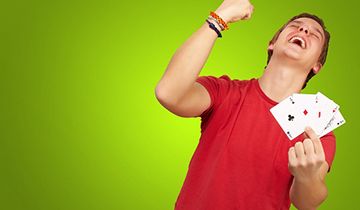 Online poker promised to be the next big thing and 188BET was one of the first gambling operators to embrace this exciting game. Over the course of time, they gradually expanded the collection of games available and they can now brag about offering several versions in addition to the ever popular no limit hold'em. New and existing members can enjoy different versions of Omaha, seven card stud and also razz, at cash game tables but also tournaments.
The guaranteed tournaments dedicated to newcomers have their special prize pool, but those events that everyone can attend are the highlight of the month. Participants are guaranteed to collect a share of the €3.5 million that the online poker room is ready to offer on a monthly basis. Beginners, advanced and professional players have the same opportunities and even though the latter have the advantage of vast experience, in the end, luck can be the deciding factor.
Embrace luck, or play it safe
Nobody is restricted from participating in these events, but they still need to abide to the standard promotional terms and conditions. These are not written in stone and can be changed without prior notice, but some of these rules can prove helpful for those who want to learn more about the tournament structure. There are different types of blinds, quick, Turbo, default, high stack, fast and survival and each of them rise and a different rate.
The reason for why these blinds are important, is that when they grow up faster, players will have less time to make a move on their opponents. Luck is more important in these tournaments, because you need to make the most of the cards dealt to you and it is not profitable to wait too long. Equally important are the starting chips, which begin at 2500 if you play in guaranteed freezeout tournament, 1500 in non-guaranteed freezeout, 2000 for rebuys and 5000 if you choose to participate in high stack competitions.
These are the guidelines for the tournament and competitions organized by 188BET, but as stated above, they only serve an informative purpose. The online poker room can make adjustments and changes to any of the blind structures or starting chips, with the information to be brought up to date on the website.
Other Poker