Play in the 200k Guaranteed Sunday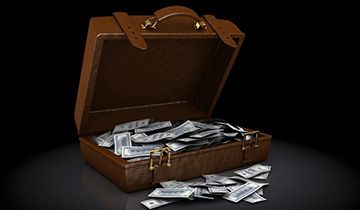 The highlight of the week for poker players who have an account with Gamebookers are the Sunday tournaments, more precisely the $200k Guaranteed event. Poker professionals and amateurs participate in this competition on a weekly basis and the reason for why they do it is that it offers the biggest prizes over the entire network. Members will also compete with poker players who have an account with Party Poker, so the guaranteed prize pool is frequently exceeded and even more money can be won.
There are two ways of entering the $200k Guaranteed Sunday tournament, with the most straightforward solution being to buy in for this event. Poker professionals and highrollers will fancy this solution because it is less time-consuming and they don't need to go through a string of satellite. On the other hand, beginners and those who are conscious when it comes to money, will prefer to participate in the weekly Multi-Table Tournament Qualifiers.
Does stiff competition scare you?
Just as the name suggests, these tournaments welcome dozens and even hundreds of players and they are structured in the form of a ladder. Those who make it all the way to the top will secure a place at the main event, with the buy-ins for this satellites are reasonable. There are also new daily guaranteed qualifiers made available by the poker room, so as long as time is not of the essence, members will have numerous opportunities of booking a sit to the $200k Guaranteed Sunday tournament.
One of the daily qualifiers starts at 10 AM Eastern time and the buy-in consists of $16, with a virtually identical events bein scheduled for 3:25 PM. This is a speed tournament, which means that the blinds go up much faster than they do in regular events and winners are decided in a timely fashion. The amount is more than affordable for the vast majority of poker players, but there is an even less expensive tournament starting at 8:20 AM and 2:20 PM, with a buy-in of only six dollars.
An alternative for savvy players
At the opposite end of the spectrum, are the main qualifiers, which would require players to spend $57 out-of-pocket and they run from Monday to Friday. On Saturday and Sunday mornings, players are invited to sit down at the tables of different satellites that have a buy-in of $23. These are also speed tournaments which usually don't take long to complete and players reach the final table relatively quickly.
Depending on the number of participants, the poker room will award one or more seats at the Sunday tournament and usually several players secure a seat. The vast majority of those who participate in the $200k Guaranteed Sunday tournament are not paying the buy-in out-of-pocket and instead claw their way to the top one step at a time. Those who start at the bottom of the food chain and participate in the least expensive satellites, will have to win two or three qualifiers to actually secure participation.
There is always room for better
If you thought that things couldn't possibly get better than this, know that there are other tournaments on Gamebookers that won't cost you a dime to participate. These are not exactly freerolls, so you don't need to worry about competing against thousands of players, with most of them being new customers. They are actually satellites that poker players can join by spending the points accumulated over the course of time.
These are earned whenever players sit down at real money tables or buy in for tournaments, with the number depending on the rake paid. Highrollers and those who compete at nosebleed limits are obviously going to accumulate more points than those who have just made the transition to real money tables.
Other Poker