Raise the stakes with the poker Back Bet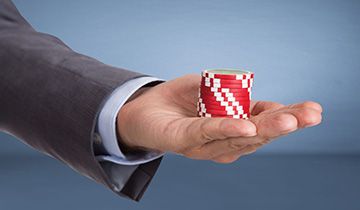 Many of those who play online poker today started by watching the pros competing in prominent TV shows, such as High Stakes Poker. Those who paid attention to those games surely remember the most interesting plays, but also the fact that the participants used to place side bets. These take place before, after and sometimes during hands and are related to the poker action or have nothing to do with it.
Most of those who play poker online don't have these opportunities, but Sports Interaction members can consider themselves lucky because the BackBets have been introduced. These are actually side bets that are supposed to spice things up and keep players interested even when the dealer constantly gives them unplayable cards. There are plenty of options when placing these wagers, with the most popular ones being to bet on the next pocket.
How does the Back Bet work?
Just as the name suggests, players will be trying to predict the next two hole cards and each potential outcome will be given different odds. As always, there is a link between the chances to win and the potential payouts, but these sorts of bets depend exclusively on luck. It is even possible to wager on the upcoming cards, blackjack, low and high cards as well as two face cards.
This is just the tip of the iceberg and even though these wagers are the ones routinely used by poker players, many prefer to wager on the board cards. They try to predict the type of cards that are dealt before the flop, on the flop, turn and river and the process can be repeated in every single hand. It can be quite a challenge to keep up with all this information and have fun with side bets while also focusing at the task at hand, which is to defeat opponents.
A fun and potentially lucrative game
It can be extremely entertaining to bet on each street and the luckiest players can win more money with side bets than they actually make at the poker tables. It is even allowed to wager on the folded cards and predict the kind of hand that the player will hit after discarding his cards. BackBets are guaranteed to keep you at the edge of your seat every hand, while allowing you to shift into a less aggressive gear. Instead of risking your money out of boredom, you can find all the entertainment you need with these prop bets.
Other Poker