The silver lining of the Poker Bad Beat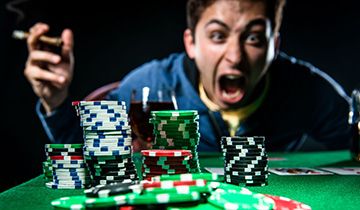 There are plenty of things that online casino players fear when playing online, but poker players are particularly intimidated by the prospect of losing a huge pot due to bad beats. The name is supposed to be self-explanatory, but the fact that many poker players are trying to find excuses to justify their failures, it has lost some of its meaning. Basically, the bad beat occurs when someone loses a huge amount with what is obviously the best hand, due to the fact that his opponent gets lucky to hit one or two outs.
Bodog has been around for long enough to know how painful these defeats can be and in order to alleviate the pain suffered by players, it has introduced the poker bad beat bonus. It serves a single purpose, the one of turning a catastrophic result into a reason to celebrate. Those who play poker and lose with a full House of aces and Kings or better, will actually end up winning a lot of money because they will collect an amount that is 100 times the big blind.
No play through demands for the bonus
The maximum bonus that can be collected won't exceed $1000, so those who play at high limits will have to settle for this consolation prize. Under normal circumstances, players win with a full house or four of a kind, but if they are defeated with such a hand, the poker room will present them with $1000. This only applies to cash games for Texas hold'em and those who play tournaments are unfortunately excluded.
The money is free from wagering requirements, therefore players can cash them out immediately if they choose so. One thing that players need to keep in mind is that in order to qualify for the bet beat bonus, they will have to make a full house or better, using both the cards in their hand. Furthermore, at least three players need to be dealt into that hand and the losing as well as the winning hand must go to showdown. These are all common sense requirements, because otherwise it is not possible to prove that a player actually lost with a monster hand.
$1000 is more than a consolation prize
When this happens, players must notify the customer support in less than 48 hours after the hand has been dealt, to collect the amount that is rightfully theirs. It goes without saying that participants should refrain from instructing other players how to act, because one key requirement is for the hands to be played independently. This is pretty much all that poker players need to keep in mind and those who find themselves in such a situation will no longer have a bad beat story, but up to $1000 in their account.
Other Poker