20% Refer a Friend Bonus + extra $250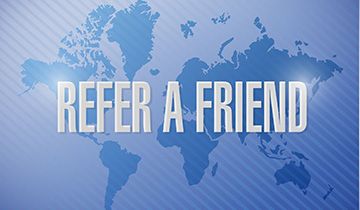 Unlike casino games which pit players against each other, sports betting is an activity that involves players trying to beat the house. Given the proverbial edge it is a bit difficult to prevail and the fact that human interaction is greatly decreased, has a deterring effect on many prospective customers. The Greek has every reason to expand its customer base and if the byproduct of expansion is to create a flourishing community, then it is all for the better.
In addition to offering state-of-the-art services and top odds that act as a magnet for new players, they are also running a generous referral campaign. Anyone who invites a player to the network will be entitled to receive 20% cash bonus representing a fifth of the friend's initial deposit. There is no limit to how many friends one can invite and the bookmaker encourages its members to bring along as many buddies as possible while offering great incentives.
Bonuses come in bunches of 5
For every five players that will sign up using your referral link, you will be eligible for an additional $250 in bonus cash. It is essential for the friends to sign up with a real name and proceed to the first deposit, while the referrer is supposed to get in touch with the customer support and claim the bonus. This needs to be done within the first three months, otherwise the bonus will expire and it is not possible to reactivate a dormant account either.
The 20% bonus on the friends initial deposit is subject to wagering requirements and the ones who make the referral are not allowed to cash it out immediately. Only the first deposit qualifies for the bonus, so those who make subsequent investments will not count towards this promotion. Both parties need to have an active account and the definition of activity means that the referrer needs to place a couple of bets on a weekly basis.
How much should the fried deposit?
Existing members can qualify for the extra bonus but only if the referred account will wager a minimum amount of $1000. There is no maximum bonus to claim but those who referred 10 friends in one month will receive an additional $500 on top of the standard bonus. This seems to be a win-win situation and players who abide by the rules of this promotion will get to play with significantly more money than they can afford, without taking additional chances in the process.
Other Sports