$50 Horse Money Back on Wednesdays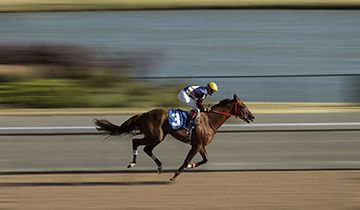 Who doesn't like the thrill of horse racing?  There is a lot of high-paced action and excitement packed into the short duration of the race.  There is also a lot of money being wagered on almost every race which means both happiness and heartache when the race is complete.  Horse betting enthusiasts are familiar with the disappointment that comes when their chosen nag falls just short of winning the race.  Whether it's by a nose or by a lap, the result is the same.  Punters tear their bet receipts into little pieces and curse the sky.
Every Wednesday, if you lay a fixed win bet on select races through Palmerbet, you can still hang onto your bet slip and redeem it for a refund of up to $50 if your horse finishes second or third.
We all know the win would be better but getting a refund on an otherwise losing bet is a pretty sweet consolation prize. These money back betting offers are simply too good for horse racing bettors to pass on.
This promotion applies to fixed win wagers that are placed on Palmerbet's internet betting site or mobile site.  The selected race must start with at least 8 runners and no Each-Way or Multi-Bet wagers are included.  You may not use bonus money or sign up free bets with this promotion and this offer cannot be used in conjunction with any other sports bonus.  The refunded money must be rolled over once at odds of 1.80 or greater.  If your horse wins, then your account is credited as per normal.  Punters will need to wait about 30 minutes to receive their refund if they are awarded the second or third place money back bonus.
This is the perfect offer to add some excitement and entertainment to your Wednesday night while giving you a good chance of cashing in.  Sign up now to take advantage of other great promotions that are offered at by this bookie.  Also remember to check with Gamblingjudge's promotions to find more great offers and bonuses.  Giddyup!!
Other Sports