Bring your buddies along for a Refer A Friend bonus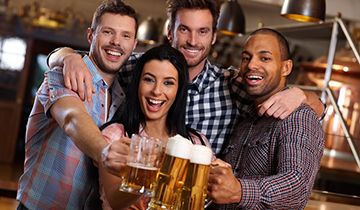 Island Casino has a user-friendly interface and runs a string of promotions that are supposed to keep players wired and satisfied with their services. This alone should be a good reason to stick around for a long while and even bring your friends along, especially those that share your interest in online casino games. Many members do this on their own formation, but now that the online gambling operator is also offering a referral bonus, there are plenty of reasons to be social.
Unlike other promotions where players are asked to refrain from claiming the bonuses several times, in this particular case, referring multiple friends will lead to higher paychecks. The standard percentage at which the friend's opening deposit is match sits at 20%, which means that those who invest more money, will trigger a bigger bonus. Those who have high-roller friends, should know that the referral bonuses can't exceed $200 and they need to be claimed within the first day of your friend's first deposit.
Island Casino counts on your honesty
Players who intend to apply for the refer a friend promotion, need to have a valid IP record and should contact the customer support to make sure they qualify. Those members who have a dormant account after claiming the bonus will be considered to be in a bonus scheme, which will trigger the deletion of all the accounts involved. The online casino has a zero-tolerance policy regarding the abuse of promotions and the same applies for this campaign which is aimed at bringing new players into the network.
One of the main concerns that players have when signing up with one online casino or the other is that they might lose access to standard promotions if they follow a referral code. At Island Casino, these worries can be put to rest, because all new members enjoy the same benefits, regardless of how they end up on the website. This is supposed to act as an incentive for players to invite players over, without stripping them of the chance to increase their starting bankroll several times.
Have each deposit matched
New members are also eligible for the first deposit bonus and whenever they reload their accounts, they will have the amount matched by 20%. There are no trade-off whatsoever and no compromises to be made, so the refer a friend promotion is truly a win-win proposition that shouldn't be overlooked.
Other Sports