Cash in on the 50.000$ parlay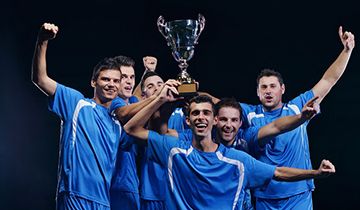 There is usually an indissoluble link between the amount wagered by a player and the prospective profits, with this link being more obvious in the sports book area. Casino players know that there are certain slot machines that carry progressive jackpots, with some of them spanning over an entire network. As long as they wager the maximum coin size which is usually five dollars, they are eligible for the big prize which can easily cross the psychological threshold of $1 million.
Gtbets provides its dedicated punters with the chance of competing for such a jackpot, although it can't exceed $50,000 and it goes by the name of Progressive Parlay. The rules are straightforward with players being supposed to wager at least five dollars on a five team parlay and all winners are guaranteed an amount of $50,000. The jackpot will eventually surpass this amount, so even more money will be up for grabs as long as you can convert the parlay wager into a profitable one.
Get over bad beats with a consolation prize
Winning 15 games is extremely difficult, but losing all selections is not an easy achievement either and that's why such bad luck deserves a consolation prize. $2000 will be awarded to anyone who failed to correctly predict a single game out the 15, as long as they wagered at least five dollars. All NBA, NCAA football and basketball as well as NFL games qualify for this promotion, but only the totals and full games markets count.
Each day, one lucky client can win the jackpot but there is always the possibility of the $50,000 parlay jackpot to be split among several winners. This will only happen if several members decided to place exactly the same selections on their betting slips and all of them win. It goes without saying that this is most unlikely to happen, so those who are inspired enough to pick 15 winners will have very little to worry about splitting the money with other players.
Join the race for the parlay jackpot
Many of those who bet on American sports analyze the entire round even if they only plan on betting on a handful of teams. It would be unreasonable to let all this hard work go to waste and wager on one or two squads, so the $50,000 parlay jackpot will come in handy. Since you already know a great deal about competing teams, why not give yourself a chance to win a life-changing amount?
Other Sports