Check out the Ball2win refer a friend scheme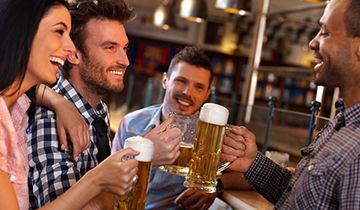 Life without friends would be terribly boring and even though online casinos provide you with all the adrenaline rush you need to make it on your own, it is still better to be surrounded by buddies. Ball2win believes in creating networks of people that know each other and prefer to play together, rather than putting their skills and luck to the test all by themselves.
At least in theory, players should positively respond to these invitations, but just to make sure that members have an incentive to bring friends to the network, they are running a popular referral scheme. This has been done over and over again by other online casinos and bookmakers, but this one is special for several reasons. To start with, players receive $50 for each player they refer to the network and there is absolutely no limit to how many players one can invite.
One lavish bonus for two people
Since the purpose of this promotion is to greatly expand the customer base for the sports betting section, the $50 bonus will be restricted to this area. There is no problem if players choose to wager in a different currency, because the bonus will be credited in currency equivalent. In order to qualify for the referral scheme, players will have to set up a real money account and place a minimum of 25 settled bet, on a total stake exceeding $500.
In terms of deposits, a single one would work wonders as long as the amount exceeds $100, but this is something that applies to virtually all serious punters. As for the new player that joined the network, he is also supposed to go through the five stages of setting up a real money account and accept the invitation. The bonus needs to be claimed within the next 48 hours and those who fail to do so will unfortunately miss out on an once-in-a-lifetime opportunity.
It is essential for both the existing member and the referral to meet the terms and conditions, because otherwise the bonus will not be issued. Both of them will need to spin the bonus amount at least three times before attempting to cash out and there is a deadline set for 90 days. The hourglass starts grinding the sand the moment players receive an invitation to join ball2win and those who find it impossible to play through the required funds within three months, will be out of the bonus picture.
What games qualify for this promo?
When everything works smoothly, the bonuses will reach the accounts of eligible players in 48 hours or even less. This means that players can start betting right away and they should wager on events that have odds of 1.50 or above. The reason for why these odds should be taken seriously is that those bets placed on lower odds will not count towards the wagering requirements.
Virtually all sports qualify for this promotion, but there are a couple of markets left out and they include Asian handicaps, money line markets, in play wagers and go live bets. Obviously, it is not allowed to bet on financials or instant games, so regardless of how tempting they might look like, players should exclude them for the time being. Once the play through requirements have been met, they will have unlimited freedom in choosing their game of choice and the aforementioned markets will be no longer out of reach.
Other Sports