Second chance when losing on first goalscorer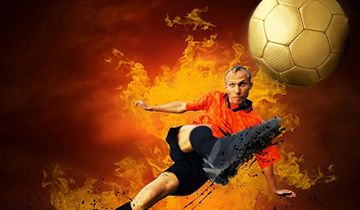 Sometimes betting on the favorite to win the game is not justified by the ridiculously low odds offered by bookmakers. In order to maximize the return on investment, many try to find value in other markets and the goalscorer ones are among the most lucrative. A decision needs to be made between wagering on the first, last or anytime goalscorer, with each having its upsides and shortcomings.
Risk-averse players will always prefer the anytime goalscorer, because they don't need to worry about someone else getting lucky and finding his way to the net first. On the other hand, some strikers stand out from the crowd and are by far the best scorers for their teams, which makes it hard not to give in to temptation. Apollobet will greatly simplify matters for those who can't resist the urge, by giving them a second chance if things take a turn for the worse.
Don't settle for anything less
Instead of settling for significantly diminished odds by betting on the anytime goalscorer, you can wager on the player that scores first. The trick is that even if someone else beats him to the punch, you will have the chance of getting fully reimbursed up to a total of €25. The only requirement is for the chosen player to score the second goal, for the refund to be issued and this only applies to single bets that are placed prior to kickoff.
This is a small price to pay, because there is a decent chance for the best player on the pitch to eventually score a goal and players could avoid a painful loss. Savvy punters will always find a way to mitigate the risks by using this promotion and they can place hedge bets in real time. Apollobet has a very popular live betting section, where anyone can bet in real time on the major sports events, including those with first, last and anytime markets.
A second chance for UK residents alone
This promotion is restricted to residents of the United Kingdom and Ireland, with the rest of the members having to make an educated decision when betting on the goalscorer. Only real money deposits and bets qualify for this promotion, so those who are placing a free bet shouldn't expect to have losses reimbursed. The refunded money itself is subject to wagering requirements and needs to be played through at even odds or above before withdrawals are allowed.
Other Sports