Offset risks with the NBA Acca Insurance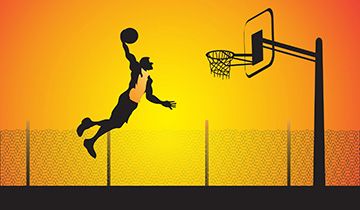 When betting on American sports, many Europeans are deterred by the fact that the odds offered by bookmakers are usually too small to be worth the effort. NBA is one of the most competitive basketball competitions in the world, yet the difference between the best teams and the worst is significant. Surprises occur every now and then but usually favorites win, yet the odds are so low that the profits are minimal.
This is one of the reasons for why so many prefer accumulator bets, which consist of several events being added on the same betting slip. In order to boost the odds without taking unreasonable chances, many players have to find three or more games that are worth wagering on. The good news is that the North American basketball Association schedules games on a daily basis and there are dozens of options.
Enhance your NBA profits
The more selections you add on the betting slip, the more likely it is for one of them to disappoint you and it is enough to lose on one event to squander all profits. Sportingbet makes an interesting proposition for those who are being fans of cumulative wagers, by offering to refund all losing wagers up to a maximum of €25 or currency equivalent. The requirement is to wager on at least four NBA games and lose on a single selection, to be eligible for the aforesaid reimbursement.
It is essential for players to wager on at least five or more games and this promotion only applies to the outright win bets. More precisely, those interested should indicate the name of the winning team before the game begins as live wagers don't qualify. Furthermore, they are supposed to wager on odds of 1.50 or above, otherwise the bets won't qualify and this condition applies to every selection.
Feel free to experiment with various bets
There are plenty of markets to choose from, but if you hope to have the stakes refunded, you will need to limit yourself to the Match Handicap or Total Points Markets. The NBA Acca insurance only applies to straight accumulator bets with special wagers like L15 and L31 being excluded. One important thing to mention is the fact that if you bet on exactly 4 games and one of them is postponed or canceled, you will no longer be eligible for a refund, as the accumulator will only count for three selections.
Other Sports