Refer a friend bonus rewards social players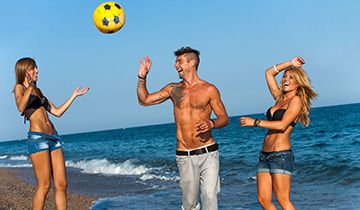 Online casino games can be safely played from the comfort of your home, with no interaction whatsoever with the outside world. Some players prefer this type of experience as they don't long for the adrenaline rush of land-based casinos, but others prefer to be surrounded by friends whenever they play casino games. Those who fall into this category, will surely enjoy the refer a friend bonus awarded by Bodog.
There are plenty of online casinos and poker rooms that run similar promotions and the purpose of all these campaigns is the same. The idea is to attract more players to the online gambling operator and word-of-mouth proved to be a highly effective instrument for this purpose. The new Refer-A-Friend program unveiled by Bodog is based on the previous success of former promotions, while introducing a couple of new elements that are bound to guarantee its popularity.
How much money can friendship generate?
All existing members, but also new customers can participate in this promotion and all of them will receive $100 if they bring a new player to the network. Previously, the amount awarded was half that much and even then there were plenty of members willing to spread the news around. On one hand, they get the money, on the other they make sure that in the long run they will have their friends nearby, to enjoy the ultimate online casino experience.
There is an indissoluble link between the amount that casino members receive and the deposit made by the friend, but this ratio has also been increased. Players can now collect a maximum of $100 and the referred player only needs to deposit $50, as the amount is matched by 200%. The actual process of referring friends has also been greatly simplified and those who spend a lot of time browsing the stormy waters of social media will find these additions much to their liking.
Use social media to maximize profits
Facebook and Twitter have been recently introduced, so those who have an account with either of these social media companies, can use it to bring players to Bodog. In addition to these two new methods, members can also rely on the ever trustworthy email and direct link solutions, which are highly effective and have been used ever since the online casino opened its doors to European customers.
There are no restrictions whatsoever in regard to the number of players that a member can bring to the network, so if you have plenty of buddies willing to tag along, you can consider yourself lucky. The more people you convince that it is worth joining you on this outstanding betting platform, the more money you will collect. At least in theory, the friends should rely on the reassuring words and open an account without expecting a compensation, but Bodog has decided to raise the antes.
What's the upper limit on referral bonuses?
In order to make its promotional offer downright irresistible, they will be providing the new members as well with an opportunity of boosting their bankrolls. Existing members will collect $100 immediately after the new players deposit $50 or more, while the latter are also eligible for a maximum of $1700. These are awarded to them in the form of welcome bonuses and can be used in all the sections, including sports book, poker room, casino and race book.
This new offer can be used in conjunction with other promotions but the standard rollover requirements apply to the bonuses. More precisely, those who wager on sports will need to bet the amount through three times, while those who play casino games will have to meet wagering requirements of 20 times the bonus. Poker players redeem their bonus at a rate of one dollar for three poker points accumulated.
Other Sports