Special bonuses for bringing your friends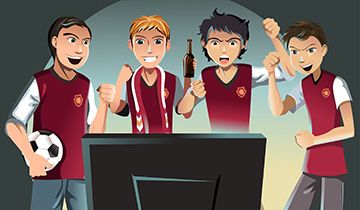 Online casino players and punters don't feel the need of having anyone around when gambling, because they cherish convenience and privacy. Sportingbet offers all that and takes great pride in providing players with the perfect setting for conducting their gambling in outstanding conditions. Nevertheless, players will always feel better if they have their friends nearby and if the bookmaker offers a bonus for bringing buddies, it is even better.
Anyone who has a friend and convinces him to open a real money account and meet basic wagering requirements will qualify for a bonus. Basically, eligible members will receive sports betting credits that can be used on a nice assortment of sports. All major football, basketball, soccer, baseball and hockey leagues are covered, but also many more sports including racing, cricket and tennis. The friend also receives free cash, so both parties involved win and this makes the promotion a win-win situation.
Sway you friend to deposit
The terms and conditions for the Refer a Friend campaign couldn't be more straightforward and players will have the accounts credited with the corresponding cash without unnecessary delays. Existing members can use referral links and emails to convince players to join them and the bookmaker provides them with all the instruments they need. As soon as the buddy tags along and makes an eligible deposit, both of them will be eligible for a bonus.
This doesn't mean that the friend is no longer eligible to participate in existing campaigns, or that he is stripped of the standard welcome bonus. New members qualify for all the promotions that run live with Sportingbet and also receive a special prize on top of all those advantages. He's expected to wager at least $25 on a sports event winner all in this promotion and then wager the initial deposit 25 times.
It pays off to have many friends
Those who have an account with the bookmaker can invite as many players as they like, as there is no upper limit. Given the fact that the more friends you recommend, the more money you collect, it goes without saying that everyone hopes to set up his own community of buddies. Any attempts at tweaking the rules or taking advantage of this promotion can result in the forfeit of the account and the seizure of existing profits. The consequences will affect not only the current member, but also the new accounts that are created with the purpose of exploiting the campaign.
Other Sports