Spread the news and earn a Referral Bonus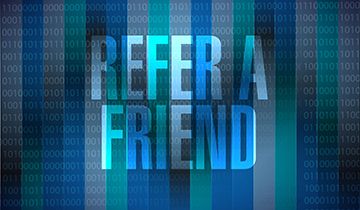 Good news tends to travel fast, so those who are upholding the highest quality standards will eventually gain a lot of traction. Betphoenix is one of the bookmakers who enjoyed a meteoric rise and this incredible trajectory is the result of offering outstanding gaming products. The casino section and poker room is immensely popular, but the vast majority of the members spend their time betting on sports in the bookmaker area.
All the punters are eligible for welcome packages and reload bonuses, but those who have been around for a while can make money by simply inviting their friends along. There is no reason to be reluctant to recommend this bookmaker, while the fact that 25% of the deposit made by the friend will be awarded to you as a bonus is yet another incentive. The friends need to deposit at least $200 for you to qualify for this campaign, but the amount is reasonably low and most serious punters won't have a problem in depositing.
Identity checks required
The referral account number will be required when new player is signing up and the bookmaker reserves the right to ask for additional papers. The idea is to make sure that the referred friend actually exists, so don't be surprised if a valid ID might be required. It is not possible to create numerous accounts using the same IP address or household, and there is a standard referral bonus requirement of five times the deposit.
Basically, the player will need to spin through $1000 for the friends to receive the corresponding 25% and only those who reside in North, South and Central America qualify for this campaign. Those who make the referral needs to contact the customer support in less than five days after the friend made a deposit. The account is supposed to be active for at least two weeks before the new player signs up and have no withdrawals should be made in the prior month.
Some restrictions do apply
One of the restrictions is that this campaign only applies to 10% of the juice lines and the maximum referral bonus can't exceed $375. Since this is a promotion dedicated exclusively to punters, casino action will not count at all towards the rollover requirements. For the time being, these are the only things that players should avoid when referring friends, but the bookie might impose further restrictions.
Other Sports