Stay on the move with the Mobile Bonus
---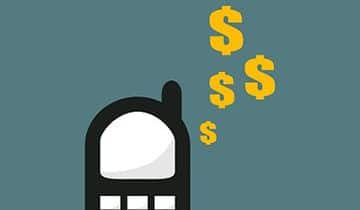 ComeOn strives to stay ahead of the curve and one of their top concerns was to present players with unlimited access to the latest technologies. Mobile gambling is becoming the rule rather than the exception and all those who use smart phones and tablets to bet on sports and play casino games are eligible for a special bonus. They will need to invest as little as €10 to qualify for the welcome package and then wager the amount at odds of 1.80 or above.
Taking part in this campaign is extremely easy and all existing players qualify as well as prospective customers. Only the first bet ever placed using a mobile device will count, so it is essential to bet on qualifying odds when wagering for the first time. Basically, players are eligible for a reimbursement of 100% up to a maximum of €10, so it all depends on the outcome of the first bet.
Don't panic. The refund is on its way.
The best case scenario is to be successful enough as to win from the beginning and then use the resulting profits as you see fit. If things take a turn for the worse, it is refreshing to know that the stakes will be reimbursed and you will have a second chance to make profit. After the bet has been settled, players will need to contact the customer support using the bet ID and tell their specialists that they demand a reimbursement, using the live chat or email.
From this point onward, there is nothing left to do but to patiently wait and under normal circumstances, the refund will occur in the next 48 hours. A single refund is available per client and those who have already wagered on mobile devices regardless of amount are excluded from this promotion. The bonuses are at the sole discretion of the online casino and the promotion can expire or be canceled at any time.
Zero tolerance for fraud
The company also reserves the right to refuse the bonus to those who are found in violation of the standard terms and conditions. Among them it is worth mentioning accounts sharing IP addresses, or belonging to the same family members as well as sharing a common contact identifier. Multiple accounts are not tolerated either and those who breach the conditions or are found to be colluding with other players will be excluded from future promotions as well.
These competitions are free to play and anyone can participate, but it is still not allowed to have multiple accounts and use them all to sign up for the tournament. This would give players an unfair advantage over their peers and this is something that ComeOn tries to prevent. The offer is limited to one person, household address and family so sharing accounts or controlling several of them is strictly prohibited. The promotion is aimed at recreational players and the online casino can exclude those who bend the rules.
Other Sports