The more the merrier: Refer a friend bonus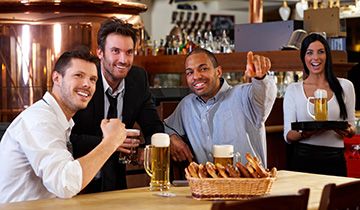 Friends are the ones that make time pass easily and more pleasantly, so it makes perfect sense for people to try to surround themselves with such individuals. Playing online casino games and betting on sports is generally regarded as a solitary activity, but it doesn't hurt to have your buddies around. Titan Bet is going to present you with the impetus to recommend your friends and acquaintances to the network, by offering a cool bonus to both parties.
The Refer a Friend Promotion leaves very little doubt about what it is all about and there are only a couple of conditions that apply. Players need to have a real money account at the moment when they refer friends, with the latter also supposed to make a qualifying deposit. It goes without saying that those who have an account or have played in the past year, no longer qualify for the referral.
The tools of the trade
The bookmaker will provide a link that is email integrated, for convenience purposes and existing members can use it to bring more players around. By clicking on the link, these individuals will be packed and immediately after they make the qualifying deposit, the inviting member will receive the bonus. Speaking of which, new customers should refrain from using a Titanbet bonus code when registering, because this will render the referral link virtually useless.
The next step is to make a deposit of €20 or above and collect the welcome bonus, with these two actions being necessary to consider the new player qualify. Existing members who respond positively to this promotion and encourage players to join them, will receive €25 in the form of a free bet for each new referral. The new customer will also receive €15, once again as a free bet and both parties will need to wager the amount and correctly predict the outcome, because they only get to keep the stakes.
Timeframe for claiming and clearing bonuses
Under normal circumstances, it will take less than 10 days for the bonus to be issued, but there is the possibility of slides delays. The bookmaker reserves the right to terminate this promotion or alter the rules at any time without prior notice. All those who are found to be in violation of the rules will be excluded from this campaign and the profits made as a result of unlawful operations will also be confiscated.
Other Sports