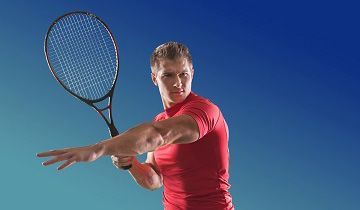 Tennis is one of the most popular sports in the world so it should come as no surprise that there are a huge number of punters that love betting on tennis.  Paf.com wants to get you into the tennis tournament action with their tie-break money back betting offers.
It is estimated that about 10% of tennis matches end up going into a tie-breaker set and this sportsbook is giving punters a break on those that do.  If you have action on a tennis match that goes into a tie-breaker then you qualify for their money back guarantee.  If your player wins the then you can cash in your bet as you usually would.  The great part is that if you player loses then you are reimbursed your stake up to £50.  In other words, if the match goes into extras then you are a winner either way.
The bet must be placed prior to the start of the match.  This bonus does not apply to live betting.  The wager also has to be placed on 1 2 action, meaning there is a winner and a loser with no option for a draw.  The offer also only applies to select matches so be sure to check the betting menu a Paf.com to make sure the match you are betting qualifies for the bonus.  Refund confirmation will show up in your bet history as a "Campaign Refund".
As always, check the Terms and Conditions that apply.  If you are left with any further questions then you can contact their helpdesk.  They are quick to respond.
Some previous games that qualified for this promotion:
18.06 Keys, Madison – Suarez Navarro, Carla
19.05 Zverev, Alexander – Simon, Gilles
14.05 Djokovic, Novak – Nishikori, Kei
06.04 Kerber, Angelique – Arrubarrena-Vecino, Lara
28.03 Bautista-Agut, Roberto – Tsonga, Jo-Wilfried
26.03 Isner, John – Smyczek, Tim
13.03 Ivanovic, Ana – Giorgi, Camila
16.01 Troicki, Viktor – Dimitrov, Grigor (Sydney)
and lots more…
Plenty of reasons to include this offer in your tennis betting strategy. Since not all tournaments qualify, make sure you check back GamblingJudge.com to find the latest tennis offers.
Other Sports