Win more soccer with Double Bubble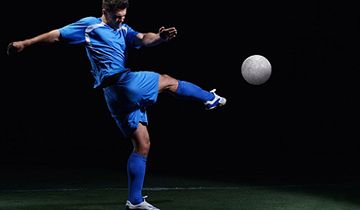 The Premier League is in full swing and it will resume after a short break caused by the qualifiers for Euro 2016. There are plenty of games to bet on and several major teams that go head to head in matches (check here our head-to-head sports betting guide) that could potentially decide the winner this season. Apollobet pays the attention this championship deserves and is ready to raise the stakes by running a special promotion.
It goes by the name of Double Bubble and covers all Premier League games while being aimed almost exclusively at those who bet on the first goal scorers. The odds for correctly indicating the name of the player who scores the opening goal are higher than the average, but thanks to this new campaign they are further increased. Basically, the bookmaker will double the odds if the chosen goalscorer opens the score in the first 20 minutes of the game.
Start each match with a bang
There is a special market for those who want to bet on the time interval when the first goal is scored, but this promotion renders those wagers virtually useless. You can't possibly hope for higher odds than these, not to mention that this offer applies to all Premier League games played this season. More than a dozen of them have concluded but there are many more scheduled for the upcoming months, so the winning opportunities are numerous.
The chosen first goalscorer needs to defeat the opposing goaltender between 00:01 – 19:59 minutes for the bets to be settled as winners. The maximum amount that one can wager on this event is €50, or currency equivalent if the player chose to open an account in another currency. Apollobet allows its members to play bets in real time, but this promotion only applies to those wagers placed before the match begins.
Great offer for English punters
Furthermore, the odds will be doubled only for the single bets and players can only make one selection per game, the first in the market. The terms and conditions are anything but restrictive and given the generosity of this campaign, they make perfect sense. It is possible to benefit from double-digit odds in games that are regarded as balanced, with plenty of Premier League fixtures being included into this category. This is one of the most popular promotions at Apollobet, so it is only natural to assume that it is here to stay, at least until the end of the season.
Other Sports