Win more with the Football Multiples Bonus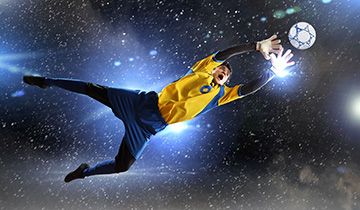 There are two distinct ways of winning a lot of money when betting on football and they are both centered on high odds. The obvious solution would be to bet on high-risk events, while the other implies the placing of several events on the same betting slip. Accumulator wagers are immensely popular these days and Youwin is ready to meet customers half way, with football multiples bonus.
This campaign is exactly what the name suggests and those who don't mind betting on several matches at the same time, will have their profits doubled. The maximum percentage at which winnings can be matched won't exceed 100%, but the fact that the money is awarded in cash miss a great deal for Youwin punters. Basically all important competitions qualify for this offer and the only requirement is to bet on at least three selections to be eligible for daily price boosts and enhanced odds.
Which football leagues are eligible?
Premier League, Bundesliga, Serie A, La Liga, Turkish Super Lig, Ligue 1, Champions League, Europa League and FA Cup games qualify, but also international friendly matches. These are the most important European competitions and also the ones that punters wager on routinely, so there are no compromises to be made. In order to qualify for the bonus, players will have to compete three easy steps and it all begins with placing a multiple on at least three football teams.
Entering the stake and confirming the bet placing process is the second step, while the entire operation is wrapped up with collecting the profits. It goes without saying that all three games need to be winners, in order to have a successful accumulator wager and only in this case, the bonus will apply. Players who happen to lose their bets will not have any winnings in the first place, therefore the bookmaker won't be able to allocate additional funds.
Only ante post bets qualify for this bonus
The live betting market is immensely popular here, but if you hope to compete in this particular campaign, you will have to place your wagers before the game starts. There is also a requirement in regard to the minimum acceptable odds, which should exceed 1.50 for the entire betting slip. This shouldn't be a problem when combining several events, so even if you bet on overwhelming favorites to prevail, this key requirement should be met with relative ease.
Virtually everyone can participate in this promotion, but players are still supposed to opt in for this campaign and they do it by writing an email to customer support. The percentage at which profits are matched depends on how many selections are made and that's why this offer is particularly tempting for those who don't mind wagering on multiple events. Players can win a maximum of €1000 every day.
Other Sports