A Quick and Easy Guide to Betting on Roulette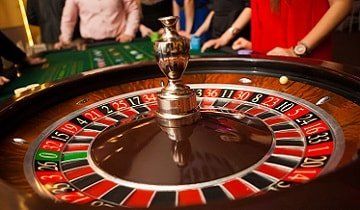 Roulette is one of the most popular casino games and is enjoyed by many for the thrills and excitement that the instant wins and disappointments can bring.
The game evolved from Blaise Pascal's perpetual motion machine and is played in its current form just like it was way back in 1796.
If you are new to the game, this brief guide can take you from clueless to ready to place your first bet on the "little wheel".
Types of Roulette
Roulette is a simple game. A rotating wheel spins in one direction, and the croupier spins the ball in the opposite direction, and eventually, the ball comes to a stop on one of the numbered (and colored, red or black) slots on the table. Players take bets on where the ball will land and if they guess right, they are paid out according to the odds.
Pretty much every variation of roulette works in this way, but there are some differences between the types of a wheel that are available to play on. There are two main types of roulette wheels: American and European. Though the game is almost the same, there is one difference between the two.
European Roulette – The European wheel has a single green "0" number, which gives the house its edge. Players are paid out at 35-1 odds on a single, even though they have 36-1 odds of winning. The overall house edge on a European wheel is X percent.
American Roulette – The American wheel has the single "0" slot and an additional "00" slot. So, the player is paid out at 35-1 odds on a single number but has a 37-1 chance of winning. The extra "00" slot on American roulette doubles the house edge to X percent.
If you are confused by any of this, just know that the European roulette gives you the better odds of winning for the same payout. There is no benefit to playing the American wheel if you have the European version available to you. This will also be location dependent if you are playing at land-based casinos. Both versions may be available online.
Best Roulette Online Casinos
in 28 September 2023 – Updated List
Rank
Casino
Bonus
Safe & Trusted
Rating
Get Started
Land-Based vs. Online Casinos
Online casinos have been gaining a lot of momentum over recent years and are taking more of the market for games like roulette. Where you like to play will depend on your personal preference, availability of land-based casinos and maybe even your mood of the night. Both have their advantages and disadvantages.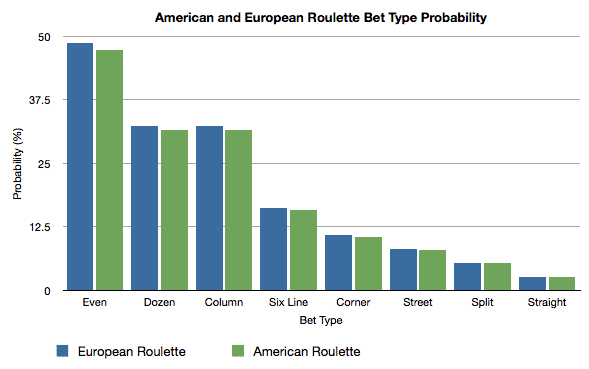 Land-based casinos offer a unique experience and a good night out. Drinks are often cheap or free, and some casinos may offer entertainment and dining options, as well as all the usual slots and table games. You may enjoy the buzz of being surrounded by people who are also betting and watching the ball spin live around the table as you anticipate where it will land! Just like with poker, you don't have to be in Vegas to play.
Online casinos, on the other hand, offer convenience and more games, including both American and European roulette. You can play roulette online at sites like 888 Casino, which also offer no deposit bonuses and welcome packages, a benefit to playing online.
Of course, not everything is black or white. Land-based casinos offer roulette machines that hook up with real physical roulette tables within the casino, and some also offer roulette machines that are simulated RNGs. Similarly, lots of online casinos now offer "live casino" games in which the roulette game is broadcast online from a studio or casino to give a live experience.
Betting Patterns in Roulette
Now that you know a bit about the game, which type of roulette to play and whether you want to play online or at a casino, it's time to learn a bit about the betting. Betting options in roulette are quite simple because all bets pay the same odds overall.
Some people have tried to conquer the house edge and make roulette a profitable game by using specific betting systems, like the Fibonacci betting system. The most famous is the Martingale system, which proposes that you double your bet every time you lose. None of these systems work. All bets do payout the same odds, and past events do not affect the current spin. Have fun and bet on what you want.
There are two main types of bet in roulette. They are the inside bet and the outside bet.
Inside bets include:
• Bet on a single number – Place the chip on a chosen number. The payout is 35-1.
• Split the bet into two numbers – Place the chip across the borderline between two numbers to split the bet. The payout is 17-1 (or put differently, the value of the chip is split between the numbers).
• Corner bet – The chip is placed on corner lines joining four adjacent numbers to indicate a bet on all four. The payout is 8-1.
• Multiple numbers – Spread your chips across chosen numbers to bet on several numbers during one spin.
Outside bets include:
(Note: Outside bets are placed on the outer edge of the board on the appropriate squares. They have a higher chance of winning but pay less.)
• Red or black – The player bets black or red. There are 18 numbers with each color. If the ball lands on the correct color, the player is paid back their initial bet plus the same again. This is known as an even-money bet. The house makes its edge with the "0" (and "00") slots, which are green and do not payout on any even-money bets.
• Odd or even – Like red-or-black bets, the players bet on odd or even numbers, of which there are 18 of each, for an even-money payout. The "0" slots do not payout.
• High or low – The same as above, but the player chooses either numbers 1-18 or 19-36.
• Dozens or columns – The bet is on a dozen numbers (a third) or on columns of numbers, with 2-1 odds.
Placing Your Bet
Placing your bet on roulette can be intimidating if you are new to the game, especially if you are playing in a land-based casino. Keep calm and look at the roulette board in front of you in the casino (or online casino). It will show all the possible numbers where the ball can land.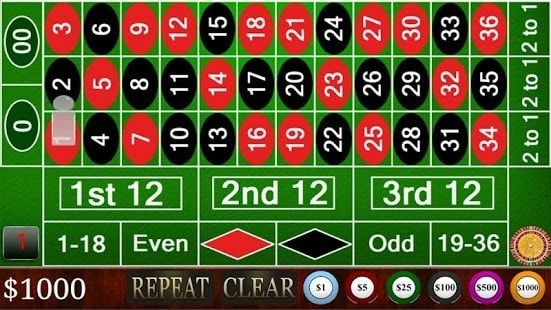 You will have a bunch of chips to play with, probably different amounts according to your cash-in amount. You can place these chips on the board to make a bet. Then you are free to bet on single numbers, multiples or outside bets.
Try to place your bet before the ball is spun to avoid any confusion. The croupier will call "last bets" to indicate that the betting will stop soon, and then say "no more bets". After this point, you cannot place any more chips on the table. Casinos and online roulette games may set minimum bet limits, so try to find a game that you can play comfortably.
If you are worried about betting, just place the minimum bet on a single number or on red-black for a couple of spins to get used to it. Always remember to play responsibly, and do not bet more than you are happy to lose. And have fun!
FAQ about Roulette Gambling
The game of roulette depends entirely on luck, but proper bankroll management can improve the odds.
All the numbers have the same chance to pop up, with hot and cold numbers being temporary in roulette.
You can bet on every number but you won't make a profit and end up losing because of the 0 slots.
There is no such thing as a pattern in roulette and the outcome of each round is determined solely by luck.
You can make a living off roulette if you are lucky, have a strategy, and have good bankroll management.
The d'Alembert is one of the most effective roulette strategies, but the outcome still depends on luck.
Exercise solid bankroll management and keep the duration of gaming sessions short to improve the odds.
Other Tutorials and Strategies