Best Sports Markets and Bet Types at Betworld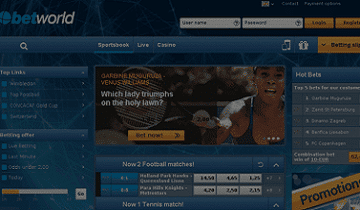 It has been said that variety is is the spice of life. If this is the case then Betworld is like a fully stocked spice rack. Not only does this bookmaker offer action on pretty much any sport; the betting options on these sports are so plentiful that even experienced punters may not know where to start.
Many bettors are content to stick with moneylines, totals, and spreads but there are certainly a lot of sports gamblers that appreciate a little more diversity in their wagering options. These more adventurous punters love the incredible range of betting options that are offered on the widest range of sports at Betworld.
Play on these sports markets
It's easy enough to find a bookmaker that offers action on major sports markets like Premier League, Major League Baseball, and NBA basketball but try to find a bookie that takes bets on some of the more obscure professional sports leagues. **Spoiler Alert** Betworld takes bets on the lesser known leagues too. Do you want to bet on your favorite Turkey First League football team? How about the Western Hockey League? Interested in Lithuanian LKL Men's basketball? Polish Women's League volleyball? This bookmakers has all of these and many more. You will be hard-pressed to find a bookmaker that offers so many different sports and leagues. We're not just talking about major sports either. Snooker, darts, bowls, sailing, chess, and even eSports are offered here. Heck, they have odds on entertainment too. Fans of Dancing Stars and the Eurovision Song Contest can get in on the wagering action.
Tennis, handball, golf, F-1, futsal, rugby, superbike, cricket, floorball and netball are just a few of the other sports that are available for betting at this operator.
Bet Types
Punters will find that a mind-boggling number of betting options are available at Betworld. Let's pretend that a punter wants to place a bet on an English Premier League game between Crystal Palace and Arsenal. Let's also pretend that said punter wants to make a wager on something other than the usual moneyline, draw, total or spread. Well, the bettor shouldn't be surprised to find 100 or more other options to wager on. Time of first goal, both teams to score, correct score, Asian handicap, goal scorer, team with more corner kicks, last goal, winning margin, and a plethora of team and player props are just scratching the surface. Don't forget that these kinds of bets are available for live betting too. There are also quite a few future bets that one could easily find such as betting on next year's Superbowl champion, the Euro 2020 winner, or alpine skiing's World Cup winner.
It doesn't matter what sport or event you want to bet on. Betworld offers you plenty of wagering options. Punters can place single bets and accumulators. This betting company also allows customers to place system bets like round robins which are similar to accumulators but players can still win if they miss a game or two.
You really have to see it to believe it so head over to to their official website now and find yourself the best bet.
Other Tutorials and Strategies