Betting Scams – How to avoid them and what to do if you have been scammed [2023]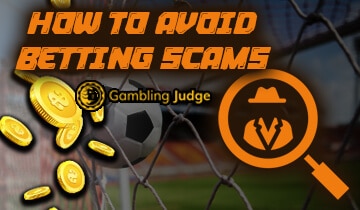 The Golden age of online sports betting is now and there's an abundance of bookmakers offering Internet betting options.
Most of them run legitimate businesses and rogue operators can be avoided by sticking to licensed sports books.
A far more insidious threat is posed by betting scams, which come in different forms and have plagued the online gaming community.
In this guide, we teach you how do betting scams work, which are the perpetrators and what needs to be done to avoid them and stay safe online.
Best Sports Welcome Bonuses
in 27 September 2023 – Updated List
Rank
Bookmaker
Bonus
Safe & Trusted
Rating
Get Started
How to stay safe from betting scams in 2023?
What are betting scams and how do they work?
Punters only learn about the biggest betting scams, but these forms of theft are not a novelty and they happen at every level. Cyber criminals and immoral individuals try to take advantage of the naivety of punters and steal their funds or sensitive information. These are illegal methods of deceiving people and they are punishable by law, but sadly only an insignificant fraction of betting scams UK are prosecuted.
Everyone is a potential victim of betting scams, but the more vulnerable punters are the preferred targets. Those who are just learning the ropes by reading a betting guide and trying to figure out how betting UK works are prime victims. Over the years, the bad guys have diversified their methods and the best betting scams are a threat to anyone, so we show briefly explained that in the paragraph below
Computer prediction software – this is a popular deception and one that has been on the trend for many years because of its enduring success. Scammers try to convince people to buy miraculous software that will deliver significant and sustainable profits. Some claim to help find the best dropping odds and closing odds to maximize the return on investment, others promise to deliver outright winning PICs.
Betting syndicates – invite people to sign up for membership in betting syndicates where they pay a compulsory fee. In exchange, they are promised to have winning bets placed on their behalf, so they win money effortlessly. This too good to be true claim is obviously false, but it continues to deceive people and it ranks high in the ecosystem of online betting sites scams.
Sports investment – unlike classic sports and lottery scams, these target people who don't necessarily gamble. They portray sports betting as an investments rather than risk taking, so the target consists of small business owners, but also retirees. The channels of communication used by the criminals range from high quality promotional materials to betting scams Twitter and social media feeds.
Fake Betslips – this form of deception is targeting experienced punters who hope to find gifted tipsters to help them out. These fixed betting scams consist of alleged images of winning tickets placed by experts. They favor high odds over low odds while promising easy and sustainable winnings to those willing to pay a subscription. In fact, the information on the bet slip is fake and people pay for the random advice.
Fixed football games – this is one of the oldest tricks in the book and it is centered on the idea of betting on fixed matches. Cyber criminals claim to have shaving points information or other information about rigged games and share it with people willing to pay for it. Most are soccer betting scams, but other sports are also targeted.
Horse racing betting scams – people are deceived into paying for inside information about upcoming horse races. Is horse racing fixed? Compared to other betting tipster scams, they are based on the assumption that in exchange of paying an amount, people learn the name of the horse that will win the race or finish in the top three.
Matched betting scams – commonly referred to as lay betting scams they use a technique known as are arbitrage. Matched betting scams claim that by using mathematical equations players can bet on opposing results at different bookmakers and win regardless of outcome, while making use of sports bonuses. Find out here what unmatched bets and partially matched bets are, too.
Betting scams on social media
The insidious danger of scam bookmakers
Most of the betting scams are perpetrated by individuals who try to trick people into paying for useless advice. Whether they offer to share winning
tennis betting strategies
or
live betting strategies
, spread the news about fixed matches or horse races, these are targeted deceptions. Far more dangerous are rogue bookmakers who refuse to pay bonuses, withhold winnings and downright steal the funds of depositors.
Scam bookmakers are a very serious threat and sadly there are many such rogue sportsbooks out there. On the bright side, you can avoid the danger they pose by betting exclusively at licensed and regulated operators with a solid track record. Those that were caught red-handed were called out by former players, as well as industry experts, so there should be enough information online to successfully avoid them.
What to do if you have been scammed?
It goes without saying that prevention is the best way to deal with betting scams and a little research goes a long way. Assuming you fell victim to such a scam, you have few options of dealing with the fallout and the chances to recuperate your money are slim.
If the bookie mistreated you, you can either contact the regulatory body licensing it or even take them to trial. The problem is that most gambling operators are licensed offshore, so they are difficult to prosecute, while unlicensed ones are even harder to punish.
Against individuals perpetrating betting scams, the only action at your disposal is to notify the authorities. Sadly, the police and local authorities are unlikely to help you recuperate the money lost, as they don't have the means and desire to embark on such an ambitious quest. The bottom line is that once you become the victim of online betting scams, it's unlikely to get your money back.
Frequently Asked Questions about betting scams:
When something sounds too good to be true it usually is and this is particularly true when it comes to online betting. Whether you are promised flawless over under betting strategies or winning tips on football and other sports, you should take them with a pinch of salt.
Some football games are rigged but the odds of you finding out about them are slim to none. Those who are in possession of such information won't share it with anyone but instead backed themselves.
Common sense is usually the best ward against this threat and you should be wary of anyone promising easy wins in exchange for paying a fee.
Paid betting tips do not necessarily scam, but rather overpriced opinions of people who may or may not know what they're talking about. Instead of blindly trusting the Betfair trading strategies and other such tips you should undertake research and come up with your own betting slip.
Social media scams have emerged as some of the most common tricks in the UK. Matched betting scams and alleged winning systems are aggressively promoted and are fairly successful in deceiving people.
Keep gambling safe and avoid sports betting scams
Wrongdoers would stop at nothing to deceive naïve punters and strip them of their money through betting scams. These deceptions come in many forms but they are all based on false claims and the promise of easy profits. Not all these online casinos or games are legit, for example, if you are asking if is online bingo fixed? you need to consult our new article about it.
Stay on the safe side by taking everything with a pinch of salt and steer clear from proposals that sound too good to be true. Nobody has the recipe for success in sports betting and there is simply no easy and guaranteed way of making a profit when betting online.
Other Tutorials and Strategies