Prop Betting Strategy – How to Bet on Propositions and Win Big!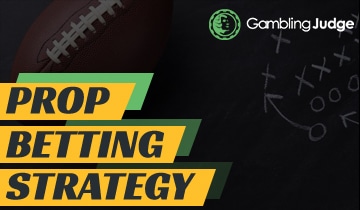 There is more than meets the eye about the sports gambling industry and the traditional betting markets.
Casual and recreational players usually dwell on straightforward bets, such as the match winner, game totals and a mix of Moneyline and run line wagers, for more read runline odds for baseball.
Pretty much everything else falls into the realm of prop betting, a term that is comprehensive but definitely worth explaining.
Keep reading to learn everything about these markets and gain the knowledge to craft your own prop betting strategy.
Prop Bet Strategy in a Nutshell
People tend to enjoy the things that there are good at, so most punters never even consider prop betting. Instead, they stick to a handful of proven bets and systems they know and won't be bothered with learning the prop bet definition.
The problem with explaining the term is that market props include pretty much everything beyond the classic bets. They don't depend on the outcome of the game and even though they can have an influence over the final result, punters can still win if the team loses.
The fun thing about prop betting is that they are not limited to a single sport and in fact, they also apply to non-sporting events. You can bet on the number of people voting in the next election, the total number of aces in a tennis tournament or dwell on the classic football prop bets.
The odds are usually higher than the regular ones, but this is also because the risk involved is greater and there's a lot of uncertainty. This is where the need for a prop betting strategy becomes self-evident, to remain in control of your betting.
Best bookmakers for placing prop bets
in 29 September 2023 – Updated List
Rank
Bookmaker
Bonus
Safe & Trusted
Rating
Get Started
Make Bookmakers Pay with Prop Betting
There's nothing sweeter than exacting vengeance upon bookmakers who use the house edge to stay afloat regardless of result. It so easy for sports books to make a profit regardless of how a match ends, because they adjust the odds accordingly. Punters can use easy proposition bets to level the playing field and find cracks in the shining armor used by gambling operators.
The more obscure the prop bet, the more difficult it is for bookmakers to come up with the correct odds. This means that there is a chance for the house to make mistakes when evaluating the probability for an event to happen and punters can take advantage.
Casual bettor who have just learned what are prop bets are more likely to stick to the basic markets, rather than get creative. It comes as no surprise that they will search for the best NFL prop bets if they love American sports or soccer prop bets if they prefer the European game.
Unfortunately, these are the markets that bookmakers have an easier time evaluating and they actually enjoy a greater than average house edge. If you want to make a profit betting props, it is recommended to focus exclusively on the sport you know the best and it pays off if the sport of choice isn't exactly the most popular out there.
Are Props a Waste of Time?
The thing about prop betting is that they require players to focus on special events that happen during or outside a match. In order to be successful and craft a winning prop betting strategy, one would have to spend more time researching the event.
A football prop can require players to go well beyond the stats and figures use routinely by punters to predict the outcome of the game. Finding and interpreting all this information is difficult enough and in most cases, players are also expected to watch the games live.
Scoring prop bets will demand players to watch the match in real-time, in order to take advantage of the slightest opportunities. Unlike traditional betting, if you break even at the end of a lenghty football props betting session, you have actually lost a lot of time.
This adds more pressure on punters to be successful, which can lead to unintended consequences such as chasing losses. Under these circumstances, prop wagers are better suited to savvy punters who are willing to invest time and energy. For casual players, prop bets are recommended when they have some time to kill and want to watch a ballgame anyway.
Let's Make Money with Prop Betting Strategy
Just because proposition betting is a time consuming activity, doesn't mean that it can't lead to profits. When done right, a prop betting strategy can actually help players develop a long-term winning system. The right approach isn't hunting for prop bets, but filtering out those sports betting events that are not worth the risk. In a nutshell, you should always focus on prop best that require skill, rather than those that rely mostly or exclusively on luck.
The vast majority of websites offering different types of props have a diversified portfolio of such banking options. These include future betting, live events and everything in between, so players have a hard time determining which markets are worth considering. The best prop trading sport betting strategy is always built on bets that require expertise, as they reward perseverance and experience. You must try to put your sports betting system knowledge behind the prop bets and try to gain the slightest sort of edge.
What's the deal with derivatives?
Once you learn what is a prop bet and test the waters with a handful of conventional wagers, you can take things to the next level. The concept of derivatives takes your mind to financial instruments, but luckily, things are far easier when it comes to sports betting. Essentially, these are special types of team props which allow punters to break down the final result into smaller chunks. When you bet on the result at half time in football matches, or the score after a period in ice hockey (check here our NHL betting system) and innings in baseball, you are actually dealing with derivatives.
The example above is the easiest, but players who use NFL prop betting strategy know that derivatives can go much deeper. One can bet on the team that will score first, the total number of field goals in each half and use them in conjunction with the main point spread markets. The odds offered by bookmakers are closely related to the odds they gave to the outright winner, so it's easy to make a connection. What makes derivatives so useful when crafting a prop betting strategy is that the odds move slower in either direction. This gives you more time to bet against the trend and still cash in on better than expected odds.
Just like the classic prop bet, a derivative tends to reward players who have a thorough understanding of the game. The first level derivative is the easiest to understand but the most difficult to beat, as the bookie enjoy a lot of freedom in setting the odds. The second, third and deeper levels are the ones that pay better, as the sportsbooks are compelled to adjust the odds based on how the market moves. Watching individual athletes perform and quantifying their offensive output is obviously more difficult, but also profitable. If you have accounts with several bookies, you can also use prop bets to hedge against the risks.
Fade the Public with Prop Betting Strategy
The online gambling industry is so competitive that staying afloat through sheer skill and experience has become increasingly difficult. Punters need to get creative and prop betting strategy is one way to do it, but on its own even such a system could fall flat. Fading the public, also called betting against the public, has emerged as an effective solution for beating the odds, at least for those who are willing to spend as much time with research as they spend money for gambling. The term defines the concept of betting against what most punters choose to bet on.
Bookmakers have their hands tied by market movements and will always adjust the odds based on how people bet. If you plan on backing the favorites, then you should place the bet as soon as the odds are published, because they will eventually drop. By contrary, if you fancy the underdog, it pays off to wait until the first whistle and even bet live to cash in on top odds. This is a general rule that applies to all types of traditional betting, but players can improve their odds further through certain types of prop bets.
When you try to figure out where I can place a bet on football, considered the easiest sport to bet on, make sure you open an account with both mainstream and sharp betting and bookmakers. The former are frequented by casual punters, so they are ideal for fading the public and betting lines. Sharp sportsbooks are the ones that post the odds early, so you can cash in on top value before the general audience gets involved. Also make sure you find a good prop bets website where you are allowed to bet on these special markets both prior and during the game.
Odds Make and Break any Prop Betting Strategy
No matter how good you are, the chances to turn a profit if you bet on subpar odds are slim to none. Whether you are dwelling on classic football props or trying to gain an edge through a craps prop bet strategy, you still depend on the odds. Prop bets are by definition higher-paying markets, hence the interest from both recreational and veteran punters. Because of their unpredictable nature and the multiple variables, prop bets imply certain risks and bookies offer competitive odds to make them attractive.
One thing to consider when working on your NFL prop betting strategy, is the quality of the odds after the games have started. There are many betting sites that offer odds of 1.85, or the equivalent of 17/20 on coin flip events if punters bet live. Truth be told, anything lower than 1.90 is unacceptable, and placing a single prop at such odds is not worth the effort. Once you jump on the prop bet bandwagon, you will place many such wagers over a short period of time. Betting at low odds means that you are simply bleeding money regardless of the types of prop chosen and the quality of your betting strategy (check our low odds laying system for more details).
How Useful are Statistics when Prop Betting?
Any prop betting strategy must be based on facts, detailed statistics and in-depth information about the teams and athletes involved. NFL prop bets for example require punters to know a great deal about the players, their role within the team and the current form. When trying to predict how many points will be scored, the point spread or the total number of field goals, statistics are invaluable. That's why is important to always go with the best bookmakers with statistics. Any other approach would simply amount to flipping a coin and hoping for the best. Since the odds on coin flip events are never even, this is a surefire way of getting crippled by the house edge and going broke in the long run.
The need for statistics is self-evident when dealing with outright winner betting and over-under betting, for both single and parlay bets. Things are pretty straightforward in football betting, but when it comes to prop bets in other sports, statistics sink to the point of near-irrelevance. Take the total number of aces scored in a tennis tournament and you are facing a predicament that few stats can help. Other information must be brought into the spotlight, like the quality of service and return of serve of the athletes involved.
More subtle details, such as the surface of play, whether the match is played indoors or outdoors and even the altitude of the tennis complex matters. A successful prop betting strategy will require players to also pay attention to weather forecasts, to anticipate rain and strong winds. The bottom line is that the sports betting strategy for prop bets differs greatly and statistics can only help you that much.
Arbitrage and Props are a Match Made in Heaven
The term "arbitrage" is perhaps the most upsetting word that bookmakers can hear. That's because it allows players to completely offset the house edge that sports betting sites use to stay profitable. Many go to great lengths to warn players that if they resort to this tactic, they risk exclusion and their bonuses will be forfeited. Luckily for us, there are so many sports books out there that by opening accounts with dozens of operators, we can use the arbitrage without getting caught.
Players try to find opposing odds that exceed even value, so regardless of which team wins, they make a profit. The betting strategy NFL players use to achieve this is betting on the favorites to cover the spread as soon as the odds are published. As the public backs them heavily, the odds on the underdogs surge, so they can bet again at a different bookmaker on the better team not to cover. If the odds on both events exceed 2.00 or 1/1 in fractional format, punters will make a small profit, no matter who wins.
Arbitrage betting isn't illegal in any way and it just uses the odds movements to guarantee a profit. An NFL betting strategy based on arbitrage is 100% sure to win and prop bets can help guaranteed success. Bookmakers do their best to make sure that they don't present players with the opportunity of placing opposite bets, so they monitor the odds closely. They have less control over prop bets such as the result at half time, after a certain number of minutes or the team that will score first.
Beginners use single props to win, while veterans can even employ a more complex parlay betting strategy to maximize their profits. We detail more in our "how to win sports betting parlays" from our betting guide.
Pros and Cons of Prop Betting
As we are inching closer to the end of our prop betting strategy article, it's important to summarize the advantages and disadvantages of prop betting. Understanding the implications of using prop betting strategy should help players make an educated decision.
PROS
You can take advantage of pricing errors committed by bookmakers and cash in on top odds.
Frequently Asked Questions
Most US bookmakers have caps on prop bets. While some are as low as $50, it is common to see prop bets capped at $250 up to $500. This will vary from sportsbook to sportsbook.
Assuming that you are gambling in a country where sports betting is legal, then prop bets are most certainly legal, fair game and above board. In fact, they are commonplace at leading bookmakers.
You can parlay prop bets. To do so, you need to add between two and twelve lines to your betting slip. You must then select "parlay" to form the accumulator or combo bet and choose your stake size. The betting slip will then showcase your "potential" payout.
Ordinarily, no. Prop bets take place within a sporting event, and aren't often dependent on the outcome of the game. While point spreads, and overs/unders are liable to push, pushes are very unlikely in props bets.
Normally, if one of the selections in your parlay pushes, the parlay will simply revert to a lower number of selections, with the odds adjusting to match that. There are the odd exceptions, but each bookmaker should be clear about what happens in that event.
To Prop or Not to Prop, This is the Question!
Prop bets have been around for a long time and they are here to stay because they are fun, potentially profitable and they transcend the barriers of sports. You can place an NFL prop, bet on dozens of other sports and even tinker with non-sporting events. Bookmakers try to use them as bait for inexperienced punters and there are always some who fall into their trap.
They required time, effort and patience to make a profit, but with the right prop betting strategy, this can be done. Just because prop bets exist doesn't mean that you should embrace them blindly. At the same time, we strongly believe that it would be a shame to miss out on the great opportunities that professional prop betting can present.
Other related articles you might like: