Super Flag Bet Explained Simply for Beginners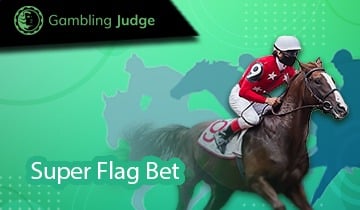 The Super Flag bet  is a popular bet among football and horse racing punters. Typically, the bet combines several potential bets that gamblers think they can win. 
You can create complex wagers with it and combine several outcomes into one wager. The payout will be more than satisfying, as it incorporates no less than 46 bets, but at the same time the cost will be high too.
If you are interested in knowing more about this bet, this is a content-rich article. Read it to the end.
🥇 Top 10 online bookmakers on 29 September 2023 for placing combination bets
Rank
Bookmaker
Bonus
Safe & Trusted
Rating
Get Started
What is a Super Flag bet?
A s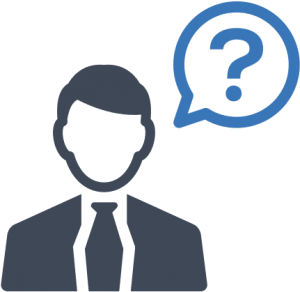 uper flag bet is a bet that combines different bets in a single overarching bet. Therefore, the bet features all multiple possible bets to be placed on five selections in five different events.
It results in placing 46 bets from 5 selections.
And what is a super flag bet in horse racing? In horse racing, it means placing 46 bets from five different selections. A simple example would be to place five race winners on five different horses. You only back one horse in a race. To place this bet, bet on the best horses at top horse racing betting sites in the UK.
The super flag bet is an advanced form of a flag bet, double the total. So, what is a flag bet? It's a combination bet that puts together different bet types. It has 23 bets from four selections. It can only work well for you if you understand a sport well.
💡 Super Flag Bet explained: How does a Super Flag bet work?
Just like other types of sports bets, you need to make your selections first. The selections can be across five events/sports, but most gamblers stick to one bet type in a single sport. For instance, you can place five simple 1X2 football matches in five separate events. So, you can chose
five teams to win, for example.
On most online sportsbooks, the super flag bet can automatically appear on your betting slip once you make five eligible selections.
🔎 How many bets in a Super Flag?
A super flag bet has 46 bets placed on five separate sections using six different multiple bet types. The types of super flag bets include:
In this bet, every selection appears with every other selection in at least one of the five bet types utilized.
How to place a Super Flag bet 👨‍🏫
To place this bet, make five selections in five separate races/sports, which should total up to 46 bets. Each combination differs from the other so that you can use different amounts of money from each bet.
Here is a list of Super Flag bet:
Double Bets
Selections
1-2, 1-3, 1-4, 1-5, 2-3, 2-4, 2-5, 3-4, 3-5, 4-5
Treble Bets
Selections
1-2-3, 1-2-4, 1-2-5, 1-3-4, 1-3-5, 1-4-5, 2-3-4, 2-3-5, 2-4-5, 3-4-5
Fourfold Bets
Selections
1-2-3-4, 1-2-3-5, 1-2-4-5, 1-3-4-5, 2-3-4-5
Any to come bets
Selections
1+2, 1+3, 1+4, 1+5, 2+3, 2+4, 2+5, 3+4, 3+5, 4+5
Total number of bets
20 (10 Up and down bets)
Super Flag Bet
Selections
10 doubles, 10 trebles, 5 fourfold, 1 fivefold, 20 any to come bets
If your base unit stake in a horse racing bet is £1, the entire super flag bet will cost you £46. Use the super flag bet calculator to determine the amount you can win and always choose the best horse racing betting sites.
Sports covered by Super Flag bets 🏇 ⚽
While the super flag can be placed on several sports, the bet is quite popular in two sports – football and horse racing.
How to use a Super Flag bet calculator 🔢
A super flag free bet calculator is the quickest way of knowing how much you can earn from a bet. Typically, the calculator helps you determine the payout for all the selections that you can potentially win. 
Here is how to use it:
Step 1
On the drop-down menu at the top, choose Super Flag
Step 2
Number of selections: enter 5
Step 3
For each selection, select an outcome. This depends on a calculator – it can be "Winner", "Placed", "Non-runner", "Lost" and "Void"
Step 4
Choose odd for each selection
Step 5
Select your stake per bet
Step 6
The calculator works out as you expected payout
The bet profit calculator allows you to use the best odds for a better payout.
Proven tips for Super Flag betting 👍
This bet utilizes a more risky strategy than most other large combination bets. If only one selection wins, you lose the entire bet. But if 2, 3, or 4 selections win, you get a sizable payout. 
So, consider the following:
👉 Betting the exact stake total across five singles at the same price. While it is risky, it guarantees a huge return. 
👉 Target only strong favorites, i.e., those with a higher winning probability. This increases your returns if all 5 selections win compared to backing each one with single stakes in five separate single bets.
👉 Also, understand the various horse betting terms by getting the right betting advice. Understant first how to place a bet at the bookies and choose the best football betting sites or the best horse racing sites.
Super Flag bets alternatives 🗂️
Super Heinz Bet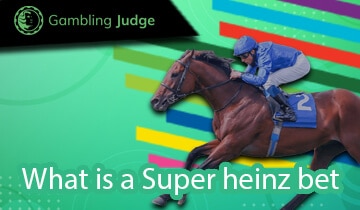 The Super Heinz Bet is a variety of the Heinz bet, which is more than double the number of bets included in its counterpart. Typically, bettors make seven selections, and 120 separate bets are made from those selections.
Since it is complicated, use the Super Heinz free bet calculator or Super Heinz bet returns calculator to determine the payout.
Super High Five Bet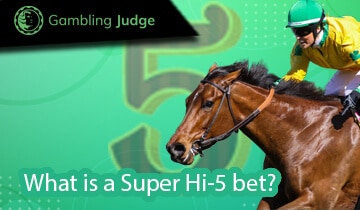 Super HI 5 bets are also called a Pentafecta chance. Super Hi-5 means the selection first five-horse that can win a race in the correct order.
To determine your payout, use the Super High Five-bet calculator.
Advantages 👍 and disadvantages 👎 of a Super Flag bet
PROS
The payout is huge on winning bets
You only need 2 winning selections to win the bet
Can use different events
CONS
Placing the bet can be complicated
Winning is not easy
Frequently asked questions about Super Flag Bets 🤔
A super flag bet has 46 bets from 5 different selections. The super flag bet consists of: 10 doubles, 10 trebles, 5 fourfold bets, 1 fivefold bet and 10 up-and-down bets (with a total of 20 any-to-come bets).
Super flag bets can cover different sports but the most popular ones are horse racing and football.
Yes. For instance, the flag bet is a smaller version of the super flag bet. It features 23 bets from 4 different selections.
The bet generates exponentially higher cumulative odds and profits than staking single bets on the same five selections using the same amount.
Yes. You can place a super flag bet on mobile if you are on safe betting sites that support mobile betting. Such bookies have mobile apps that let you place bets quickly.
These bets are worth your time if you are an advanced punter. Otherwise, you may find it challenging to stake them leading to massive losses.
Staking the best Super Flag bet
The best super flag bet depends on your selection of the right bookmaker. Avoid this bet if you don't understand how it works. Also keep in mind that with a bet for a single selection as low as £1 you would still need to pay £46 for the whole bet. 
Always look for the best odds guaranteed on horse racing on the best UK horse racing betting sites. The smartest bet in horse racing involves finding the best odds and understanding each horse's potential.
Other articles you might be interested in 👇