Discover the Immersive VIP Program at Casinoly Casino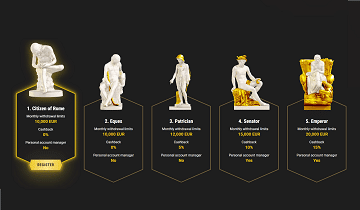 VIP programs and loyalty schemes are a common sight at online casinos and sports books.
They use them to keep players motivated and provide long-term rewards to those who are active on the site. Casinoly Casino takes it to the next level and has one of the most comprehensive VIP programs you can find online.
On top of that, it also gives players fully immersed into the atmosphere, due to the Roman theme.
Climb the five loyalty program levels
Casinoly Casino makes the VIP rewards available to all its players immediately after registration. This means that you can take advantage of the bonuses and freebies as well as all the other perks as soon as you become a member.
There are five levels, each of them corresponding to the ranks that Romans had 2000 years ago in the Empire. The higher you go up the ladder, the better the rewards, so punters are always motivated to persevere.
Citizen of Rome is the first level and it comes with a $15,000 monthly deposit limit. At this stage you don't qualify for cashback, except for the weekly promotions and no account manager
Eques increases the monthly withdrawal limits and you qualify for free bets
Patrician is the third rank in the VIP program and it has a monthly withdrawal limit of $18,000. The cashback is 5% and it is paid on a monthly basis to eligible players.
Senator is the first level that has a personal VIP manager and the cashback increases to 10%. Players are also eligible for maximum withdrawals of $23,000.
Emperor is the culmination of the VIP program and includes all the perks, such as a personal manager, 15% cashback and a move $30,000 monthly withdrawal limit.
Rewards fit for the Roman elite
Casinoly Casino has envisioned the VIP program in a way that is both appealing and motivating. On one hand, players are attracted by the Roman theme and the fact that each level corresponds to a position in the Asian society. The higher withdrawal limits and cashback deals, as well as the personal VIP account manager for top players are strong incentives.
On top of that, players receive exclusive bonuses for their loyalty and have access to the Golden coins exchange called Ancient Market. This is where some of the most tempting rewards are collected and players can also build monuments for extra cash bonuses. To enter the monuments challenge, one has to contact customer support. The rewards make the effort worthwhile, with players receiving $3000 for a statue of Jupiter and $3500 for rebuilding the Pantheon.
Casinoly Welcome Bonus: 100% up to €500 at Casino; 100% up to €100 at Sports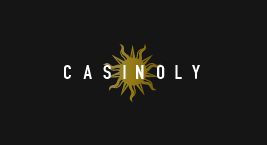 Casinoly Sports Welcome Bonus: 100% up to €100
min. deposit: €20
min. odds for wagering: 1.50
Casinoly Casino Welcome Bonus: 100% up to €500
min. deposit: €20
wagering requirements: 35x
Other Exclusive Deals!