Horse Racing Bookmakers and Betting Sites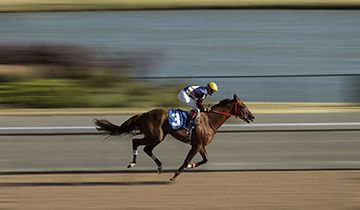 Also known as "the sport of kings", horse racing is one of the most popular betting events in the world. It is even subject to exemptions in many countries in which gambling is illegal.
Punters can almost always find a horse race to bet on due to the fact that there is almost always an event going on somewhere.
This is particularly true of the best horse racing betting sites, which generally carry global events or different types like dead heat betting in this field.
During those rare occasions that there is nothing happening, die-hards can always get their fixes with virtual horse racing.
Aside from the run-of-the-mill near-daily events that are featured in many cities around the world, premiere events such as the Kentucky Derby, Preakness, Belmont Stakes, and the Dubai World Cup are among the most wagered on events in all of sports.
Horse racing has a very broad appeal as both men and women love to bet on horses. Horse racing bookmakers are swamped with bets whenever a prime event is taking place.
With that in mind, let's look at horse racing gambling sites in closer detail.
Best Bookmakers for Horse Racing Betting
in 18 September 2023 – Updated List
Rank
Bookmaker
Bonus
Horse Racing Offer
Rating
Get Started
Horse Betting Bonuses
Bookmakers know how popular horse racing is and they draw customers by offering a wide range of bonuses and promotions. In fact, it would be quite a challenge to find a reputable bookmaker that doesn't offer some kind of horse racing bonus or special such as Pin-Up.bet's money €500 sports welcome bonus.
These types of promotions are also offered at 22Bet and 1xBet among others. Horse betting fans can also get their hands on a €100 bonus at Novibet.
There are quite a few horse racing bookmakers that offer daily, weekly or monthly cash back. These can also be called offers for existing customers or reload offers UK (these are specific to UK players). The most common type of bonuses are deposit bonuses and there is an overwhelming number to choose from.
You can get €300 at William Hill, and up to €350 in free horse racing bets at TornadoBet. You can take the €50 deposit bonus from Tonybet or the €120 bonus at ReloadBet and have a grand old time at the track. Don't forget that on William Hill it was registered the biggest winning bet in horse racing, of £1,000,000.
These and many more sign up bonuses are found at Gamblingjudge.com, where we cover the best horse racing betting sites and their top deals in closer detail. If you're after top horse betting sites, look no further than Gambling Judge.
Best Horse Racing Live Streaming Sites
Not everyone is able to get dressed to the nines and attend the Royal Ascot in person but most punters can certainly sit behind their computer screens wearing nothing but a bathrobe and slippers.
Thanks to betting sites with live streaming, race fans can catch all the action and place all of their wagers from the comfort of their own homes. Horse racing live betting is a big business, and it is growing each year. Players can also join in the action on their mobile devices from almost anywhere.
Industry leaders like Sporting Bet are just a few of the best horse racing bookmakers that offer their customers the live streaming experience and also offer dog betting. Horse international betting sites like William Hill and Betsson also offer this awesome feature.
There are many other excellent live stream horse betting sites and they are found by referring to the bookmaker database at Gamblingjudge.com. Don't forget to take advantage of those bonuses while you're there.
Best Live Betting Horse Racing Bookmakers
Most sports events unfold over the course of up to a couple of hours. This allows bettors a great deal of time to contemplate and place live bets. Horse racing is a little different. A typical horse race takes about 30 seconds to run although prime events like the Belmont Stakes see running times of around two minutes and thirty seconds. This doesn't leave a lot of time to analyze a live race and place bets while it is being run.
The Grand National is amongst one of the longest horse races, and there are plenty of runners and riders to bet on. Falls and horses pulling up are typical of the National. It is considered to be the premier event in the UK, and every single one of the best online horse racing betting sites – including new bookmakers offering horse racing options – will offer you tasty odds on the race at Aintree.
Those that watch horse racing on live streams at their favorite horse betting sportsbook need to act fast if they want to bet while the race is being run. They must also find a bookmaker that offers live in-play betting on horse races.
The Grand National is amongst one of the longest horse races, and there are plenty of runners and riders to bet on. Falls and horses pulling up are typical of the National. It is considered to be the premier event in the UK, and every single one of the best online horse racing betting sites – including new bookmakers offering horse racing options – will offer you tasty odds on the race at Aintree.
The truth is, unless we are talking about one the major events, you will be hard-pressed to find a bookmaker that offers in-play horse betting. Many bookies advertise live horse betting but they really mean that you can place bets up until the starting gun.
Bookmakers with the Best Horse Racing Markets
Almost every bookmaker takes bets on major horse racing events. With few exceptions such as unique promotions, the betting options are generally the same at most sportsbooks. The bookmakers that offer the widest markets and bet types on horse races are William Hill, Betsson and ReloadBet.
Of course, Coin365Bet Sports and SportsBet.io are just as good and so are Melbet, Tonybet, and 1xBet. If you have not yet registered with these bookies you can benefit from great bonuses, like the Melbet sign up offer of 100% up to €100 on your first deposit. Incidentally, William Hill regularly has great "money back as a free bet if you lose" promotions for races every day.
There are a few basic types of bets that a punter can place on horse races. You can bet a horse to win which is self-explanatory. Betting a horse to "place" means that your horse must finish first or second and you can bet your horse to "show" which means it must finish in the top 3.
With a "quinella", a punter chooses two horses which must come in first and second in either order. Punters usually "box" three horses when placing a trifecta bet. A "trifecta box", also called a tricast bet, involves picking the 1st, 2nd, and 3rd place horses to finish in the exact order while a "superfecta" (check here our superfecta strategy guide) requires you to correctly pick the 1st, 2nd, 3rd, and 4th place horses in the correct order. If you make the correct picks the trifecta box payout can be in fact very high. Higher wins can usually be obtained, depending on the pot, with tote bets like the Tote trifecta, Tote Placepot, Tote Win/Place, Tote Jackpot, Tote Swinger, Quadpot or the Tote Exacta. But if you want to find out how much a 50 cent trifecta box costs, check out our latest hot promotions.
There is the "daily double" in which your horse needs to win two races in a row. The "pick 3", "pick 4", and "pick 6" are increasingly hard variations of the daily double. There are also the forecast bet, reverse forecast bet or up and down bet options for the experienced ones. Punters who love horse racing betting should also be interested in tote and pool betting sites. With a wager of just £2 on a Scoop 6 bet you can win six figure prizes.
Horse Bookmakers with the Best Coverage of Major Events
A day at the racetrack can be a fun experience. You get your program and stats sheets, like post position win percentage stats, while listening to others discuss their picks and pans. You watch the monitor as it gives updated odds and other helpful information. You get a look at the horses and decide on your bets. Then it's time to head to the betting window and lay your wager.
The best online horse racing bookmakers want to deliver the same experience and many of them do. William Hill, Novibet and Betsson take pride in offering their customers horse betting information, up to dat stats, podcasts and articles from which punters can glean a wealth of valuable betting information. Bookmakers with statistics  and live streaming allow bettors to check out the horses before the races and placing the bets is as easy as a mouse click.
You can use Gambling Judge's database and our top 100 bookmakers to find the horse betting site that offers the most complete coverage of major events.
Horse Betting Sites that Offer the Best Odds
One of the easiest ways to get the best live odds is by going to one of the many websites that provide live odds comparisons. One thing can be said about horse racing odds: and that is horse racing odds are volatile. You can take the fixed odds or the SP. If you think odds will vary greatly in favor of one horse it would be better to bet on the SP. We explain more on when you should bet on the SP (starting price) and how does it work in our "what does SP mean in betting" guide. It is important to find a sportsbook like ReloadBet that has one of the lowest betting margins in the industry. This allows punters to generally get better odds.
Punters can get the guaranteed best odds on horse racing at Betsson. In fact, many other bookies like William Hill, and Sporting Bet offer the same thing. Be careful though! These best odds guarantees aren't exactly what you might think.
These guarantees simply mean that if you bet on a horse and the odds change, you will get paid out at a higher rate if you win. This is still a pretty good deal. There's nothing worse than picking a winning horse at 4-1 only to find out you could have had it at 6-1 if you waited. This works the other way around too.
Horse Betting Sites with the Most Payment Options and Highest Betting Limits
William Hill offers their customers a wide range of payment options and they also brag that nobody accepts bigger bets than they do. Their limits differ from sport to sport but their ceiling is usually in the tens of thousands of dollars.
They have a lot of competition in these areas. Novibet and 22Bet also offer multiple payment options and high betting limits. Pin-Up.bet and Coin365Bet Sports are also well-known for having higher than average betting limits.
Start Betting on Horse Races Today!
There are many ways to bet on horse racing and it is one of the most popular sports to bet on. The constant availability of action means that enthusiasts are almost always able to find betting opportunities at horse racing betting sites.
Your betting experience can be maximized when you use a reputable horse racing bookmaker that offers competitive odds, a lot of betting options, bonuses, and those important extras like live streaming, statistics, and other helpful betting information. Gambling Judge will help you find the best horse betting site and the most valuable bonuses even for crypto horse bettors.
Other articles you might like:
Frequently Asked Questions
Absolutely. Horse racing bets can commonly be based at both sportsbooks and betting exchanges. However, you may also wish to consider racebooks, as they often have a larger selection of events and special offers available.
In our opinion, the Each Way bet is the safest way to go. Known as Win and Place in the US, an Each Way bet sees you stand two chances of winning, either if your horse wins or places within a predetermined number of positions.
Yes, you can. While it is not common, you can bet on horses not to win. You will normally need to head to betting exchanges to really take full advantage of these types of backing and laying bets.
This type of bet is known as a Trifecta, and it is commonplace at leading bookmakers and racebooks. Select Trifecta on your betting slip, and then add the three horses you want to include in your bet.
The most profitable bet is always going to be to wager money on the underdog to win. However, the odds of that coming good are minimal. You could arguably slap a series of underdog win bets on with an accumulator (parlay) but the probability of these all winning are abysmal.
Betting on four horses is known as either a Pick 4 Bet or a First Four Bet. It involves wagering on four horses to finish in the top four. The order they finish in can play a part, of you can wager on them to finish in any order, depending on your bookmaker and bet.
No. Horse races are heavily regulated. Any major event that appears at a leading betting site or racebook will be regulated and heavily watched, so you can rest assured that they aren't rigged. Those days are long gone.