Best Sport To Bet On: What Is The Easiest Sport To Play?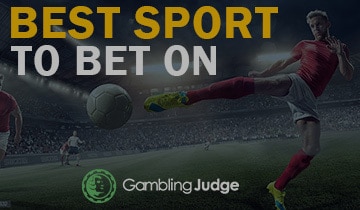 Is sports betting profitable? Well, if you pick the right sports and the correct betting options, yes, it can be quite profitable.
In this regard, players who bet on sports events always wonder two things: First, what is the easiest sport to bet on? Second, which one is best sport to bet on professionally?
If you are also wondering about which ones are the easiest sports bets to win, we can help you.
Below, you can find information about major sports events and which bet types are best for them. Additionally, we will give tips and tricks about how to bet on sports and make money.
Once you are done reading, you will have a clear idea on which ones are the best sports to bet on and which ones you should avoid. Let's start: We have lots of things to talk about.
Best Sports Betting Sites
in 18 September 2023 – Updated List
Rank
Bookmaker
Bonus
Safe & Trusted
Rating
Get Started
Which Is The Easiest Sport To Bet On: The Full List
Let's directly cut to the chase: What is the best sport to bet on? We will try to answer this question below, by analyzing some of the most popular sports types and some exotic ones. Spoiler: There is no single answer to what's the best sport to bet on question.
Statistically, your chances are better at some sports if you pick some specific outcomes, but it is impossible to select a single best sport to bet on and win. We will tell you why, but first, let's continue with our list and analyze some of our options.
Soccer
Is soccer the best sport to bet on? We cannot say that it is the best, but we can say that it is the most popular one in the world.  We are aware that most of the players think that soccer is the best sport to bet on, but we tend to disagree: The popularity of soccer is actually a disadvantage.
Everybody "knows" something about soccer so the odds are always lower than other sports categories. Moreover, keeping track of more than a dozen players is not easy: The performance of a single player can affect the whole team and there is no easy way to predict this.
If you are serious about soccer betting and want to know how to win big on football bets we highly recommend keeping it simple. Place bets for who will win/lose the match, instead of complex outcomes like "how many goals will be scored in the first half", but for more read our article about first half Baseball betting. You could also place accumulator bets, but with not too many selections.  You can learn more by reading our guides on how to win football accumulators and how to make money betting on football.
Football (American Football)
As can be guessed, American Football is the most popular sports betting event in the United States. In fact, the famous NFL Super Bowl event is like a major national organization: Literally, everybody watches it. However, does it also offer the most profitable bets?
The disadvantages of soccer also apply here: American Football is way too popular and it will be quite hard to find competitive odds for this reason, unless you are willing to take big risks. The player performance is more important than soccer, and lots of injuries can happen in a match.
In other words, there are way too many variables and it will be quite hard to make an accurate prediction, even if you do full research. Because of its unpredictability, American Football bets are not that good: You will be leaving too many things to chance.
Tennis
Is tennis the best sport to bet on? It will be a good choice, but we cannot say it will be the best choice. It is easy to keep track of the athletes: They are celebrities and there will be lots of data to analyze. They are also single athletes and not a part of a team, so it will be easy to learn everything there is to know about a tennis player.
In short, it is possible to make accurate predictions about the performance of tennis players. However, stay away from the double team bets. Adding more athletes to a match will increase the number of possibilities, and this is never a good thing.
As long as you keep betting on singles tennis matches, you will be good to go. Choosing the best way to bet on tennis may not be easy, but betting on the winner of the match is always a simple bet if there is a clear favorite. Of course, it comes with the disadvantage of low odds. If you prefer to bet on low odds, though, we recommend checking our best staking plan for low odds.
Basketball
Basketball is the second most popular sports to bet, and one of the most profitable sport to bet on. The reason is simple: The halftimes are short, and you get to analyze the performance of the team after every break.
The best way to bet on sport matches is by finding out how the athletes did perform, and basketball halftimes give you this option.
You should prefer live bets with this sport, and save your bets until the last quarter. Until then, you will have a pretty good idea about how the team performs and make more accurate predictions.
Baseball
Is baseball the best sport to bet on? According to US players, yes. Baseball bets are the third most popular betting category in the United States, and it is kind of a "national" sport in this country. Again, baseball has lots of halftimes and it is possible to analyze the performance of teams/players during the game.
Once again, live betting will be the best option for this sport: Wait until you have a clear idea of what is going on in the field, then place your bet at the last possible moment. Before you start betting you can also read the article is baseball rigged?
Boxing
Now we are talking. Boxing may be the best sport to bet on to make money, due to a simple reason: If you make your research, you will be awarded accordingly. There are only two fighters to focus on and it will be quite easy to learn everything about them: Their average round numbers (you can use when round betting in boxing), knockout data, weight, performance during previous matches…
You can create a quite satisfying list of data that will be useful for analyzing the potential of each fighter. Moreover, very high odds can be obtained after a couple of rounds, especially if the match lasts longer than predicted. First, you may need to learn how to read boxing odds and after that how to bet on boxing. In short, we can say that boxing is one of the easiest sports to win bets on, as long as you do your research.
Golf
Is golf the best sport to bet on? Not really. There are two reasons for this: First, live betting options, where the highest odds can be found, are very limited in golf matches. They last quite long but it is possible to understand which player has the highest chance to win in a short while.
This limits the available betting options: Unless you take very big risks, it is very hard to get satisfying odds. Second, underdogs rarely win golf tournaments. It is usually the star players who win, and this affects the odds and betting options too.
MMA
Another good sports event that can be an alternative to boxing. Analyzing the performance of fighters will always give you an edge and increase your chances, but there is a small problem: When compared to boxing, MMA matches last very short and for the same reason, you won't get many live betting offers.
It is best to place your bet before a match starts, not during it. Again, if you make your research, MMA events will be one of the easy sports bets to win.
Hockey
Betting on hockey matches is pretty common but if we analyze it from the perspective of a bettor, they are no different than American Football bets. Short rounds, extreme physical performance, high risk of injury, and the risk of losing a star player just because of a foul: There are too many variables.
You can make your research and bet on a specific team just because it has better players, but if some of those players leave the match because of injuries or penalties, that research will be meaningless.
eSports
The best place to bet sport on internet is the eSports matches: They are global events and sometimes the prize amount can reach millions of dollars,  eSports events are a good option and offer various betting opportunities. However, but for more read Esports betting USA, because there is the best esports market they are also not the easiest sport to bet on.
These events are actually multiplayer computer games and the best sports betting advice is to know the game you are betting on. In other words, you also need to be a player of those games too, if you want to know what is going on. For the younger generation, this is not a problem.
Most of them are already playing these games and can analyze the performance of players easily. But if you are a middle-aged bettor and computers seem like weird machines to you, stay away: You will never be able to understand the rules and the gameplay.
Horse racing
Horse racing is the "pioneer" of legal sports betting: In each country, the first thing to get legalized was always the horse racing bets. Unfortunately, we cannot say that it is the best way to make money with sports betting. Unlike other sports, the outcome of these races depends on "animals", not humans.
And you will never be able to learn everything there is to know about those horses, unless you are the guy who feeds them. "Chance" will always be the major defining factor in horse races and chance should be the last thing to depend on.
UFC
UFC matches are very much like MMA events: They last long, there is extreme violence and analyzing the performance of fighters to make accurate predictions is possible. Once again, it is best to place a bet before a fight starts.
If you wait for the live betting opportunities, the match may end before you can click the appropriate button. All the things we said about MMA bets apply to UFC bets too.
Darts
Betting on exotic sports events is not a bad idea: While the majority of the bettors focus on soccer and basketball, you can become a master of an exotic sport and find the best odds. That being said, dart may not be a good option. It is exotic, yes, and it is also the answer to what is the easiest sport to play question, but it is very much unpredictable too.
Since it is not a popular game, tracking the players will be very hard, so forget about making full research. Also, no matter how skillful the player is, that damned dart can land on a very different spot due to a millimetric mistake. So, no, we don't recommend dart bets unless you like taking unnecessary risks.
Cricket
But cricket may be your answer to which exotic sports is the easiest one to bet on. Cricket is much more common than darts, but still exotic enough. Moreover, there is lots of data to collect: Cricket is a "royal" sport, which means detailed data about every game and every player id available on official websites.
It is not the easiest sport to bet on as the rules are quite complex, but if you want to master an exotic sport and get something in return, cricket will be one of your best options for betting on one sport.
WWE
Nope. Stay away. Do not place a bet for WWE matches. It is probably the easiest sports to predict but this is not always a good thing. WWE matches are theatrical performances, rather than actual fights. The winner is usually determined behind the scenes even before the match starts, in order to gain more interest.
For example, the managers of the WWE League may decide to declare a "bad" character as the winner, just because it will get more attention from the crowd. In short, so not place WWE bets.
The Key To Finding The Easiest Sport To Bet On And Win
There are two "secrets" to find the most profitable sport to bet: The first one is choosing the sports you know. And the second one is eliminating the possibilities as much as possible. Let's explain both.
The first rule of a successful professional sports betting strategy is picking the sports you know. Sure, betting on a "log throwing" event may offer very high odds, but do you know anything about it? The best bets to make are the ones you already know about – we are not talking about playing that sports yourself, this is not necessary. (Although, a big plus)
However, you must know all the rules as you wrote them and once you take a look at the playing field, you must be able to understand what is going on. If you want to learn the answer to which sport is the easiest to bet on the question, it is simple: Best sport for betting is the one you know the rules.
Do not pick a sport just because it looks easy. If you are a snooker fan, play snooker bets and use a snooker betting system – do not try your chances on MMA bets if you have no idea how they work.
What is the statistically Best Sport to bet on?
We cannot answer this question because such data does not exist. If you look at the pure numbers, the answer is soccer bets. But this is because it is the most popular sports event, not because it offers the best winning chance. Since the majority of the player base bets on soccer games, the most winnings happen in this game, statistically.
But again, this does not mean anything. But we can give an interesting data: The average winning rate of professional sports bettors is 53-54%. This percentage is 22-23% for beginners.
As long as you do your research, any sports event can become the best sport to bet on. Do your research, visit sports betting sites, read sports betting guides, use a money management strategy, and learn everything there is to know about sports betting and gambling, but wait, is gambling a sport?
And to explain the second rule, always bet on simple possibilities, like win or lose. In order to increase your winning chances, you must be able to make an accurate prediction about a particular result. If this result is a simple one, like who will win or lose, your accuracy will increase too.
But if it is a complex one, like how many punches a particular fighter will throw during the first round, you will be making things too complex and incalculable. In short, keep it simple.
Biggest Sportsbet Payout of all Times
Finding the biggest sports bet payout is not an easy job, most of the winners remain to be anonymous. But some of them prefer to be known. Humble plumber Steve Whiteley from the United Kingdom is one of them. Mr. Whiteley placed a 2 GBP bet on the Exeter Tote Jackpot, which is a horse racing bets pool.
He played on six different horses and predicted all of them will win. Well, he was right: Mr. Whiteley has won 1.450.000 GBP with his bet. To this date, this is the highest sports betting payout of all times – at least among the recorded ones. Note that it is possible to find bigger payouts but those were big bets too: Mr. Whiteley played only a 2 GBP bet.
Make Your Pick, Play The Best Sports Bets Today!
To summarize, the best sport to bet on is the one you know. The easiest sports bets to win are the ones that are simple. We recommend taking a look at our other sports betting strategy articles too, as they contain information that will complement this one.
Remember: Make your research, pick the simplest option, and watch the event from start to finish in order to get new offers with high odds – these are the best advice we can give to you. May the Lady Luck will always be with you: See you at the betting booths!
FAQ about easiest sport to play
According to some statistics, Fotball and Tennis are the best sport to be on it and win, Rugby and Cricket are also in high demand.
The most complicated sport to bet on is baseball, not because of the rules but because you can score big in 2-3 minutes and between the quarters a lot of things can happen.
The easiest strategy is to choose those bets with small but secure odds, you will not win a big amount of money but at least your bet is relatively risk-free.
No, is quite hard to win every day because the favorite team/player doesn't always win.
Other related articles you might like: