Best Staking Plan for Low Odds – Top Low Odds Staking Plan [2023]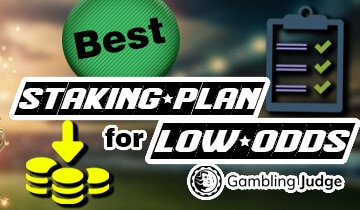 Instead of betting high and hoping for the best possible outcome, you can use a low odds staking plan and play safe.
Doing so has many benefits: A low odds staking plan will help you to manage your bankroll and low odds betting will increase your winning frequency.
With the best staking plan for low odds, you can make a low but regular income too.
If you are interested in this strategy and want to learn more, keep reading: Below, we are talking about everything you need to know about low odds betting and the best staking plans for it.
Best Bookmakers with Low Odds
in 01 November 2023 – Updated List
Rank
Bookmaker
Bonus
Safe & Trusted
Rating
Get Started
What is a low odds betting strategy?
Creating a low odds staking plan
A staking plan determines how you will use the budget you have allocated for betting. For example, horse racing staking plans give you an idea of how much of your current budget you should use for which race. Staking plans can be used in different types of sports betting.
It is possible to say that it is a sports betting money management tool. One of the football strategies, for example, requires an ideal distribution of your budget among different options. You can use a staking plan to determine how much to invest in options like under 1.5 goals, over 1.5 goals, and over 0.5 goals.
This also applies to low odds betting. A staking plan for low odds shows you how to make the most of your budget for bets that don't have high returns. In this way, regardless of your budget, you can maximize your earnings by managing your budget with a low odds staking plan.
Still, if you fancy betting on goals, but don't want to stick to a low odds staking plan yet, we recommend checking Betfred's Goals Galore no Draw offer.
The best staking plan for low odds
How to create a staking plan for low odds: step by step
Step 1
Start with creating your bankroll. You should decide the amount according to your budget. You can either create a bankroll of 100 Euros or 1,000 Euros, it is up to you.
Step 2
Divide this budget into units. 1 unit corresponds to 1% of your budget. We recommend creating 10 units to start, but the decision is yours. Try to create a balanced distribution.
Step 3
Find betting offers with low odds. The more units you have, the more you can bet.
Step 4
Your budget and units will determine the value of bets, but do not choose too low numbers. Use the "stake high win low" technique to get maximum returns.
Is betting on low odds staking plan worth it?
The answer to this question depends on your expectations. This plan allows you to make regular earnings, not high profits. So you may not earn much, but you will earn more often.
To give an example, if you bet 100 Euros on a tennis bet with 1.20 odds, you can only win 20 Euros. If you bet 100 Euros each on 10 tennis bets with odds of 1.20 and win, you will spend 1,000 Euros in total and make 200 Euros profit.
But to be realistic, there will also be matches you lose, so keep in mind that the overall amount of profit will be lower. (Speaking of which, don't forget to take a look at our complete tennis betting strategy and tennis betting rules guides too.) If these are enough for you, it means the staking plan for low odds will work for you and be worth your time.
Tips & tricks for a low odds staking plan
High-profile matches are not your friend. Anything can happen in these events and backing the favorite team/player may not be a good idea.
Since you will always place a bet for the favorite, make sure to do your research. Check for low motivation, analyze previous games, look for missing players – anything that can affect the outcome of the match.
Stay away from betting accumulators. They offer you the chance to pick multiple selections and combine them in a single bet. You are always betting for the favorite: Don't make things confusing.
However, you can still place live bets, as long as you follow the rules of low betting. Take a look at our live betting strategies article to increase your chances.
Pros and cons of a staking plan for low odds
PROS
You will see positive returns in the long run
You will be distributing the risk across many different bets
Lots of opportunities are available
CONS
The payouts won't be "amazing"
Losses will hurt more
Frequently Asked Questions about low odds betting:
That entirely depends on your needs, expectations, and budget. Profitable football betting, for example, can be possible with high odds too and if you have a big enough bankroll that you are not afraid to use, high-odds betting can be quite rewarding. However, don't forget that the higher the odds, the more risk you take.
A unit is equal to 1% of your total bankroll. So, if someone says "I placed 10 units for an over 1.5 goals bet", this means that person has used 10% of his total budget for that bet. It is basically a measurement term used to define the size of your bet.
You must know that there are two formats, fractional and decimal. A fractional odd looks like 6/1. This means you will win "6" if you bet "1". A decimal odd looks like 3.00. This means you can win "3" for every "1" you bet. Check betting guide or how to read soccer odds.
Start using the best staking plan for low odds today!