Odds Shortening Guide | Shortening Odds vs Odds Drifting Explained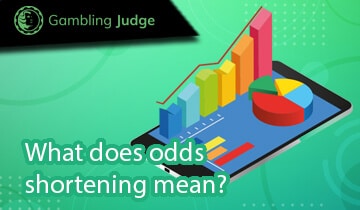 If you have played at an online sportsbook before, you will have heard of odds shortening. For those that have not, what is the odds shortening meaning, though? Are shortening odds a benefit of a hindrance to the average bettor, and what are the differences between odds shortening vs. odds drifting?
In this betting guide on odds, we will walk you through shortening odds and look at why these fan favourites may be ideal for you. We will also introduce you to some of the best bookmakers in the world. Make sure you also check out our "betting odds explained" guide to harness the power of sports betting odds
If you are ready to find out more, read our guide to discover the meaning of shortening odds. 
What does odds shortening mean ?
Top Online Bookmakers with the Best Odds
in 12 November 2023 – Updated List
Rank
Bookmaker
Bonus
Safe & Trusted
Rating
Get Started
How does odds shortening work?
Now that you have had odds shortening explained, it is worth looking at why shortening the odds happens in the first place. There are several reasons why bookmakers may choose to shorten the odds on something.
Of course, there are other betting terms alongside odds shortening that you will want to get to grips with if you want to become a seasoned sports bettor. We have got guides that discuss the concepts behind "accept all odds movement" and the best staking plan for low odds, as well as strategies for closing odds and more. However, as long as you know the basics behind odds shortening, you'll be off to a great start.
Odds drifting vs shortening: what is the difference?
Odds drifting vs. shortening are two sides of the same coin:
When the odds are shortening, you are dealing with

dropping odds

However, on occasion, the odds could drift. Odds drifting is another way of saying lengthening.
Spotting horses with shortening odds
How do you spot odds shortening or drifting? Learning how to spot horses with shortening odds is essential. Some players spend hours watching the markets in the run-up to an event. Any horse with tumbling odds is known as a steamer, but this could mean one of two things:
On the one hand, it could be a horse that the bookie has new information about, hence the change in odds.

It could also be a horse that the public fancies, and the surplus of bets has had to force the bookie to slash the odds to avoid having to pay out sizable sums.

It could also be that the true probability of the horse winning has not changed at all. Instead, groups of people (usually on social media) release blogs and gossip to attract attention to the horse, usually to deviate the public away from their own bet. In these cases consider betting against the public opinion.
Your best way to find steamers and identify which horses with shortening odds are worth having a bet on is to study the markets, read what is being said, and check out the advice of tipsters. However, we have a few more tips you might like, and we will look at those next.
Top tips for shortening odds that you should know about
As promised, here are our top gambling tips for shortening odds betting. They include:
👉 Visit a tipster. They will usually have a good idea of where things stand, such as the
best odds margins
. They will also provide their best bet, referred to as a NAP. This would be the short answer to what does NAP mean in betting.
👉 Watch out for non-runners. These can play havoc. A horse might appear to have shortened odds, but that may be because it is about to be withdrawn.
👉 Always check out the bookmakers with the best odds guaranteed.
👉 While it helps to know how to read soccer odds, learn about horse racing odds in particular, as this will help you identify top horses to back.
👉 Make full use of guaranteed offers and look for betting sites with cash out options to boost your returns.
The pros and cons of odds shortening
There are pros and cons to every aspect of gambling, and odds shortening is no exception. Our list includes:
PROS
You may be more likely to win with shortened odds
Most bookmakers keep you informed of odds shortening
It also applies to live sports betting
CONS
Your returns will be lower with shortened odds
Shortened odds may just be bluster
FAQs: Your questions on odds shortening answered
If you still have questions about odds shortening, let us see if we can help you with this brief FAQ guide.
If the likelihood of an event occurring increased, the odds available on that bet will shorten. This is known as odds shortening, and it means that while you may be more likely to win, your return will not be worth as much as it was initially.
Not normally. Fixed odds are usually secure from future fluctuations. There are exceptions, but these are few.
There are plenty of tools out there on the internet that consider odds shortening, and these can be used to find the best deals.
No. Before you do that, you need to know the reason why a horse has become a steamer. If it is because it is more likely to win a race, you may wish to have a crack at it. If it is bluster, hearsay, or pure unfounded gossip, you should avoid this.
Place bets with renowned bookies online today
Now that we have covered odds shortening, perhaps you want to check out some of our other top guides? If you have got a question on "how do bookies set odds?" or fancy reading a low odds betting strategy guide, we can help. Moreover, we can also recommend dozens of licensed, secure, and renowned sites, the best odds bookmakers in the business for you to join. Do not hesitate to check out what else we have to offer at our site.