Accept All Odds Movement – How to properly use the "Accept all odds change" feature
---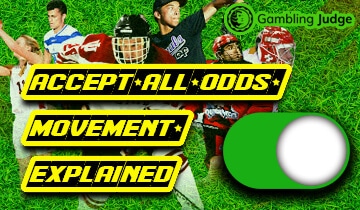 When betting online, you have a full array of tools at your disposal, and the accept all odds movement option is just one of those.
While not every bookmaker provides this service, it can be an invaluable tool to have at your disposal. What does accept all odds movement mean, though?
What can it do to the best odds margins? In the past, we have looked at ACCA insurance free bets and a variety of live betting bonuses, amongst other things.
Now it is time to write a guide that covers the accept all odds movement option. If you are eager to learn more, read on…
Top 10 online bookmakers that accept all odds movement [2021] - Updated list
Rank
Bookmaker
Bonus
Safe & Trusted in UK
Rating
Get Started
What is Accept All Odds Movement?
What is the accept all odds movement option? If you have played at online bookmakers for any length of time, you will surely have encountered a moment when you place a bet at one set of odds, only to discover that it changed while you were making your bet. This option gives you control over that.
If you are looking for an accept all odds movement meaning, it means essentially that you can choose whether you are okay with the odds changing or not while you are placing your bet. Once you have confirmed your bet, the odds will become fixed. However, for those brief few seconds when your bet is processed, the odds could shift.
They could become more profitable, less attractive, or not move at all. Accepting the movement of odds is a gamble, but this betting guide will show you how to make the most of it.
We also recommend reading our "low odds vs high odds" guide that will help you to better understand this concept.
Should I "accept all odds movement" when betting?
You are probably wondering "should I accept all odds movement?" when betting. Before you can decide this, it is essential to note a few things. Do you know
how to read soccer odds
, or
how to read baseball odds
? Odds can change while bets are being processed (the concept of
dropping odds
), so it is crucial to already have "good odds" in case they end up losing value (a situation that might occur when encountering the
closing odds
).
However, a rise in the other direction can see you taking advantage of the option, and that is no bad thing. Always examine the starting conditions before deciding if this option is for you. Doing so should enable you to answer the question.
Specific accept all odds movement bets
When betting with the accept all odds movement option ticked, there are two types of bet which tend to work best. They are regular bets and matched bets. In both cases, you are betting on an outcome.
For instance, a back bet will see you bet for an outcome of a game, while a lay bet will see you bet against an outcome. These are ideal bets as they usually break down into just three sets of odds. Win, lose or draw.
Top tips for accepting all odds movement at online bookmakers
Is it better to accept all odds movement? That's ultimately down to you. The time, amount the odds change, whether you are using
over/under betting
, have
profitable football betting
odds in the first place and are wagering on the
easiest sport to bet on
all should play a part in helping you decide. However, we do have some
betting advice
for you. Well, more of an example, really…
Let us pretend that you want to bet on an "Under 2.5 Goals" bet. The score is 1-0, it is live and ongoing, and you fancy your chances. If you have "accept all odds movement" activated, and another goal is scored, the odds rise, and your chance of success dips. In this case, "accept all odds movement" is not good.
Alternatively, you fancy putting a bet on Arsenal to beat Spurs (with any score). You accept the 2.10 odds on offer for this outcome. While your wager is being processed, Aubameyang is injured. The odds rise. If you have "accept all odds movement" activated, the odds on an Arsenal success will increase in your favour. This is the perk of the option.
Ultimately, it is all about risk. You can profit by the accept all odds movement, but your best shot is if you already have high odds to kick-off with. If in doubt, just turn the option off.
Do I get to choose these options myself?
Some internet bookies, while safe betting sites, offer the accept all odds movement option in different ways. It is up to you whether you want the bookie to ask you before placing your first bet (this will set up the same option for all subsequent bets), or whether you want them to always ask before each new bet. Safe betting sites will give you this choice.
Other top bookies offering accept all odds movement
Pros and Cons of accepting all odds movement
PROS
Ideal for soccer betting and sports you know well
Can see odds become more favorable if used
Handy feature to have at your disposal
Frequently Asked Questions about the "Accept all odds movement" feature:
No. The most reputable, well-licensed and regulated bookmakers do, though.
That is up to you, and what you want to do with this option.
Yes, and given the ever-changing nature of horse racing odds immediately before a race, this is something worth considering.
No. As the odds may change even before the event starts, this option is available for anything, really. Ante-post betting is not particularly advised with the accept all odds movement option, but that hasn't stopped some players form giving it a try.
Yes. It doesn't matter the device you play with. The option is either available at online bookmakers, or it isn't.
Find top bookies with accept all odds movement options today!
If you want to try out the accept all odds movement option, you need somewhere to play. You can find your bookmaker on our website. We also assist if you need to learn how to bet on football, discover which payment method to use, and a myriad of other things.
Using our filters, you can find great places to play in 2021. Gear up, and get ready to play by reading our top reviews today.