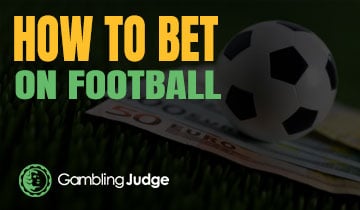 Do you know how to bet on football? If not, you're in for a treat.
Throughout this betting guide, we will look at the many different ways to bet on football.
Of course, depending on where you reside in the world, the term "football" might mean something different to you.
The football you can bet on can vary from country to country.
Many football fans flock to websites hoping to find football betting tips, only to find that the site they have chosen is focusing on "the other type" of football – American football.
To counteract this problem, we'll cover both games in this article. If football means NFL to you, we can teach you how to bet on football spreads.
If it means soccer or association football to you, we'll go over the best way to bet on these football games, too.
After all, there can be similarities between betting on the two games. Without further ado, let's look at the types of football bets which are available to you.
Top 10 Football Betting Sites
in 01 November 2023 – Updated List
Rank
Bookmaker
Bonus
Safe & Trusted
Rating
Get Started
Understanding the Types of Football Bets
When learning how to bet on any sort of football, it doesn't really matter which of the two games you prefer. The same types of bets can be found in both games. With that in mind, if you're eager to learn sports betting and how to place a bet on football, we can cover those wagers simultaneously. The most commonly found bets include:
Spread/Point Spread Bets: You may often have heard of it and wondered, what is the spread in football? Spread bets are an American style wager, commonly found in NFL games. The gambler is essentially wagering on the difference between the scores of two teams, with the wager dictating whether the spread is higher or lower than the bookmaker's value (check our value football betting guide for more info). Also known as football point spread betting, it works like this:
A bookie chooses to offer a spread of "4" for a game. If the player bets on the underdog and the underdog's score plus the spread of 4 is greater than the score achieved by the favourite, the player wins. If betting on the favourite, the player needs the favourite's score (minus the spread) to be greater than the underdog's score to win.
Moneylines/Straight-Up Bet: What Americans call moneyline bets are essentially the same as what Europeans call straight bets in football. What we're talking about here is a wager on a team to win. The specifics don't matter – the player wins if their chosen team does. It is as simple as that. You can find this type of bet in many other sports, like tennis for example. It is maybe the best way to bet on tennis for a beginner.
Over/Under Bets: You may be wondering how does the over/under work in football? Found in both types of football games, Over and under bets typically involve wagering that a score will be over/under a value offered by the bookie. For instance, players might bet that the total number of yards run in a match will be over/under the number predicted by the bookie. If they are correct, they win. There are variations to these type of bets, called alternative goal lines, where "whole goals" and "quarter goals" are included.
Handicap Bets: Handicap bets are found in American football, and are used to try and bring some balance to a game which features a heavy favourite and serious underdog. To win with a handicap bet on a favourite, players have to hope that the favourite wins by a certain amount. When betting on the underdog, they have to hope that the underdog doesn't lose by more than a certain number of points.
Asian Handicaps: Asian handicaps are similar to regular handicap bets, although the figures are determined by form. This form of spread betting originated in Indonesia.
Accumulators/Parlays: An accumulator bet is a series of stakes on different games on a single ticket. Because players need all (or most) of their bets to win, the amount which can be won is considerably higher, owing to the greater risk involved.
Teasers & Pleasers: These bets are typical spread bets, like the sweetheart teaser. However, players are entitled to adjust the spreads and points in exchange for a lower return on winnings.
BTTS Bets: What does BTTS mean in betting? It simply means that both teams need to score at least one goal in order to win this bet. Betfred's Goals Galore No Draw offer implies the BTTS bet and deserves to be checked out.
Specials: These can constitute anything from a special offer bet (such as a promotion) to an outlandish bet on something very obscure and vague. The latter may include the number of corners, fouls or total numbers of cards(read our article on how to bet on bookings to understand more) in an association football match, for instance.
Before you can wager using those bets, it helps to understand fixed-odds football betting rules. For starters, you need to know how to read odds.
How to Read Odds and Place a Bet
There are three distinct types of odds you need to know when learning how to bet on football and win. Let's look at how to read football odds now. Here are the three most common types of football odds explained.
American Odds (e.g. Favourite -120, Underdog +150): Commonly found in American football bets. These are typically expressed as a three-digit number, with either a plus or minus sign in front. The positive (+) bet is a wager on the underdog and the negative odds bet is a wager in the favorite. The +150 in our example is what you can win if you bet $100 on that team. The negative number (-120) is what you need to wager to win $100 with a bet on the favourite.
Decimal Odds (e.g. Favourite 1.20, Underdog 2.40, Draw 1.80): Decimal odds are commonly found across the globe, and are regularly used for association football. These bets tell you precisely what can be won if you bet one currency unit on an outcome. For instance, betting €1 on the underdog will yield a win of €2.40 (plus your €1 stake back) if the underdog wins.
Fractional Odds (e.g. Favourite 8/12, Underdog 5/1, Draw 8/2): Fractional odds are popular in the UK, but usually amongst horse racing fans. They can be found in association football bets, though. The first figure in the fraction is what can be won, while the second figure is what must be wagered to win that sum. For instance, a £12 bet on the favourite yields your stake back plus £8 in profit if the favourite wins.
Now that you know how to read footy odds, let's get on with our football betting guide, and look at the first steps you need to take before betting.
How to Bet on Football - Top Tips for Footy Fans
You should by now understand football bets a little bit. Here are the first steps you need to take to start betting real money on your favourite teams.
Understand the Odds: Make sure you re-read this guide to ensure that you understand how to read odds.
Know Your Bets: Again, make sure you understand the different types of bets we have discussed, and which ones apply to different sports and regions. If in doubt, always go with decimal odds, as they are the easiest to understand.
Play Legally: You can play bets at a casino, over the telephone, in a land-based sports betting outlet, or online. However you choose to go about it, you need to learn how to bet on football legally. This is done by playing with a bookie who is licensed to offer their services to players in your country.
Compare and Contrast: It can be beneficial to compare and contrast bookies. This will help you get a good idea of the types of odds which are available. You'll be looking for the most favourable odds which give you the best return compared to your stake.
Essential Advice: Keeping tabs on your bankroll is vital. Don't wager everything you have straight away. Learn about handicaps which can even out seemingly unfair bets. It also helps to stick with simple bets to start off with. Remember, mistakes can happen at first, and that is normal.
Hone your Skills: It can be handy to read prediction guides. Written by "tipsters", these can unveil nuggets of knowledge which can point you in the right direction when making a bet. Of course, watching sports and checking out stats centres will allow you to improve your knowledge of the sport and thus your ability to bet successfully, too.
If you're still asking yourself, "how can I bet on football games", you might need a bit more advice. Let's provide you with a few more nuggets of knowledge…
Things to Weigh Into Consideration
There are many things which you might want to consider when considering football betting games. We've covered a few above in our bet on football tips section. However, while there are no guaranteed steps to how to bet on football and always win, there are things you can consider when betting on football which can help your cause, even if only marginally.
We've discussed how to read football betting lines, and that will help you make money betting on football, but you will need more than having football betting lines explained to you. What about form, weather, schedules, etc? Can they play a part, too? The next part of our "how I can bet on football and win guide" concerns stats.
Team Schedules: If a team has too many fixtures scheduled close together, it could lead to fatigue. That will have a knock-on effect on your team's chances of success.
Current Form: Form is key. A team that has lousy form will have low morale and will likely perform under-par.
Injury Reports: Keep tabs on player injuries. A team with a surplus of injuries isn't likely to be at its strongest.
Weather Forecasts: Not all football matches are affected by the weather. However, wind and rain, as well as heat, can sometimes play a part.
Gameplay Strategies and Tactics: Some NFL teams excel more than others in terms of passing yards, rushing yards, carrying and kicking. Similarly, some association football teams are attacking sides, while others skilled at defence. Learn how each team plays and how they set themselves up. It may give you an inkling into how a game is likely to be played out.
Know your Football Before You Bet
As mentioned, in this "how can I bet on football games?" guide, we have covered the two most popular types of football games, in American and association football. As the same odds can be used for both games, you can learn how to bet on football online for both games at once.
There are different competitions you may wish to consider looking at when learning how to gamble on football. One of the final steps in our guide is to introduce newbies to those competitions.
About Association Football: The Beautiful Game
Association football (known as soccer in the U.S.A.) is the most popular sport in the world. When considering how to bet on football at UK sites, you may wish to give the following competitions a try:
Premier League: England's top division and the most-watched national league in the world. It consists of 20 teams and is played from August to May every year.
Champions League/Europa League: The top finishers in Europe's national leagues compete in a group stage and knock-out competition known as the Champions League, to crown the European champions. A less lucrative competition – called the Europa League – is open to lower national league finishers and domestic cup champions and works in much the same way.
World Cup: This is held every four years. The FIFA World Cup sees 32 international teams take each other on in a group and knockout competition to determine the best international team in the world.
European Championship: Also held every four years (in-between World Cups), the European Championship is held between the best ranking European international teams and is similar in format to the World Cup.
Other National League Competitions: Germany (Bundesliga), Spain (La Liga), Italy (Serie A), France (Ligue 1) and other major European countries also run national leagues. These, too, can present exciting opportunities to gamble on association football.
FA Cup: The oldest cup competition in national football. The FA Cup is England's primary domestic cup competition and sees major clubs and non-league sides mixing it in a straight knock-out competition every year.
American Football: The Other Type of Football
If you are wager to study how to bet on American football games, the following competitions are the primary ones you should consider:
NFL: The National Football League is the top-tier competition in the USA (and thus, the world). It comprises two conferences (AFC and NFC) of 16 teams each. The top teams in each conference progress to the playoffs at the end of each season.
College Football: Learning how to bet on college football online could be worth your while, too. Played between what are essentially amateur American football teams, these competitions attract a lot of attention in the US.
Super Bowl: The winners of the playoffs meet each other head-to-head (check here our head-to-head sports betting guide) in a one-off game known as the Super Bowl. The winners of the Super Bowl are naturally crowned NFL champions. This represents the final game of the season and takes place on the first Sunday in February.
Common Football Betting Mistakes
It is important to remember when learning how to bet on football online that mistakes happen. It is impossible to get everything right, and there is no such thing as a how to bet on football without losing guide. Common mistakes when betting on football include:
Wagering large sums of cash on an unfancied underdog
Not checking a bookie's odds with those at other sites for the best deal
Betting solely on favourites, expecting to win them all, and forgetting to bet on draws or on the underdogs
Betting on competitions or matches you know very little about
If you still have questions such as "how can I bet on football games online?" we've put together an FAQ guide for you.
Frequently Asked Questions About Football Betting
We've covered the "how do I bet on football?" question adequately above, but you may still have a few lingering queries. If so, our frequently asked questions guide on football betting could help you answer some of those.
No, but it certainly helps. Generally speaking, you should participate in online football betting unless you know at least know "something" about the sport/event.
The favorite in a match is the most likely to win, but sometimes the underdog triumphs. The trick to learning how to bet on football games online is learning to identify when the underdog has a decent chance of pulling off a shock result.
For instance, when online betting with American football, American odds are well-suited for the purpose. For association soccer, decimal odds are favoured. Fractional odds are most popular with UK punters. Can you bet on football online using any odds? Sure, but it is best to stick to the script here.
There is no one site which is better than the rest. Each has its own perks, depending on the type of football gambling you want to do. Our advice would be to peruse our list of top bookies to find a suit which is best suited to your needs.
No. In fact, only the biggest and best bookies offer in-play bets, live streaming and early cashout options. Learning when to bet on football doesn't necessarily need you to have these options, but they are handy.
Some promos such as the chance to get your money back if an association football match ends in a draw are ideal. Some promos may pay out cashback or other funds in bonus cash. This means that they will likely be subject to wagering requirements.
Play at the Best Bookies with Our Sportsbook Guides!
Now you know how to bet on football. You will also have a good idea about how football gambling games and bets work in relation to the two types of football. Now you just need to pick a bookie and get started.
Our page has plenty of top sportsbooks which are recommended for you. We've played at and reviewed each and provided in-depth analysis on why each of our recommended bookies could be ideal for you. Check them out and find your ideal sportsbook before betting on football this season.
Other related articles you might like: