Europa League Betting – Ultimate Guide to UEL Betting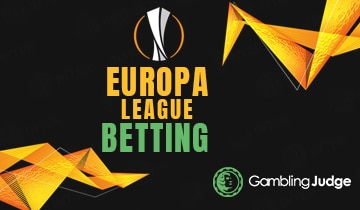 It may be the second European football competition after the Champions League, but Europa League betting is a major market for fans of sports wagers.
Because of the calibre of teams which enter the competition (they are often so evenly matched) players can find some great UEFA Europa League winner betting odds.
If you're a keen and avid football fan, our Champions League and Europa League betting tips and guides are for you.
Throughout this Europa League betting preview, we will look at the rules of the competition.
We will also look at memorable matches and discuss a few of the betting options you have open to you.
Best Europa League Betting Sites
in 01 November 2023 – Updated List
Rank
Bookmaker
Bonus
Safe & Trusted
Rating
Get Started
Get Ready to Bet on the UEFA Europa League
Our Europa League betting tips guide is your one-stop-shop if you fancy a punt on the beautiful game's second European footy competition. Before we can dive into the ins and outs of the betting options, though, we should take a brief look at the competition itself. Let's begin our Europa League betting guide by learning a bit about the history of the tournament.
What is the Europa League?
The UEFA Europa League has been around since 1971, and it has undergone many changes in format since it first went launched. If you're going to be betting on the competition, it won't hurt to have a bit of knowledge about the tournament itself.
The UEFA Cup: The original competition was known as the UEFA Cup. From the start, the competition was devised as a tournament where the runners-up and teams finishing in higher positions in the domestic divisions of European leagues could compete. The competition would eventually merge with the UEFA Cup Winners' Cup in 1999, which was a tournament developed for the winners of European leagues' domestic cup winners. From 1999 until 2009, all those participants would also join the UEFA Cup. The tournament was a straight knock-out competition, involving random draws and two-legged games. It produced many memorable matches.
The Europa League: In 2009, the Inter-Toto Cup (another European competition open to lower-ranking sides) was absorbed into the UEFA Cup. The tournament itself underwent a significant rebrand, much as the European Cup became the Champions League in 1992. Now known as the Europa League, it would also see the inclusion of a group stage, giving it a similar format to its more famous counterpart.
The UEFA Europa League's Greatest Hits
Since it first appeared in 1971, the UEFA Cup/UEFA Europa League has seen many memorable games. Surprise results are the norm in the competition, and here are a few of the most iconic Europa League games to ever have been played.
Salzburg 4-1 Lazio – Quarterfinal, 2017/2018: Who would have thought that Red Bull Salzburg could take down Italian giants Lazio? That's precisely what happened in April 2018. After Lazio went ahead in the second leg, they led 5-2 on aggregate. Things looked bad for the Austrian side. However, a fine comeback saw three goals in five minutes bundled in for RB Salzburg. In just a few moments time, the 5-5 aggregate score saw Salzburg through to the semi-finals, and Lazio royally dumped out of the competition with a flabbergasted look upon their faces.
Sevilla 4-0 Middlesbrough – Final, 2005/2006: In 2005/2006, Steve McClaren's star was rising, and his Middlesbrough side were looking at an unlikely Europa League win. While their league form suffered, Boro would prove tough to break down in Europe. Whether it was overconfidence, weariness from a long, uneasy season (for them at least) or just switching off for a moment, no-one knows for sure. Boro trailed by a goal to nil with 15 minutes left to play. When they should have been fighting to stay in, the wheels fell off. In the space of a quarter of an hour, a one-nil defeat turned into a four-nil route. Sevilla would go on to win the following year, too. As for Middlesbrough, they never yet to appear in European competition again. McClaren didn't fare much better. He took the England job, failed to qualify for Euro 2008, and save for a small stint in the Netherlands with FC Twente, his star has never shone as brightly since.
FC Porto 3-2 Celtic – Final, 2002/2003: Jose Mourinho became a household name leading Porto to Europa League (then UEFA Cup) glory. They met Scottish side Celtic in the final of the 2002/2003 tournament. Twice Porto had the led the game, and twice Swedish legend Henrik Larsson had equalised for Celtic. Extra-time beckoned. A second yellow card damaged Celtic, and Derlai positively crushed them with his extra-time winner. Porto would go on to snap up the Champions League the following year, and Mourinho's legend would begin in earnest.
Shakhtar Donetsk 2-3 Sevilla – Semi-Final, 2006/2007: Goalkeeper Andres Palop made himself a Sevilla hero in the 2006/2007 season. He would save three out of four spot-kicks to hand Sevilla the trophy in that season. Before that, there was the matter of Shakhtar Donetsk and a semi-final to deal with. After a 1-1- draw in Seville in the first leg, Shakhtar Donetsk started the second leg brightly, only for Enzo Maresca to equalise for Sevilla. Elano put the Ukrainian side back in front, but it was goalkeeper Palop who incredibly scored a ninety-fourth-minute equaliser, the like of which will never be forgotten. In extra-time, Chevantón prodded home the winner in the hundred and fifth minute to see Sevilla on their way to the final, and the second of a record haul of five Europa League trophies.
Liverpool 5-4 Alavés – Final, 2000/2001: Liverpool won the then UEFA Cup in dramatic fashion in 2001. Gerard Houllier's team were 3-1 up against their Spanish opposition at half time. Javi Moreno scored two in five minutes to level things up. Robbie Fowler put Liverpool in front before ex-Man United star Jordi Cruyff equalised with the last kick of regulation time. A BTTS both halves Yes bet in this case was a winner. In extra time, there was a disallowed goal for both sides, followed by red cards for both teams. Lastly, an Alavés own goal gave victory and the cup to the Reds in a game which really did have it all.
Explained – The Structure of the Europa League
The original competition used to consist of a straight knock-out format, with two-legs played in each round. However, the tournament has since changed to include a group stage. There is also quite a long route to take for minnows before they get to the group stage.
If you are to understand Europa League fixtures and betting odds, you need to know this format. This is how the competition, and thus, the Europa League betting rules work.
The Qualifiers
Coefficients determine how many teams each country has to enter the competition. These are based on each association's teams' competition success in previous years. Naturally, more significant leagues are represented by a greater number of teams for the tournament, and they enter the competition during later rounds.
The first matches in the competition begin in June, with the Preliminary Qualifying Round. A total of 14 teams compete at this stage, consisting of the domestic cup winners of the 52nd to 55th ranked associations, and the teams who finished third in associations ranked 48th to 51st.
Football predictions in the Europa League are very hard to call at this stage, as all the teams are so evenly matched. The seven winners advance to the First Qualifying Round.
At this stage, a total of 94 teams compete. The seven Preliminary Qualifying Round winners join the domestic cup winners of the 26th to 51st ranked associations, as well as "league" cup winners from the 18th to 48th associations, and the third-placed teams from the nations ranked from 16th to 47th.
Two routes open for the Second and Third Qualifying Rounds. In the Second Qualifying Round, the Champions Route is available for 3 teams eliminated in the Champions League preliminary round, 16 teams eliminated in the Champions League First Qualifying Round, and 10 winners of the Europa League First Qualifying Round. By contrast, the League Route consists of 74 teams.
They include 47 winners of the First Qualifying Round, the domestic cup winners of the 19th to 25th ranked associations, league runners-up for the sixteenth and seventeenth ranked associations, third-placed teams in associations ranked 13th to 15th, fourth-placed teams from nations ranked 7th to 15th, fifth-place teams in the fifth and sixth best-ranked nations, and the sixth-placed teams in the first to fourth top-ranked nations.
In the Third Qualifying Round, the Champions Route sees the winners of the Europa League Second Qualifying Round (Champions Route) and the eliminated teams from the Champions League Second Qualifying Round compete. The winners enter the Playoff Round.
Similarly, the 37 winners of the Europa League Second Qualifying Round (League Route) enter the third qualifier stage. They are joined from two teams from the Champions League Second Qualifying Round (League Route), the domestic cup winners of 13th to 18th ranked associations, the third-placed teams from associations ranked 7th to 12th and the fourth-placed teams in the sixth-ranked nation.
The Playoff Qualifying Round is the final stage of the qualifiers. The Champions Route sees the 16 teams from the previous Europa League Third Qualifier Round (Champions Route) meet the eliminated teams from the Champions League Third Qualifying Round. In the League Route, only the 26 winners from the Europa League Third Qualifying Round compete.
The Group Stage
A total of 48 teams are divided up into 12 groups of 4 teams for this round. Twenty-one of those will be from the Europa League qualifiers. Six losing teams from Champions Route and two teams from the League Route of the Champions League Playoff Round will join them.
So, too, will the two losing teams from the League Route of the Champions League Third Qualifying Round, the winners of domestic cups in the first to twelfth ranked associations, the fourth-placed team of the fifth-ranked association, and the fifth-place teams from nations ranked first to fourth (according to the coefficients).
Europa League predictions are marginally more straightforward in the Group Stage, as there will be a mix of David and Goliath teams in each group. Teams play each in their group twice (at home and away). The top two footy teams in each group advance to the Round of 32.
Round of 32
The 24 Europa League teams (12 winners and 12 runners-up) are joined by the eight third-placed teams in each group from the Champions League in the Round of 32. Teams who won their group (and four of those from the Champions League) are squared off with the Europa League's group runners-up and four from the Champions League.
UEFA Europa League betting tips and predictions are still easier to call at this point. Teams play two legs, with aggregate scores, away goals, extra-time and then penalties being used to decide a winner. So UEFA Europa League matches go well with betting on penalties.
Round of 16, Quarterfinals, Semi-Finals
All teams are drawn into one pot for this round, with no seeds. It is a straight knockout competition played over two-legs, with the same criteria applied to matches at each stage. This is the process for the Round of 16, and then the Quarterfinals.
The winners of the two Semi-Final games meet in the Europa League Final. UEFA Europa League betting tips and predictions become tougher now, as many of the remaining sides are once again evenly matched.
UEFA Europa League Final
The footy final is played at a different stadium each year. The Europa League Final odds may be easier or difficult to call then the semi-finals, depending on the two finalists. There is no aggregate score, or away goals rule in this match. In the event of a draw, extra-time and then penalties will determine the winner.
How to Bet on the UEFA Europa League
Our Europa League betting preview will now turn towards gambling options. Most bookies offer the same types of wagers, so let's look at the UEFA Europa League best bets you can find at a wide range of online sportsbooks. They include:
Match Winner: Simple Europa League line betting at its finest. All you need to do is choose who you think will win a match.
Outright Tournament Winner: Having a Europa League champion bet is ideal at the start of a tournament. Although it is difficult to predict a champion early on, Europa League betting on outright winners tend to offer the most favourable odds early in the competition. Pay attention that the odds may not be available for all teams. Underdogs may be grouped under the name 'bar'. What does bar mean in betting though? The bar price refers to the odds of contestants which were not listed individually.
Golden Boot Bet: If you fancy have a punt on the player to score the most goals in the tournament, this is the ideal bet for you.
Accumulators Players can also choose to wager on several games at once. Accumulator bets such as these pay-out more if you can nail all (or sometimes even just most) of the bets on your single ticket.
Live Betting: Many top bookies also permit live betting. This means you can wager after a match has started, and sometimes join the action live. As the game changes, so do the odds.
Odds and Ends: Plenty of other bets can be made, too. Players can bet on the correct score, place over and under stakes on Europa League corner bets, and much more besides. These novelty bets can often provide some wild odds.
Things to Note About Live Europa League Betting
When you decide to engage in a spot of live Europa League betting, there are a few things you should consider. Some live games can be placed via mobile apps. Some bookies also provide live coverage of games. If you've got a bet on, watching it unfold in real-time via a video stream is handy, as you can keep tabs on the action for yourself.
A handful of bookies may also provide players with a chance to cash-out early. If they do so, players won't be taking home the full amount of their winnings, but it is better to cash-out early and lose "some" of your winnings, than wait for the opposition to score and force you to lose the lot. Pay attention, as early cash out is not to be confused with early payout. With the early payout you get your winnings paid in full if the team you backed is ahead by a specified number of goals or points. These and other Europa League live betting tips can come in handy when wagering.
Handy Hints, Tips and Tricks for Europa League Betting
If you have your mind made up about joining the Europa League betting circus, here are a few helpful Europa League betting tips for you to consider.
Do Your Homework: It certainly pays to check out Europa League betting tips and predictions. You can do this by checking out stats centres and looking for injuries, weather changes, and other "indicators" of how a team may line-up prior to the game.
Extra-Help Is Available: You can get Europa League betting advice from tipsters. There are many UEFA Europa League betting experts out there online who offer this advice, either for cash or free of charge.
Form Isn't Everything: Just because one team has been selected as Europa League betting favourites by a bookie, doesn't mean that they will win. The Europa League tends to throw up some surprise winners. Moreover, the Europa League is a long campaign. A team may suffer in their domestic league and do well in Europe. Remember Middlesbrough? Domestic form shouldn't be given too much consideration when betting on the Europa League.
Pick Smart Accumulators: If you choose to play with accumulators, do your homework. Use Europa League accumulator betting tips to select matches which are almost certainly only going to end one way. Since accumulator bets rely on most (sometimes even all) of your bets being accurate, this is a must.
Watch Out for the "Big" Teams: Unlike the Champions League, the Europa League often features a greater number of evenly matched teams. Even when the "big teams" come into the competition from the Champions League in the Round of 32, it by no means ensures that they will win the cup. The teams which go far in the competition are often those which have been in the tournament the entire time, and not a Champions League reject.
Pros and Cons of Europa League Betting:
PROS
There are lots of Europa League football betting tipsters you can rely on
Over a hundred teams compete in total (through the various stages), so you have many betting options open
There are more games played per week than the Champions League, giving you more choice for accumulators
Most bookies offer Europa League betting
Teams from many countries compete, so the odds are good that you'll be familiar with most of them
CONS
It is easiest to predict a winner in certain rounds than others
Live-streamed coverage is not as common as with Champions League bets
Europa League Guide FAQ:
Our Europa League betting guide is almost at its ends. You will no doubt have learned a fair bit from our Best Europa League Betting tips guide. However, before you start betting, it is worth checking out our FAQ and sportsbook recommendations.
Almost certainly. While the UEL is not as popular as the Champions League, there are so many betting options available that bookies would be foolish not to.
Yes. While the Champions League tends to throw up the same quarter-finals year in, year out, the Europa League is quite different. This can see some truly epic odds come your way if you bet early on.
There are plenty of UEFA Europa League betting tips and predictions to be found online if you know where to look. Some bookies even have a few of their own. Failing that, newspapers or tipster sites are ideal places to look.
Yes, and if you fancy having a pop on lots of Europa League games, we'd strongly advise you take advantage of them.
Find a Top Europa League Sportsbook Online
Before you decide to join in the fun, you'll need somewhere to play. Europa League betting at William Hill and other leading sportsbooks may be tempting, but why not broaden your horizons. We'd got an array of top sportsbooks which offer the best Europa League betting odds right here.
They include the most popular betting sites for Europa League action, as well as top domains with leading betting offers on Europa League games, such as Europa League free bet deals. Check out our array of top bookies to find your ideal place to play.
The Final Whistle: Start Betting on the UEFA Europa League Now!
The tournament doesn't run all year long and ends in May. You'd better get your skates on then if you intend on betting on the Europa League. Find a bookie and remember the advice from our Europa League match betting tips guide and you're good to go.