UEFA Champions League Betting – Ultimate Guide to UCL Betting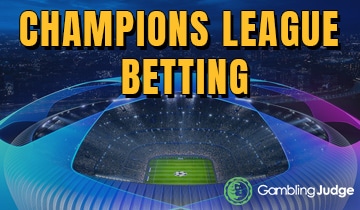 Few sporting events can capture a punter's attention quite like Champions League betting. With a brand-new football season now underway, Champions League betting in 2022 – 2023 is in full swing.
We're here to tickle your taste buds for juicy bets and delicious wagers on footy with our Champions League betting guide. The first of our twin guides on Champions League and Europa League betting tips.
This article covers the ins and outs of the competition, its history, the teams, the works. Learn how the competition is run, the types of bets available, and where you can play, with our cracking in-depth guide to the most vibrant club competition in world football. We'll get to Champions League betting sites shortly, but first let us begin by looking at what sports betting on the Champions League entails.
Best Bookmakers for UEFA Champions League Betting
in 01 November 2023 – Updated List
Rank
Bookmaker
Bonus
Safe & Trusted
Rating
Get Started
Betting on the UEFA Champions League – Our Guide
There is much more to UEFA Champions League betting than picking a team and hoping for the best. A whole array of Champions League bets can be found for you to take advantage of. If you want to decipher the best Champions League betting odds to win the big bucks, you'll need to know a thing or two about how the competition works.
Betting on UEFA Champions League is also available at Germany betting sites, where you can place Germany bets – no commission charged. You can find British, Belgian betting sites, Spanish sportsbooks, Swedish gambling sites, and all manner of European betting sites at your disposal. You can use these for Champions League group betting, or if you are feeling adventurous, you can have a crack at Champions League betting outright.
We will dive into the history of the competition, the types of bets you can make, as well as how the tournament is run. With our guide, everyone from Europe to those who favor Champions League betting in the USA will be in the know. Let's begin by looking at the history of the competition.
A History Lesson and a Bit of Background on the UCL
Top 5 Memorable Games in the UEFA Champions League
There have been many cracking matches over the years. Most of the best have come from the recent incarnation of the competition, under its Champions League branding. Many people rank the following games as their Champions League favourites:
1998/1999 – Manchester United 2-1 FC Bayern München:

After going behind to a Mario Basler strike in the sixth minute, Sir Alex Ferguson threw on two of the timeliest substitutes ever seen. First, Teddy Sheringham scored an injury-time equaliser in the ninety-first minute. Bayern hearts were broken just two minutes later, as Ole Gunnar Solskjær nabbed the winner in the ninety-third minute

to see United bag wins in the Champions League, FA Cup and Premier League in one season.

2004/2005 – AC Milan 3-3 Liverpool (Liverpool win 2-3 on penalties):

 Milan stormed into an impressive 3-0 lead at half-time. Liverpool then shocked the world by scoring three in six minutes after the break, with Steven Gerrard, Vladimir Šmicer and Xavi Alonso adding their names to the scoresheet. The unlikeliest of comebacks was competed via a shootout.

2018/2019 – Manchester City 4-3 Tottenham Hotspur (Spurs with on away goals):

Son Heung-min gave Spurs a narrow home win in the first leg. City's inability to score an away goal would come back to haunt them. City may have won the battle 4-3, but Spurs won the war, with the hated away goal rule sending them on to an eventual defeat in the final to Liverpool.

2016/2017: Barcelona 6-1 Paris-Saint-Germain: Paris-Saint-German seemed destined to conquer, having won 4-0 at the Parc des Princes in the first leg. The wheels seemed to fall off in the second leg. Barcelona rallied in a thrilling 6-1 match to win 6-5 on aggregate.
2011/2012: Barcelona 2-2 Chelsea (Chelsea win 2-3 on aggregate):

The Blues had taken a 1-0 win at home in the first leg. However, drama followed at the Camp Nou, as Barca struck twice in the first half of the rematch to take a 2-0 lead. The match ended up two apiece, and 2-3 in Chelsea's favour on aggregate, and they would go on to win their first Champions League trophy on penalties.
How The Champions League Works: Team Entry and Coefficients
The Qualifiers
Thirty-two spots are available in the Champions League Group Stage. Many of these are automatically filled by teams from nations with the highest coefficients, as mentioned. Champions from football associations ranked 52-55, and then 18-51 take part in Preliminary and First Qualifying Round matches. However, there are two other routes to get into the Group Stage and make up the final spots.
There are two paths a team can take in the Second and Third Qualifying Rounds. The first (Champions Path) is open to 20 European league champions from nations with lower coefficients, such as Sweden, Romania, Wales, Iceland(check here our Iceland betting sites), and the 17 league winners from the previous round.
The second path (League Path) is open to high-ranking teams more commonly ranked second to fourth in their domestic league, again based on coefficients. These two paths both involve knock-out rounds.
The winners of the League Path will qualify for the Group Stage after the Third Qualifier Round. The winners of the Champions Path advance to the Play-Offs. There, four of the eight teams remaining from the Champions Path will make it to the Group Stage.
The Group Stage
The Knockout Rounds
The knockout rounds begin after the group stage and are played over two legs (apart from the final). If aggregate scores don't yield a winner, away goals come into play. Basically, if the aggregate score is even, the team which scored the most goals away from home progresses. Should no winner be determined, an additional thirty minutes (consisting of two halves of 15 minutes) is played, known as Extra-Time. If the scores remain equal at its conclusion, a penalty shoot-out will determine the winner, so consider betting on penalties. For many types of bets, like the win both halves or BTTS both halves bets for example, the extra time does not count.
Having a Punt on the UEFA Champions League
There are plenty of different bets you can make when it comes to UCL betting. Some are positively outlandish (such as betting on the number of corners in a game). Others are far more straightforward. We would start with simple Champions League betting lines. Some of the more straightforward bets you can get to grips with include:
Match Winner: A typical Champions League betting line involves predicting the winning team in an individual match. These make up the most common bets in football. Some bookies will also give you the result including extra-time and penalties, but some may stipulate that your bet is on the score at 90 minutes. You need to check this before you bet.
Outright Tournament Winner: Another popular type of Champions League bet is the Outright Winner bet. This is one of the firm Champions League betting favourites around. In a nutshell, you're basically wagering on the eventual UEFA Champions League winner's betting odds. The earlier you bet, the more favourable the odds will be. Pay attention that the odds may not be available for all teams. Underdogs may be grouped under the name 'bar'. What does bar mean in betting though? The bar price refers to the odds of contestants which were not listed individually.
Top Goalscorer: Another popular Champions League bet is a stake on who will be the top scorer. If you fancy Ronaldo or Messi bagging the Golden Boot, this is the bet for you.
Oddities: As mentioned above, oddities can include bets on the number of cards handed out in a game, the number of fouls, corners, Asian corners, or simply anything, really. These have superb odds but are exceptionally difficult to predict. Using over/under bets may be the best way to go with these.
Accumulators UCL betting also permits accumulators. These are several wagers on different matches but all on the same ticket. Players are typically required to win all the bets on their accumulator ticket (sometimes, just winning most of them is enough), but the winnings will be multiplied if you do so.
Champions League Live Streaming and Betting
Many of the internet's leading bookies offer UEFA Champions League betting on live matches. Some even go as far as streaming the games on their sportsbooks. One of the perks to live betting is that you can watch the action unfold and bet accordingly.
You can bet after the footy game has started, and in some cases, you can even cash out before the final whistle. This is particularly handy if your team looks like they may be about to lose their lead. Doing so will often see your winnings drop in value, though. Not all bookies offer early cash out options for live bets. And early payout promotions are only available for pre-match bets.
As well as providing live streaming, most of the best bookies will also serve up mobile apps. The best betting apps for Champions League wagers will provide you with a variety of ways to bet on the go, which makes them perfect for having a punt when you're down the pub with the lads and lasses.
Top Tips for Betting on the Champions League
Pros and cons of offshore betting sites:
PROS
The best teams in Europe are competing, so it is easy to know a bit about them before wagering
Champions League fixtures cannot be adjusted (like they can in domestic leagues), so it is less likely that match (and thus your bet) will be cancelled
If you have an outright bet on a team to win the Champions League, it is isn't stuffed if your team loses the first leg. You'll have a second chance in the second leg, thus potentially rescuing your bet
A surplus of tipsters exists out there offering advice and Champions League betting tips. The same isn't always true of smaller-scale domestic league football
CONS
With so many top teams competing in the latter stages of the competition, it can be tricky to pull a winner out of the bag
Like England's FA Cup, there is often magic in Champions League footy. A minnow may pull off an incredible result and perform a giant killing. When this happens, it plays havoc with your bets. You could argue that this could be a perk, though, as minnows often have long odds
Frequently asked questions about top offshore gambling sites
If you're still a bit hazy on some aspects of the Champions League, let's see if we can help you with our UCL-based FAQ guide.
The competition's Preliminary Rounds usually kick-off in June. The Group Stage begins in October and is wrapped up by Christmas. The Knock-Out Phase starts in the New Year, with the final almost always played in May.
If you're looking for UEFA Champions League betting picks and handy Champions League betting advice, tipsters can found all over the net. Some charge fees for their services and others can provide their service for free.
Yes, and we'd advise you to do so. By playing at several bookies, you can compare UEFA Champions League betting tips and predictions, thus giving you a good overview of the best odds.
That depends on the game. Underdogs have won the Champions League in its earlier years(like José Mourinho's Porto in 2004). Your best shot at betting with underdogs, though is in Group Stage games, particularly when a minnow is playing a big team which has already qualified for the next round.
Time to score – Place Champions League bets today!
It's full-time for our guide to Champions League betting. It is time for you to get up off the substitute's bench and get ready to play. All that remains is for you to pop along to a leading sportsbook, sign-up, and start perusing the best UEFA Champions League betting odds around.
If you fancy a spot of Champions League betting in 2023, where do you find the best Champions league betting sites? There are a host of top sites offering bets on the competition. The best ones will be able to provide Champions League betting promotions, such as offering you your money back in a draw. Others have Champions League betting offers such as accumulators, early cash-outs, and more. Many even provide Champions League free bets upon sign-up, such a €150 reload bonus on Champions League fixtures. Our page recommends a host of leading sportsbooks with great deals. You can even bet on the Champions League at betting exchange – Belgium based sites. All are vetted, secure, and safe to play at. If you're new to Champions League betting, we'd start there.