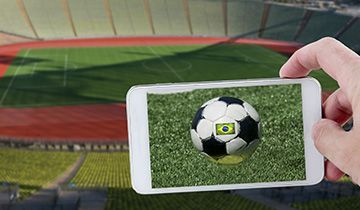 Technology has opened many doors in the betting world. Bettors no longer need to go find a bookie in a bar or be limited to calling in their bets to a call center during certain hours of the day.
The advent of the internet age made it easy for punters to lay their bets with online bookmakers.
With just a few clicks of a mouse, sports bettors could lay all sorts of action from the comfort of their own homes. It didn't look like it to get any easier to get betting action.
Then along came mobile betting apps. Now punters can lay their bets from virtually anywhere in the world at any time of day.
You can bet on your favorite team while you're waiting in line at the grocery store. You can play a few hands of poker while you are waiting in a restaurant for your meal to arrive and you can hit the slot machines at work when the boss isn't looking.
Top Mobile Betting Sites List:
How Does Mobile Betting Work?
Fundamentally, mobile betting works the same way it does on your personal computer. Users download the app from their betting site, open it up, and start playing. In most cases, the same options are available on mobile apps as on the regular betting site.
You can lay bets, make deposits, and make withdrawals. The mobile betting sites are easy to navigate and online bookmakers are constantly working hard to keep their mobile versions up to date to give punters the most pleasant and hassle-free gambling experience.
The online betting sites also do their best to set themselves apart from the rest by offering features such as live streaming and quick response times.
Is Mobile Betting Safe?
Security is one of the main concerns of any user when using mobile bookmakers. It is especially important when personal and financial details are being shared. People want to know that their information remains confidential. Software developers like Playtech have been trusted for years and to provide the best and most secure platforms by which many online gambling sites operate.
Clients that use Playtech's technology have very little to worry about. When it comes to third-party software, users should proceed with caution. By doing a bit of research, online gamers will save themselves a lot of hassle and worry in the long run.
Users that one can keep their information secure can help themselves by ensuring that the network they are on is secure. This means avoiding the use of free open networks and wifi hotspots.
What is the Best Mobile Betting Site?
The number of betting sites that are offering mobile sportsbooks is growing every day. Some of the bigger sites such as 888sports, and BetVictor have some of the highest rated apps. They are easy to use, quick to respond, and most importantly they are secure. The big guns such as William Hill, Paddy Power, and Ladbrokes also offer some of the most highly rated betting on the move websites that are available today.
Betfair, Bwin, and Betfred have also tapped into the mobile betting market with apps that allow punters to safely get their action and complete fast secure transactions. As an added incentive to use mobile betting apps, many online betting sites are offering a wide array of mobile bonuses to customers who download and use the apps to place wagers. Take a look at some of these offers:
The Mobile Welcome Bonus at 10Bet offers customers a welcome bonus of 100% up to $100. Punters need to place their qualifying wagers on their mobile devices to take advantage of this offer. See the terms and conditions that apply at 10Bet.
Residents of the United Kingdom can take advantage of Netbet's mobile bonus. Users qualify for a £10 when they opt in and place a £10 wager on an event with 1.60 odds or greater. The bet must be placed using a mobile device and there is an 8X rollover requirement that needs to be met in order to cash out. Other terms and conditions apply.
If you sign up at RedKings, they will match your first deposit up to £30. To qualify for the bonus, players must use their mobile device to roll over their deposit 8 times on events with even or greater odds. Refer to the terms and conditions. Funny enough, punters cannot deposit or withdraw using a mobile device at BetRedKings.
Take a look and Gamblingjudge's betting promotions to find out if your sportsbook offers such a bonus.
How to Navigate Bookmakers on a Mobile Device
Using an app to place bets on a mobile device is just as easy, if not easier than placing a wager using a personal computer. Users simply need to open up the app, login to their accounts, and then place a bet. The interfaces are simple to use although they may differ slightly from their internet versions.
The touch-screen technology makes navigating these mobile sites a cinch. Users will notice that the internet address will start with the letter "m". An example would be "m.sportingbet.com". This tells you that you are connected to the mobile site and it is configured for use with your mobile device.
What to Look for When Choosing a Mobile Betting Site
A lot can be said for ease of navigation. Users to one of the fumbling around when they're trying to place bets, check odds, or do their financial dealings. Look for a site whose display is easy on the eyes. Another thing to look at is the speed of the site. Pages that take too long to load by lagging can be very frustrating especially if you're trying to lay a live in-play bet.
You can also do yourself a favor by reading a review of the site and their software developer to make sure they're using the latest technology and keeping your transactions secure. More and more features such as live streaming, live scores, and radio commentary are being offered by the world's leading betting sites.
Other articles you might like: