Volleyball Betting Sites and Bookmakers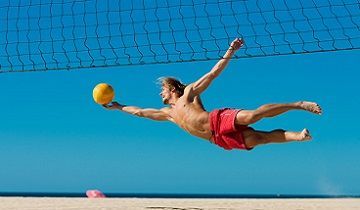 Volleyball was invented in 1895. Originally called "Mintonette", it was first aimed at older members of the YMCA as an alternative to tougher indoor sports such as basketball which was rapidly catching on at the time.
A few years later, the game had gained in popularity and became known as volleyball. The rules of the game were fine-tuned over the next few decades and the Federation Internationale de Volleyball was established in 1947.
The first World Championships were held in 1949 and volleyball was introduced as an Olympic sport in 1964.
Back then, volleyball bets were not exactly the most popular at land-based bookmakers. They are still trailing more popular sports today, but at least players have far more worthy options.
Volleyball has developed massive international appeal and is now one of the most popular team sports on the planet. Professional leagues have sprouted up in countries all over the world and there are several international competitions.
The sport can be played year round and, to the delight of bookmakers everywhere, volleyball is a much-wagered on sport.
On top of indoor volleyball events, beach volleyball has also gained a large fan base and has been an Olympic sport since 1996.
As with the indoor game, beach volleyball is played at the professional level in leagues and on the international stage. It also generates a lot of betting action for international betting sites.
Best Volleyball Betting Sites
in 01 November 2023 – Updated List
Rank
Bookmaker
Bonus
Safe & Trusted
Rating
Get Started
Volleyball Betting Bonuses
As volleyball gains more exposure, the bookmakers are seeing increased demand for betting opportunities. More money is being bet on this sport than ever before and the top-rated bookies are responding by offering more betting options, bonuses, and promotions. Naturally, punters have responded with enthusiasm and savvy ones use a volleyball betting strategy when placing their bets online.
Punters can get €50 to bet on volleyball when they sign up and deposit at BetBright, TLCbet, and Netbet. There is up to €100 in volleyball wagering bonuses at Bet Motion and Efbet while 10Bet  and Bet at Home have as much as €200 for you to bet on volleyball. You will love the $1,000 volleyball betting bonuses at Topbet, Sports Betting and SportsBettingOnline.
Volleyball bettors are eligible for a number of special promotions. If you use your mobile device to bet on volleyball you are eligible to receive 10% of all losing bets back with the LSbet money back betting offers. If you place 10 volleyball accumulators at Titan Bet you will be rewarded with a free volleyball bet. Speaking of accumulators, several sites such as Betway and Bwin offer "Acca Insurance" which will essentially salvage your parlay insurance if you miss a leg. Accumulators are particularly useful when you bet at the bookies that offer the best volleyball odds, as the resulting profits are greater.
Best Live Streaming Volleyball Betting Sites
You've placed your volleyball bet, ordered a pizza, and cracked open a cold beverage. Now it's time to sit back and watch the live volleyball action. It's such a bummer when you discover that the match isn't on network television. It's a good thing that you placed your wager at a live streaming bookmaker.
Any decent sportsbook covering this sport will have live volleyball betting in its offer, yet not all have streams and the "accept all odds movement" feature implemented, which is very useful when encountering dropping odds. The odds movement is not very likely to happen when coming across the closing odds, though.
Now you can enjoy a really great betting experience by catching the action on a live volleyball stream. 188Bet, Parimatch and McBookie are all great sites to wager at and take advantage of their live streams. As opposed to regular television broadcasts, a live volleyball stream is geared towards bettors.
Up-to-date news, statistics, live odds and helpful betting tips are constantly being thrown your way. This is extremely handy for those punters that like to place in-play wagers.
This is partially why Sky Bet and Betsafe are so beloved by volleyball betting enthusiasts. Punters are confident that they can see their volleyball wagers unfold live at Intertops, 888 and Ladbrokes.
You can find the best live volleyball streaming bookie by using the bookmaker database at Gamblingjudge.com.
Best Live Betting Volleyball Sites
Once you have experienced live streaming you will likely be very tempted to participate in one of the best live betting sites and bookmakers. After all, the abundance of useful betting information that is provided through live streams is meaningless unless you do something with it.
In-play wagering allows bettors to hedge their bets, double down, and get more action. The top-rated sportsbooks are well-known for offering a plethora of in-play volleyball betting options.  That is why Novibet and Bet Victor have so many satisfied customers. Their live volleyball betting offer is comparable to what is available to punters who place their bets before the match has actually started.
Those who want to place a live bet on volleyball can count on Expekt and Vernons to provide them with a wide range of volleyball betting opportunities. Of course, industry giants like Betfair, and Marathon Bet are favorites among those who want a variety of live volleyball betting options to choose from.
Volleyball Bookmakers with the Best Betting Options
Betting on one team to win is not enough for bettors or bookmakers. The best volleyball betting sites need to offer as many betting options as possible. They also need to offer these options on as many games as possible. This will encourage punters to place more volleyball bets, both pre-game and live.
When punters want the widest range of choices they turn to Unibet and Pinnacle as well as Betsson and Ladbrokes. When punters open up an account at Youwin, Nordic Bet or VBet, they can be sure that they will get a great selection and valuable bonuses and promotions. The same can be said about Favbet and Betway.
Types of Volleyball Bets
Like with many other sports, picking a straight-up winner on the moneyline is one the most common volleyball bets. You can bet on which team will win the first set, correct set scores, first set winning margins, team total point, and even handicaps.
When it comes to betting on tournaments, you can choose to pick an outright winner, bet on a team to finish first or second, and even just bet against a team to win it all. Tournaments provide a lot of opportunities for parlays too which means you might want to opt in on that acca insurance.
You don't need to be a volleyball expert to get in on the action either. There are plenty of wagers that don't really require any volleyball knowledge at all. Betting on whether a set or match total will be odd or even is pretty much a coin flip. It's pure luck.
If you simply want to have a little fun, you can tinker with these wagers, but those who take this sport seriously should consider using a volleyball betting strategy.
Volleyball Betting Sites with the Best Events Coverage
There are plenty of volleyball bookmakers that offer betting on major events but there are some that offer much more. It doesn't matter if it's the World Cup, World Championships, Olympics, or any other major league championship, you can be sure that you will get comprehensive coverage at Skybet or Jetbull.
You can get the latest volleyball betting news, live streaming, updated odds, and betting tips as well as informative articles and statistics at William Hill and Sporting Bet. Industry leaders like Unibet provide some of the most complete coverage that guarantees bettors a truly exciting experience.
Volleyball Bookmakers that Offer the Best Odds
One of the simplest ways to find out what the best live odds are is to refer to one of the many websites that are dedicated to providing live odds comparisons. These sites will the save you a lot of time. Odds change very quickly and it is important to jump on a play quickly when the right opportunity arises.
Pinnacle Sports claims that they have the best odds bookmakers anywhere. They certainly have one of the lowest betting margins in the industry and this allows them to consistently offer great odds. They have a lot of tight competition though. You can always find the most competitive odds at 12Bet and SBO bet. You will also find that 138.com also offers very good odds.
Volleyball Betting Sites with the Best Payments
When you want to spike the ball into your bookies face with a big bet, you want to be sure that the betting site can handle the action. You need to find high stakes betting sites with a great selection of payment options.
Traditional payment solutions such as cards, e-wallets and wire transfers are accepted by most sportsbooks, but volleyball betting with Bitcoin is less common. New online bookmakers that accept iDeal are also a good alternative. As cryptocurrencies gain further traction, the number of bookies accepting Bitcoin is likely to increase.
Pinnacle Sports is one such bookmaker. They claim that they accept bigger bets than anyone else. Pinnacle has a wide variety of payment options available too. There are other bookies that offer high limits and a lot of payment options. Paddy Power and Novibet offer these features and Winner and Stan James are also well-known for having higher betting limits and plenty of payment options.
Make sure to check the list of sportsbooks reviews at Gamblingjudge.com to find the bookies that have the highest limits and the most payment methods.
Pick A Recommended Bookmaker and Start Betting on Volleyball!
Volleyball is definitely a very popular sport and betting sites want you to bet on it. Why not try it out? There are enough free bets and other valuable bonuses out there so you can get into the action without committing any of your own money. Volleyball is played all over the world and there are usually betting opportunities available throughout the year.
Remember that Gamblingjudge.com is here to help you find a reputable volleyball betting site that will give you the best betting bonuses.
Frequently Asked Questions
Honestly, the most profitable volleyball bets are those that you know the most about. Ultimately, it doesn't matter which "specific bet" you wager on, as long as you know plenty about the market you are selecting and how likely you are to be correct.
Volleyball sites that offer you a wealth of competitions throughout most of the year will score highly. As will those that offer live streaming, in-play betting and a wealth of markets and selections.
Betting sites that are licensed, regulated and provide a top selection of payment options tend to do well. Those that feature on this page are right up there with the very best of them.
Naturally, volleyball specific bonuses tend to be more advantageous here. Failing that, bonuses that include free bets, welcome bonuses, and ACCA insurance on volleyball selections are well worth a look. Again, our recommended volleyball betting sites are ideal.